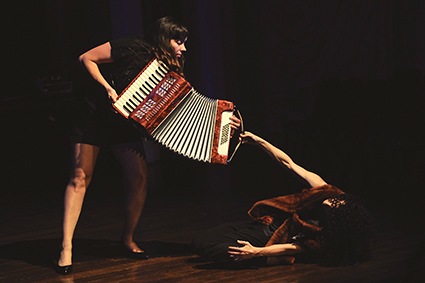 photo Heidrun Löhr
Bree van Reyk and Narelle Benjamin
THE SECRET NOISE IS COMPOSER AND DEVISOR DAMIEN RICKETSON'S RESPONSE TO THE WAYS HIS CONSCIOUSNESS BECOMES HEIGHTENED WHEN HE PERCEIVES STRANGENESS IN SOUND OR SENSATION. IT'S A POETIC NUDGE AT THE SECRECY STILL ENTRENCHED IN STAGED ART MUSIC—WHERE PERFORMERS USUALLY WEAR BLACK, ACTING AS DEPERSONALISED TRANSMITTERS OF OTHERS' GENIUS, WHERE THEIR EXPERIENCE IS NOT THE SUBJECT OF PERFORMANCE.
This collaborative music/dance/theatre work communicates not only the sound of music but also the experience of musical process as reception, memory and fantasy. It's a critical commentary on our understanding as concert-goers of interpersonal musical exchange. What if 'classical music' were individually tailored and responsive at all times?
Ricketson was curious (his company/website is Curious Noise) about how to present those elements of music that are personal, undisclosed or mysterious. His exposure to private musical encounters that happen in public space, like ours, are frequent and often unworthy of mindful note. But those moments on the fringes of public experience inspire this collection of musical scenes which, coupled with dance from Kathy Cogill and Narelle Benjamin, and theatrical moments from Katia Molino, stage a world of absurd yet anything-but-hokey utterances. Ricketson, Ensemble Offspring and stage director Carlos Gomes have struck the right balance of exploration-to-permissible action here with the subtle coercion of parents, highly attuned to the rebellious habits of those they lead. Their psychology is always a step ahead of ours, guiding us to come to their realisations about the diversity of public and private musical sensations.
Our tickets are A4 and graphic scores that we can colour in or otherwise mark. As we enter a very gruff door-bitch (Molino) inks them violently with a Secret Noise stamp before ceremonially snapping a CD in two as a passing ritual. We are lead into the giant, low-ceilinged room below Sydney's Town Hall in which five large seemingly fire-lit tents glow invitingly. From each sounds emerge, but there are no instructions, we must follow our noses and snoop. Each tent allows three curious folk in at a time and our tickets become the musical instructions for the performers inside. In one Claire Edwardes rings hand bells; in another Jason Noble has an assortment of whistles and a lyre; in another dancer Narelle Benjamin contorts into pretzel shapes with Indian hand-cymbals dangling from her toes while staring intently into the eyes of the few lucky entrants. Do bells sound better when your lower limb is perched on your shoulder? How about when they're so close you can smell the metal?
Before we've had time to explore every tent we're ushered towards seats that frame a long and narrow stage. The 'real music' begins. Dancers slink into the central space, spinning objects attached to strings over their heads. On close inspection we agree the objects are (brand-new minty-fresh) toilet brushes. One whirling brush makes a whizzing sound. In combination, two sound like currawongs. Three make for an R&B synth solo. This spinning gesture returns with other objects attached; later Molino flings a thicker one that sounds like a far-away traffic jam or distant train. Meanwhile clarinettist, Noble, lies down, gliding across the floor on his back while contributing a steady tone. Together they create the drone of the dreaded mozzie that keeps you up all night.
A more conventionally musical moment, where seated players staring at music stands made sounds, seemed the kernel of the work. The dancers couldn't contain their curiosity and buzzed around the musicians, responding to the secretive sounds. Some interrupted the players with movements and exaggerated faces; their interference produced the energy that the musicians then encoded in sound. One dancer became a stole that slipped down the back of the seat behind a player. A chaotic tango arose —polyphonic in the extreme—in that each player emoted and swayed, performing with exceptional lyricism, in absolute ignorance of the 'musical genius' around them: every one a soloist. This scene captured the sensation of playing in an ensemble of battling egos—the music sounding as that circumstance feels. This tango grew legs, slipped to centre stage, abandoning the mass-ensemble. It tripped and drowned purposefully between Bree van Reyk on a fully unfolded accordion that became one with a sinuous Benjamin.
There were loud hailers, tubular bells, decks (turntables) and two saws played with violin bows, vibraphone, drum kit, black gowns and skulking chairs in which the dancer-actors slid towards the music. Under Carlos Gomes' direction, the mediums for the performers became equally musical, theatrical and choreographic—it didn't matter whether sound emanated from the action or energy was transferred. They communicated something else, something formless that belongs to all of us.
Throughout The Secret Noise, Ensemble Offspring and friends created an exploratory space that really worked (where many similar collaborations fall short): it felt natural, feasible and, at times, familiarly facile, as when we find ourselves alone, listening to the chatter of the air-conditioner or the hiss of our own nervous system.
Audience participation in The Secret Noise felt comfortable—no awkward, self-conscious delays—those displays of learnt humility—upon invitation to join in. The creative team fashioned an environment and culture that invited inquisitiveness. Towards the end cushions were delicately laid about the stage. Again, no instructions were given, but somehow we knew that we were invited to inhabit the stage, to lie on the floor and perhaps glide as the performers had earlier. So we too experienced the music on a horizontal plane, while locomoting backwards, navigating space and strangers.
As Saturday nighters bustled above the venue, dance music and drunken antics often bled into the space. Given the eclecticism of The Secret Noise's aesthetic, this 'noise' was not unwelcome. It situated the work in the city and layered our attention on multiple simultaneous scales. No sound ever exists in isolation and yet many expect perfect art music performance to happen in a coughless, car horn-less vacuum. The partiers had no idea what we were listening to, seeing or feeling—it was our little underground. They showed us, in their obliviousness, how special these secret noises and moments were that we shared.
The Secret Noise, Ensemble Offspring, concept, composer Damien Ricketson, director Carlos Gomes, devising performers Bree van Reyk, Claire Edwardes, Jason Noble, Kathy Cogill, Katia Molino, Narelle Benjamin, lighting design Fausto Brusamolino, Lower Sydney Town Hall, 20-22 Nov
RealTime issue #124 Dec-Jan 2014 pg. 52
© Felicity Clark; for permission to reproduce apply to realtime@realtimearts.net