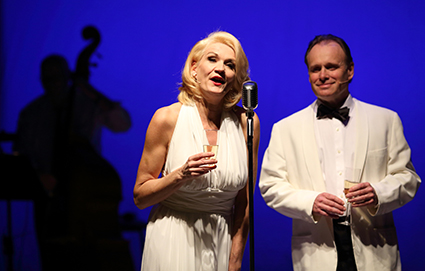 photo Tony Lewis
Anne Grimm, Richard Morris, Marilyn Forever, Gavin Bryars, Adelaide Festival of Arts
The voice was the focus of Gavin Bryars' Adelaide Festival concert series, which encompassed some of the great works in his extensive and diverse oeuvre. Bryars was composer-in-residence at this year's Adelaide Festival of Arts and, as well as taking an active role as a performer in all four concerts, gave numerous talks and interviews. His season opened with a recent opera, Marilyn Forever, spanned madrigals, jazz and popular song and closed with his legendary Jesus' Blood Never Failed Me Yet.
Marilyn Forever
Marilyn Forever is a chamber opera exploring the intimate reflections of Marilyn Monroe during the last days of her life. There are two principal singing roles—Monroe and a male who alternately represents various men in her life—and a chorus of two more men. The musicians are in two groups—offstage is the Aventa Ensemble of strings, winds, brass and percussion conducted by Bill Linwood. Onstage is a jazz trio, including Bryars himself on double bass and Julien Wilson on tenor saxophone, performing as if supporting Monroe as she sings. The opera thus appears as both rehearsal and performance—a play within a play. Soprano Anne Grimm is wonderful as Monroe, showing all the complexity and inner conflict of Monroe's character as she responds to the various men who influence or control her life. Her vocal style seamlessly ranges across Monroe's style and that of operatic soprano. Baritone Richard Morris plays the men in her life—a film director, musical director and husband. Monroe is shown to be continually surrounded by men who manage, record, photograph and venerate her, and in a sense ultimately 'kill' her—at one point, all three offer her pills.
Bryars' composition beautifully combines Canadian poet Marilyn Bowering's libretto with music that evokes inner reflection. The music is moody and restrained but weaves opera, jazz and popular song into a musical synthesis, haunted throughout by Wilson's mellifluous sax. The score for the jazz trio sometimes blends with and sometimes contrasts with that of the Aventa Ensemble, creating a musical tension that dramatises the opera. Ninety minutes long and with only brief pauses between acts, it's nicely paced, with a poignant moment when Bryars performs a double bass solo, with bassoon and horn accompaniment, that seems to characterise Monroe's tragedy. Bryars declares himself a Monroe fan from his youth, and in placing himself as a performer in close proximity onstage to her, and her men, he symbolically retrieves the inner Marilyn from the legend.
The Gavin Bryars Ensemble
The Gavin Bryars Ensemble gave two concerts, both featuring the voice throughout and demonstrating Bryars' ability to write all kinds of music. Few composers set Shakespeare's sonnets or Petrarch's laude and madrigals, but, in doing so, Bryars revitalises fabulous poetic works and makes them accessible to contemporary audiences.
In the first of the two concerts, his ensemble gave us a selection of laude and madrigals set by Bryars in a musical style characterising traditional musical forms but inflected with jazz, again creating a magical synthesis. The two soloists, soprano Peyee Chen and tenor John Potter, were fabulous, especially Chen, whose soaring, effortless voice was the highlight of the whole Bryars season. Also included were selections from Bryars' songs from The Morrison Songbook, settings of poems by his friend, poet and librettist Blake Morrison.
The second Bryars Ensemble concert was a study in what can be achieved with the human voice in what were in effect three mini-concerts. We heard settings of Petrarch's laude and madrigals exquisitely performed by Australian a cappella ensemble The Song Company. Next came the extraordinary Nothing Like the Sun, settings of eight of Shakespeare's sonnets. Each sonnet was first recited by Irish singer-songwriter Gavin Friday, following which Chen and Potter repeated it in song. Friday's muffled, brooding style of delivery voiced Shakespeare for contemporary culture, reminding us of the writer's universality and the settings for Chen and Potter's voices were sublime.
Finally we heard Act III of Mercy and Grand, Bryars' arrangement of works by Tom Waits and Kathleen Brennan that included songs by Kurt Weill and the traditional British folk ballad "Barbara Allen". In this set, Bryars introduced us to the superb mezzo soprano Jess Walker who evocatively rendered the tragedy of life that permeates these songs. At three hours, this was a long concert and might have benefited from being broken into shorter elements.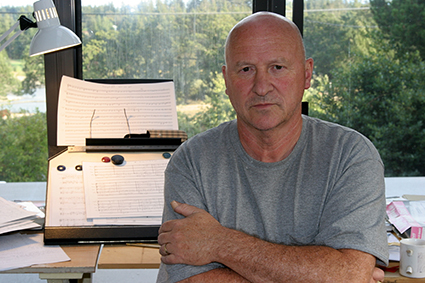 photo Zaleski Enterprises
Gavin Bryars
In these two concerts, Bryars offered the meditative, introspective voice, the voice of prayer and the voice of social commentary. While his adaptation of traditional musical forms is enchanting enough in itself, this music is primarily a vehicle for the delivery of profound poetry.
Jesus' Blood Never Failed Me Yet
In the final concert, Bryars conducted the Adelaide Symphony Orchestra, opening with three orchestral works including two by other composers: Arvo Pärt's quizzical If Bach had been a Beekeeper in which the strings' buzzing builds over a tense rhythm, and Howard Skempton's exquisitely dreamy and beautifully orchestrated Lento. Bryars also gave us his Porazzi Fragment, an orchestral work based on a 13-bar theme for a work left unfinished by Richard Wagner.
But this concert then returned to the voice, with two arias from Bryars' opera G, which explores the life of the inventor of modern printing, Johannes Gutenberg—firstly Ennelina's aria, sung by Song Company soprano Anna Fraser and then the Epilogue, eloquently delivered by the same group's outstanding young bass-baritone, Alex Knight. His excellent diction was especially important in articulating Morrison's text, in which G reflects on his life.
The much-awaited finale was Bryars' best known work, Jesus' Blood Never Failed Me Yet, incorporating the tape loop of a tramp singing a short refrain, layered over with Bryars' own orchestral accompaniment. The power of this work lies in the sincerity of the tramp's spontaneous singing—we hear an authentic voice whose musicality is heightened by the gentle, minimalistic composition that Bryars adds to it. Repeated for half an hour, the brief song becomes a mantra, gradually displacing other thoughts, the work epitomising the spirituality for which Bryars seems to be searching throughout his music.
Bryars' music is approachable, as honest as his singing tramp, doesn't rely on tricks or spectacle, and frequently induces a wistful or reflective state of mind. He brings us great poetry, from Petrarch and Shakespeare to Morrison, Bowering and Waits that meditates on the human condition. Every song lays bare deep emotions and a tragic sense of life, yet offers hope through enlightened self-reflection. Gavin Bryars' compositions celebrate music and place centre-stage that most fundamental instrument, the speaking, singing voice.
2015 Adelaide Festival of Arts: Gavin Bryars in Residence, Marilyn Forever, Aventa Ensemble, ABC Studio 520, 27 Feb-1 March; Gavin Bryars Ensemble and Guests, Elder Hall, University of Adelaide, 3, 4 March; Adelaide Symphony Orchestra, conductor Gavin Bryars, Adelaide Town Hall, 5 March
RealTime issue #126 April-May 2015 pg. 12
© Chris Reid; for permission to reproduce apply to realtime@realtimearts.net