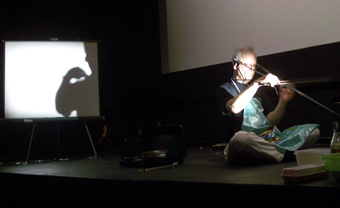 Tony Conrad, Bowed Film
The Anthology Film Archive in New York is central to America's avant-garde film tradition, its history closely bound to successive generations of 'visionary' filmmakers, critics, artists and outsiders. Opened in 1970 by Jonas Mekas, Anthology played a major role in establishing recognition and critical engagement for avant-garde film and 35 years on is more vital than ever, housing the world's most important collection of avant-garde film material, ultra-rare film prints, negatives and fragments of work, plus prescribed and unprescribed medications, record collections and personal ephemera left behind by inspired artists like Harry Smith, Jack Smith and Maya Deren. At 82, Mekas is artistic director, with much of the running passed on to inventive and informed young cinephiles who help negotiate Anthology's ongoing place in the contemporary New York cultural scene.
Over 3 weeks in May and June, Anthology hosted Eye and Ear Controlled, curated by Andrew Lampert and Jim O'Rourke and featuring artists who infiltrated both the avant-garde film and music camps, making compelling contributions to both. These included Tony Conrad, Alvin Lucier, Mauricio Kagel, Phill Niblock, Michael Snow and Charlemagne Palestine. This article focuses on Conrad who is now well recognised in both worlds, and Mauricio Kagel and Alvin Lucier who are primarily considered composers. All the artists were, in fact, moving freely and frequently between any number of forms. As Fluxus artist Dick Higgins wrote in 'Statement on Intermedia' (1966), "A composer is a dead man unless he composes for all the media and for his world."
Conrad conceived of The Flicker (1965), his first film, as alternately a science fiction film ("but not the kind where people dressed as robots fall in love"), a "disruption of abstract art" and as "ideosensory phenomena", an intrusion into interior spaces "where totally different rules apply." Essentially The Flicker is a series of alternating pure black and white film frames projected in sequences of rapid acceleration and deceleration. Conrad wasn't the first to explicitly explore the approach, Peter Kubelka's Arnulf Rainer (1960) and Dwinell Grant's Colour Sequence (1943) are earlier examples. But where these are objects of 'cool' minimalist contemplation, Conrad's Flicker is deliberately aggressive and confrontational, specifically setting out to attack and distort the frame, which he associated with abstract art. A faintly satiric epilepsy warning, stating that a physician should be in attendance, was Conrad's tactic for weeding out squeamish, uncommitted spectators. In fact, very few have suffered the much feared fit, although 'photogenic migraines', lasting a week, have apparently been more common.
For all the fighting talk and mythologising, experiencing The Flicker today is comparable to listening to Conrad's minimal music of the same period. It's mesmerising, complex work examining the minimum perceptual register, but hardly violent, dangerous or even as irritating to the senses as might have been intended. The Buchla Synthesiser piece on the soundtrack was directly inspired by Stockhausen's Kontakte (1960). A stream of stereo pulses shift in pitch according to the ear's proximity to speakers and the geometry of the listening environment. Conrad applied complementary structures to sound and image producing a kind of 'phantom' synchronicity, a feeling of 'transsensoriality', the senses as connected channels or highways rather than isolated territories or domains.
Straight and Narrow (1970) untangles the 2 senses into clearer isolation. A raucous Terry Riley/John Cale jam accompanies Conrad's second flicker piece, "structural film gone funky". Just like a mobile Bridget Riley, Straight and Narrow uses black and white stripes to produce spinning shapes and colour bursts, and they are amazing indeed. The soundtrack gives the film a euphoric edge but also stamps it psychedelic, something the morse code austerity of The Flicker happily bypasses. Conrad's other abstract films are less known but equally interesting. Film Feedback (1972) is an experiment in instant filming, developing, projecting and refilming, all on a continuous 14-minute strip. The technical process is barely fathomable but what results aesthetically is a particularly fragile meditation on re-recording, degeneration and time, a silent companion to Alvin Lucier's piece for voice and tape recorder I am sitting in a room (1969). Eye of Count Flickerstein (1967) is another silent study of TV static in wiggly microscopic detail. Projected large in a new luminous print, it is stuning.
The highlight of the Conrad series, however, is Coming Attractions (1970), his only feature film. Conrad's filmmaking start came through Jack Smith; he soundtracked Smith's Scotch Tape (1962) and worked on Normal Love (1963). In Coming Attractions, Conrad borrows Smith's trademark unhinged aesthetic delirium and his actor from Flaming Creatures (1961), Arnold Rockwood. Conrad is credited 'producer', his wife Beverly Grant directorial duties, however who did what is impossible to discern as the film is so completely manipulated, bizarre, and manifestly incoherent. Ostensibly an exploration of the relation between extreme formal and narrative devices, Coming Attractions consists of hysterically trashed 'stars', filmed in 'Tantacolor', rambling, screaming and writhing through a set of radically skewed orgiastic 'trailers' (ie coming attractions). Conrad physically altered the footage so much that he saw Coming Attractions not as a film, but rather as many fragments of film in various stages of preparation. The sound is brilliantly collaged from unreleased pieces 'commissioned' by Conrad and performed by LaMonte Young, Terry Riley, John Cale and Charlemagne Palestine amongst others, particular highlights being Young's slow-motion vocal impression of a lonesome cowboy and the bleating group performance, 'sacred shriek' symphony."
Conrad's characteristic irreverence is on full display for the disarmingly charming and entertaining lecture/performance, Filmmaking as a Critical Intervention. Sitting cross-legged on stage amidst papers, projectors, food, and cooking utensils, he reflects insightfully on the development of ideas on film, music and culture, acknowledging the early influence of Henry Flynt's anti-cultural activism at Harvard and in New York, through to the 'domestic' qualities of life at the Media Lab in Buffalo, where Conrad moved in 1972 along with filmmakers Paul Sharits and Hollis Frampton. Creative 'domestic' life is demonstrated in Curried 7302, a beautiful film made in the traditional Indian manner. The faded orange hue of the print suggests it might have been a mild Korma. In Bowed Film, a piece of film loops around Conrad's head. Inside the loop, he experiences a private screening. The effect is enhanced with vigorous violin bowing, the film apparently dances, and the sound is a monstrous multiphonic wailing. Whilst speaking Conrad also prepares a Sukiyaki, a Japanese noodle dish, today mixed with fragments of antique film. Sukiyaki is 'projected' according to the Latin meaning, 'to cast forward'. The anthology screen ends up splattered with vegetables, noodles, sauce, and various length fragments of film. Conrad apologises profusely to the staff whilst everyone applauds.
The Dr Chicago films, directed by George Manupelli, have been whispered about for years, but rarely seen. Manupelli and Alvin Lucier, with Gordon Mumma and Robert Ashley, were key players in the Once Group in Ann Arbor, Michigan (Manupelli also founded the Ann Arbor Film Festival) and although the associated music has been widely circulated, not so Manupelli's films. The prints screened at Anthology are in fact the only ones in existence, having been rescued, thankfully in fairly decent condition, from lab storage. Lucier, uncannily resembling a young Dennis Hopper, is a revelation as Dr Alvin Chicago, a charismatic but deluded sex-change surgeon running from the law. Dr Chicago (1968), the first film, is all luscious black and white cinematography, full of subtly ludicrous monologues delivered by Chicago to his mostly drowsy and silent entourage of troubled young women. Ride, Dr. Chicago, Ride (1970) sees the doctor and his gang befriending itinerant nomads (including composer Pauline Oliveros) in the deserted wastelands near the Mexican border. The third instalment, Cry, Dr. Chicago (1971) takes place in a Riviera villa, with Chicago repeatedly poisoned by his nemesis, a confused and bad tempered French playboy. Remarkably the bugged black jellybeans have no effect. The pace of the films will be familiar to those who appreciate Lucier's music, a slow creeping logic and humour built upon the placement of gestures across the mostly empty space of the narrative. Indeed, Lucier's whole delivery is intensely musical; he feints, stutters, pauses and picks his way through sentences, flirting with resolution, establishing an unstable, hypnotic logic. The gentle cumulative absurdities of the films make them enjoyable on multiple levels; almost Jacques Tati-like in tone, they are intensely funny without ever being directly comic.
Mauricio Kagel's anti-establishment pedigree as a composer is well recognized in avant-garde circles, however surprisingly few people realise that he has also made over 20 films in which his signature themes—absurdist physical theatre, psycho-religious reverie, and the gleeful parody of high cultural seriousness—are explored in abundance. Solo (1967) features 3 deranged orchestra conductors staggering aimlessly amidst the rubble of an abstracted classical theatre. The only sounds are their demented humming, the swish of frantic baton waving and the inadvertent impact of collision with percussion objects and discarded instruments strewn across the set. Duo (1967) is more complex and reflexive, a meticulously conceived surrealist play on chance, nonsense, fragmentation, and improbable synchronisation, strung together with detuned scrapes, plucks and thuds from various instruments and non-instruments. Duo culminates with its characters wandering into a theatre in which Solo is screening and wildly improvising along with it until the 2 films merge and collapse in hallucinatory flashes of light and ripped celluloid. If Solo and Duo possess their share of abnormality, they pale in comparison to Hallelujah (1968). Beginning inside an open screaming mouth, the camera lolls outward into a psychotic world of ritualised hysteria. This might be Kagel's grand statement on the disintegration of meaning, an advocation of animal impulses and mass incoherence. Kagel constructs spectacles of perverse choreography between bodies, spaces, and objects (often musical instruments). In the end, it is hard to describe them as anything other than serious cacophony.
Eye and Ear Controlled presented an extraordinary opportunity for audiences to experience significant but rarely screened work, in an environment rich with history and mystique. Conrad, Lucier, Manupelli, Ashley, Michael Snow and Phill Niblock all attended and helped generate an atmosphere of relaxed intimacy without any of the unnecessary formal pretension that a museum or major institution would undoubtedly have brought to the event. Very few cities would have the resources to stage an event like this outside of the institutional scene, and, as always, New Yorkers are the infuriatingly lucky ones.
Eye & Ear Controlled, Anthology Film Archives New York, May 19-June 11
RealTime issue #68 Aug-Sept 2005 pg. 50
© Joel Stern; for permission to reproduce apply to realtime@realtimearts.net