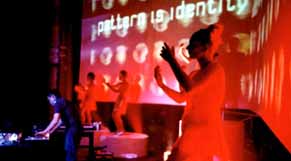 photo Dean Stephenson
Freezer
freezer uniquely incorporates a performance installation within a dance party, a hyper-enriched brainchild born of the Salamanca Theatre Company and ¡Hard On!. Yeats asks, "How can we know the dancer from the dance?" Good question. In the realm of freezer, to observe is to participate. The audience is no longer itself; we are inseparable from what we embrace.
freezer comments on a neo-technologised cycle of life. At the core of the performance is an anxiety over the human race's current quest to preserve and prolong life. Our concerns have evolved into an unhealthy zeal for genes: cloning is the modern way to conceive a self. An image of Dolly the sheep watches the music-enraptured crowd, imperturbable, down to her very (cloned) cells. Video screens attempt to enwomb the audience with seemingly random text and image. Facts drip down: 16 million sperm cells in a freezer, $500,000 for a new hand.
The aural layer is epic in its ambition. Opera singer Georgia Bowker as Echo sings her aria, competing and melding with DJ Heath's beat. At the performance's peak, the crowd erupts in sweaty euphoria, enamoured by this bold artistic stroke. Elsewhere, a further mythic element becomes evident in a silent troupe of red-skinned, branch-haired people moving infinitesimally on white plinths, still points in a roomful of mayhem as the crowd surges in variant whirlpools. A White Man (Matt Cracknell), powder-coated in an eerily brilliant pallor, scrambles towards the top of a pyramid of Red People, reaching an unnamed pinnacle. Later he is seen with one hand outstretched towards the audience, beseeching, Narcissus-like, as the Red People climb down from their dais and dance among the mortals.
freezer ventures an integration of various artforms, a risk that manifests in a defiant encroachment into the audience's space. Live images of anonymous dancers on the floor are captured, projected and magnified on surrounding screens. The eye looks back and sees itself, doubled. Everyone becomes part of the spectacle, a confusion of near-oblivious performers, individual skin cells incorporated into the body of dance. Some partygoers might not have taken any notice. Subtract the live performance and it's just another dance party. One indelible image is left: a media-fed-and-bred generation slowing in its dance-tracks to watch the screens scroll enigmatic and almost voided words: AMPLIFY. MODIFY. REPEAT. REMIX.
freezer, *Hard On! & Salamanca Theatre Company, writer/director Ryk Goddard, designer Greg Methé, performers Lilly Armstrong, Laura Purcell, Kelli Jayne Lynch, Amelia Cadwallader, Jody Kingston, Sarah Duffus, Jo Richardson & Cheryl Wheatley. Hobart City Hall, Dec 7-8
RealTime issue #47 Feb-March 2002 pg.
© Ivy Alvarez; for permission to reproduce apply to realtime@realtimearts.net