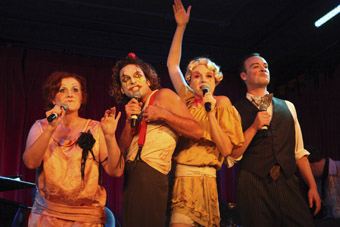 photo Brendon Moar
Eliza Logan, Josh Quong Tart, Vashti Hughes, David Keene, Vashti Hughes Ensemble, The Wild Party
FOURTEEN YEARS AGO THE FOUR-MEMBER VASHTI HUGHES ENSEMBLE PRESENTED WILD PARTY TO SOME ACCLAIM AND SOLD-OUT SEASONS AT THE MELBOURNE COMEDY FESTIVAL. NOW RE-PRESENTED AT THE NEW RAVÁL THEATRE IN SURRY HILLS, THIS JAZZ, CABARET AND SPOKEN WORD FUSION IS FULL OF REMINISCENCES OF BYGONE TIMES, RAISING QUESTIONS ABOUT THE USE-BY-DATE OF SOME PERFORMANCE MODES.
The evening opens with a four-piece jazz band providing mood music in Ravál's dimly lit and crowded theatre bar, tucked above the Macquarie Hotel's sports bar. The couple in front of me seems to have the right idea, perched on a plush black, leather lounge sipping a string of martinis. We could have been transported back in time, although the music is without the experimentation, the improvisation, the 'being in the moment' that I idealistically associate with 20s jazz bars. Enter the Vashti Hughes Ensemble, energetically forming a tableau vivant, while the band slip into providing soundtrack for the performance. Two men and two women pose in costumes evoking 1920s bohemia, but the men's incongruous Converse shoes, the careful theatricality of the poses and the exaggerated whiteface make-up hint at a contemporary clowning troupe.
Wild Party is a risqué narrative poem written by Joseph Moncure March in 1926 and banned upon publication. It is often seen as a jazz-influenced precursor to Beat poetry, particularly as William S Burroughs once declared that it made him become a writer. The Hughes Ensemble is fairly faithful to the tradition—the poem being the driving element of the show to which all other elements seem subjugated. It comes to life as the ensemble craft an aural space, drawing together sounds, rhythms and narrative through-line. The story is of Queenie (Hughes), "a blonde [whose] age stood still" and her misogynist lover, Burrs (Josh Quong Tart), "A clown. Of renown", whose portrayal is strangely reminiscent of Heath Ledger's Joker. After a falling-out and near bout of domestic violence the couple decides to throw a party. Queenie's best mate Kate (Eliza Logan) turns up with the handsome Mr Black (David Keene) and Queenie executes her revenge on Burrs by 'making a pass' at Black which fast-tracks into a love affair.
Although the four performers each take on a character, their predominant role is as ensemble poet narrator. The fidelity of their recital however reveals the datedness of form and text removed from their original context. Moncure March's text is less shocking these days and while the ensemble do their best to show off the raunchiest bits, and this is where most of their comedy comes from, the piece grasps for contemporary relevance. Cabaret can still be sexually and politically subversive as in queer performance seen in Sydney, such as Gurlesque and much of the work at Red Rattler. I look hard for this in Wild Party, but I find homage more than anything else.
The whole affair predictably comes to a head with a pistol being pulled from a bedroom drawer. Burrs is murdered and Queenie (now channelling Cole Porter) sings apathetically, it was "just one of those things." There was little variation in musical tone throughout and the performance was for the most part formulaic. However, it looked like a lot of fun to do, and it's hard to say a form has reached its use-by-date when a packed house is enjoying it.
Vashti Hughes Ensemble, Wild Party, performers Vashti Hughes, Josh Quong Tart, Eliza Logan, David Keene, Ravál Theatre, Macquarie Hotel, Sydney, March 15-April 3
RealTime issue #96 April-May 2010 pg. web
© Megan Garrett-Jones; for permission to reproduce apply to realtime@realtimearts.net