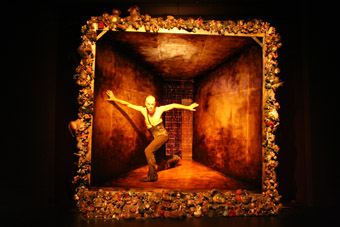 photo Fiona Cullen
Brian Lucas, Underbelly
This new work by Brian Lucas is a shocker, in the very best sense. It is a mesmerising and unpredictable turning away from the stripped bare aesthetic of his previous solo ventures in dance theatre. Rather than completing an autobiographical trilogy that includes monster and the book of revelation(s), Underbelly is a thoroughly theatrical diversion, sumptuous and totally saturnine. It is a kick in the guts from an artist who has hitherto delicately dealt in philosophical nuances, often wickedly funny but always tender to the human condition. Here an underlying steel is revealed, and Lucas as performer is less removed. The artist himself seems surprised: "Originally, this piece was called Body Begat, and I thought it was going to be about my mother. But somehow I have arrived at the point where a cold-blooded, psychopathic corporate bitch is about to use a poor fucking baby to keep herself young and beautiful…it could at least have some redeeming features."
A baroque gilt-edged frame, luminously sketched in by looping rope lights, is suspended in space. While this fulfills the function of a stage within a stage, its metaphorical lustre denotes, as Lucas makes explicit, the performer as fetishised object: "There are a lot of stake-holders—people who have made an investment in you—and they demand tangible outcomes. They want a return for that investment. I mean, after all, it may be art, but it's also a commercial transaction and you have to deliver. You have to deliver the goods." 'Back stage' Lucas coolly scrutinises himself in a mirror. The anonymous box set reveals a murkily foreshortened perspective as if under intense pressure. Something is threatening to burst out.
A child is immaculately conceived by a hag who dies giving birth. The child is seized by a beast and borne off to its lair. He is rescued by a prince who slays the beast but, disclaiming responsibility, hands the child over to a priest. Glorifying himself by baptising the child, the priest in turn makes a commercial transaction with the asbestos blond in her tower. This corporate horror spills the child's lifeblood in order to renew herself, but her tower is cast down by the terrors she has visited on others so that she spirals to her death. This ferociously comic, post-apocalyptic fairy story provides Lucas with the opportunity to perform himself as other to himself, or at least 'to run with the idea'.
This is the most evidently collaborative work by Lucas, and he pays tribute to his 'dream team': Brett Collery (soundscape), Bruce McKinven (design) and Morgan Randall (lighting design and operation). By building character to fit the designer's sculptural, eerily independent replicant shell (as opposed to putting on a costume) and by exploring similar physical patterns, repeated movements are de-familiarised in different contexts. Lucas unites the visceral and the cerebral with sometimes terrible immediacy in an economical format, which builds meaning from all elements of the production. For instance, the monstrous conception takes place to a transcendent, Gaelic version of Silent Night.
Underbelly is part of an ongoing inquiry into the nature of performance, an investigation in which Lucas appears implicated this time round as the criminal. If this is a story about making stories, the creative process is portrayed as brutal, and there is slippage where self-irony seemingly elides into self-disgust: "Repeat after me: I am a mid-career artist, I am a mid-career artist!" But Lucas is a border artist, taking from both zones, acutely aware of the purely contingent nature of subjectivity both in and outside art. In a world where politicians are makers of signs without substance, the predicament of the artist is forlorn indeed. Brian Lucas (a superb mid-career artist) courageously alerts us to the wounding truth central to this Byzantine performance.
Underbelly, creator-performer Brian Lucas, soundscape Brett Collery, design Bruce McKinven, lighting design Morgan Randall; Brisbane Powerhouse, June 21-24
RealTime issue #74 Aug-Sept 2006 pg. 35
© Douglas Leonard; for permission to reproduce apply to realtime@realtimearts.net