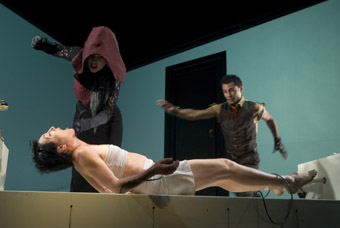 Claudia Alessi, Michelle Fornasier, Kegan Kang, BSTC, The Lady Aoi
DIRECTOR MATTHEW LUTTON'S PRODUCTION OF YUKIO MISHIMA'S THE LADY AOI OPENED THE 2007 PERTH FESTIVAL. LUTTON ONCE AGAIN DEMONSTRATED HIS COMMAND OF DESIGN, SOUND AND LIGHT, WITH ASH GIBSON'S DOUR, BASS-HEAVY STRINGS MAINTAINING A SENSE OF MENACE, WHILE SOHAN ARIEL HAYES' PROJECTIONS CREATED A SET OF GRAPHICS WHICH MORPHED AND EXECUTED DEFT, WIPE-TRANSITIONS.
Yasuko is the deceased lover of the protagonist Hikaru. Her hair crawls about the frame before she draws him from the hospital room of his wife, Aoi, and brings him before a rippling image of the lake where he and Yasuko once wooed.
The production looked and sounded fantastic, while Michelle Fornasier as Yasuko made the most of her black, gothic dress to slink and prance about the stage. Nevertheless, Lutton is still wanting in directing actors, consequently he exacerbates the clunkiness of Mishima's text. Passages like the nurse's boast that the "sexual complexes" which cause illness have been cured by her regular intercourse and analysis with the doctors reads like an adolescent male fantasy, rendered all the more ludicrous by its sledgehammer Freudianism. Lutton fails to overcome such problems—Hikaru has little to do other than stare earnestly during his flashbacks. "Was that a woman's cry?" he asks, before immediately falling back under Yasuko's spell like a hypnotised subject from a bad Hammer horror film.
wild cursive
Taiwanese choreographer Lin Hwai-min's Wild Cursive drew heavily upon Tai-Chi and Eastern body training, and was accompanied by a literally breath-taking score consisting of shattered, distorted field-recordings of pebbles, the sparse rumble of waves, and other materials nestled within a spacious silence which demanded deep attention from the audience. As the dance tempo rose and fell, arms windmilled in great, blurred arcs, while the undulations of the dancers' torsos rolling up or down from deep, off-centred crouches seemed to defy gravity—as though time and physics had been stopped or stretched through their exacting concentration.
The intensity of the performance escalated rapidly, with curvilinear dancers filling the stage in a rippling mass with such speed and complexity in their indirect 'call-and-response' exchanges (the dancers rarely touched) that it was almost as if all structure evaporated. Having deployed this unrelenting aesthetic to deconstruct the dance's legibility, Lin then forged deep pauses between each pyramidal sinuous pose or momentary extension upward. Gender emerged as a major organising principle. The audience was eased through the disorientation of the initial frenzy by the simpler dyad of active males dancing with reactive women. Even so, the extraordinary movements enacted in the women's later solos—notably the one performed by associate director Lee Ching-chun—appeared to exceed human capability, with the spine rolled behind the feet so far and in such a slowly measured fashion as to surely overbalance the dancer, yet her strength and careful judging of trajectory (or flow of chi) enabling a momentary return to standing, prior to a leap—also without apparent preparation.
Lin's aesthetic was rigorous and uncompromising, consisting exclusively of abstract dance and music—no narrative or even close adherence to the theme of Chinese calligraphy. Although couched in terms of a meditation on the individual's harmonious embodiment of yin and yang, absence and presence, life and death, and performed using forms derived more from Eastern techniques than European and American dance, Lin's total commitment to abstract forms produced an ambience akin to the toughest of European Modernists.
a midsummer night's dream
Although more visibly impregnated with culturally specific signs, Korean director Jung-ung Yang's version of Shakespeare's A Midsummer Night's Dream was no less modern in its fusion of theatrical styles. Compared with Japan's Noh and Kabuki, Korea does not have a well recognised, national classical theatrical tradition performed by professionals (as opposed to semi-professional festive traditions like Sandae-togam-guk), and was strongly influenced by the Japanese occupation, 1905-45. Jung-ung claims to produce a "collision of traditional theatrical elements such as Japanese Kabuki, Indian Kathakali, [and] Korean martial arts" which are employed as "materials … from which I can freely choose."
Jung-ung's style suggests a pan-Asian aesthetic evocative of Herbert Blau's notion of a universal, highly physical expressive style. Blau's "physical hieroglyphics" are deployed light-heartedly by Jung-ung on a beautiful, raw wood stage with raised ramps on either side recalling the Kabuki hanamichi—here for the comic characters to lounge upon whilst commenting on the action or pronouncing their theories of life and leisure. A low space for instrumentalists was situated within the back wall (as in Sandae-togam-guk, Kabuki and Bunraku), yet it was the actors themselves who struck the sharply percussive, wooden blocks and drums.
Jung-ung has reduced Shakespeare's narrative to four bewitched lovers pursuing each other at cross-purposes in the woods while local sprites—Korean dokkebi—played with the lovers' perceptions, enacting the childhood conceit of pretending to be trees, or sprinkling magical pollen on the protagonists. As a result, this version was almost pure stage business. Interestingly, here it is the wayward faery King who is taught a lesson by his spouse in falling for Bottom (an aged, female herb collector enchanted as a pig). The King's opening speech on the joys of womanising and laziness while jauntily perched on one leg, with a stick bearing his possessions hanging casually off his shoulder, was exquisite. Also notable was the delicate, traditional fan-dance by one of the male lovers, this gentle interlude expressing his inner distress. Jung-ung's interpretation was short, sharp and relatively straightforward, yet no less precisely structured in its formal borrowings and arrangement—as well as being resonant with various deeper cultural allusions. Bottom's fate for example was not a punishment for stupidity, as in Shakespeare's play, but a blessing in disguise, hogs presaging good fortune.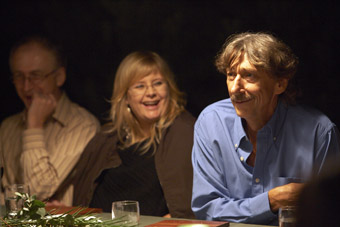 photo Jon Green
George Shevtsov & dinner guests, HOME, last seen imagining
home
Rather than reflecting an adroit cultural fusion, Home, from writer Humphrey Bower and director Sophia Hall, dramatised the pains of cultural movement. Six actors joined 20 spectators at a catered dinner hosted at a private house. After an initial introduction to the characters' cultural derivations, be they British or Middle Eastern, each related the events which led to their migration, traumatic journeys and initial Australian incarceration—prior to adopting what was often a highly positive view of their ostensibly peaceful new homeland.
The performers often stood to speak, sometimes with the inflections of a Thai or Croatian accent, or with the callow casualness of youth, as appropriate. Generally the dramaturgy was sparse, recalling Bower's work on Melbourne director Robert Draffin's "theatre as storytelling" aesthetic in The Idiot (1992) and A Thousand and One Nights (1991).
Home successfully guided its necessarily comfortable audiences (at $140 a ticket) through these stories, but it was not the first to do so. Like Bower, Alice Garner and Actors For Refugees have used detainee interviews to script verbatim theatre since 2002, while Through the Wire: The Inside Story On Refugees toured the eastern states in 2004-05. The main novelty of Home was its dinner setting, but the small, formal helpings of nouvelle cuisine were a far cry from The Idiot's homely and culturally relevant fare of borscht and vodka, doing little to foster a congenial sociability amongst the audience or with the performers. The most interesting inclusions were tales from guards at the detention centres—notably Hall playing a no-nonsense, good-natured warden who tried to treat her charges well, yet who was acquainted with how to rush a prison riot and how this separated the camp into 'us' and 'them.' While not as striking as the artists' previous work, Home was a fine addition to the Bower and Hall oeuvre.
2007 Perth Festival: Black Swan Theatre, The Lady Aoi, writer Yukio Mishima, director Matthew Lutton, performers Michelle Fornasier, Kegan Kang, Samantha Murray, Claudia Alessi, designer Bryan Woltjen, lighting designer Nicholas Higgins, composer Ash Gibson Greig, video Sohan Ariel Hayes, movement Claudia Alessi; Playhouse, Feb 2-17; Cloud Gate Dance Theatre, Wild Cursive, choreographer Lin Hwai-min, sound Jim Shun, Liang Chun-mei, His Majesty's Theatre, Feb 19-21; Yohangza, A Midsummer Night's Dream, director Jung-ung Yang; Playhouse, Perth Festival, 15-23 Feb; Last Seen Imagining, Home, senior writer Humphrey Bower, director/dramaturg/performer Sophia Hall, performers/collaborators Simon Clarke, Marta Kaczmarek, Phillip McInnes, George Shevtsov, Cara Sutcliffe, lighting Andrew Lake, sound Kingsley Reeve, various locations, Perth, Feb 12 – 24; Perth International Arts Festival 2007
RealTime issue #78 April-May 2007 pg. onl
© Jonathan Marshall; for permission to reproduce apply to realtime@realtimearts.net