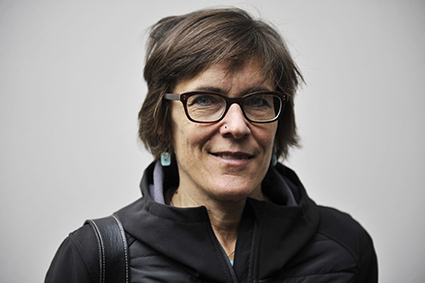 Amelia Jones
Amelia Jones is an American art historian, critic and curator who specialises in feminist art, body and performance art, video art and Dadaism. Courtesy of Sydney University's The Power Institute with Sydney Ideas she'll present a lecture on materiality and performance on 2 June.
Amelia Kelly of the Institute at the University of Sydney, the host for the lecture, tells us that Jones "has been working in the area of body/performance-based art for over 30 years, writing extensively on body art. We asked Kelly about the significance of her thinking, particularly in respect of feminism and body art, and its relevance to artists and audiences.
What is the importance of Jones' thinking?
Amelia Jones' theoretical discourse is significant for its identification of body art, and the discussions that form around it, disrupting dominant ideas surrounding both the corporeal body and external manifestations of internal psychologies, as well as normative values of the art world. Through its intersection with new technologies and new modes of documentation and dissemination from photography and video to online platforms, critical debate on body art also increasingly helps renew global discourses on identification and the 'making visible' of bodies that sit outside the dominant norm of contemporary visual culture.
What has Jones to say about body art in particular?
For Jones, feminist body-based art and 'the embodied female subject' has the capacity to address a diverse range of very real issues concerning age, race, colour, sexual orientation and gender identity—issues faced not only by women, but by people of all genders. Jones' re-evaluation of body artists such as Hannah Wilke (1940–1993) for instance—whose early work was often derided by critics for 'letting feminism down' due to its seeming perpetuation of dominant modes of femininity (Wilke famously used seemingly glamorous images of herself. Eds)—acts as critical reinforcement. Jones' reading of Wilke's nuanced exploration of female sexuality is that it both draws attention to the history of women's sexual objectification and concurrently re-claims space from the traditional domain of male sexual desires to express female erotic pleasure. Jones interprets Wilke and similar body-based artists as presenting "pro-active rather than re-active feminist subject[s]," a position that is very much in line with new feminist thinking as it intersects with queer theory. Jones' work expands our appreciation of the complexity of self-identification and desire, and emphasises the relevance of transgression and the active complication of assumptions in relation to gender identity and sexual orientation.
Is Jones' commentary particularly relevant at this time?
The Power Institute's role is to connect people with new ideas and theories in the realm of art and visual culture. Amelia Jones' Power lecture will focus on the works of several important contemporary body-based artists including Heather Cassils, Juliana Cerquiera Leite, Barbara Smith and William Anastasi, to explore how these artists bring their artwork into material, tactile reality.
Mediating her ideas through these artists' practices, Jones proposes an alternate mode of approaching art which takes account of the process of "making the body materialize," offering a new way of considering the radical construction of body diversity. As we are constantly exposed within broader media culture to incredibly narrowly defined notions of the physical form, Jones' talk is a timely examination of how contemporary art can contest notions of the body and gender. More broadly, it helps to introduce new ways of thinking through the problematics associated with the mediation of subjectivity from artist and audience.
Finally, given that Amelia Jones is at the forefront of historic readings of feminist and performance art, her writing on Marina Abramovic ("The Artist is Present": Artistic Re-enactments and the Impossibility of Presence, TDR: The Drama Review, Spring 2011, Vol. 55, No. 1)—who will be visiting Sydney in June this year as part of her Pier 2/3 residency project—should be recommended reading for artists, writers and all those interested in performance art in particular and body art in general.
Profile
Amelia Jones, the Robert A Day Professor of Art and Design and Vice Dean of Critical Studies is a feminist art historian, a scholar of performance studies, and a curator who has taught at McGill University (Montreal), University of Manchester (UK) and University of California. Her publications include books and essays on feminist art and curating including Body art/performing the subject (1998), Feminism and Visual Culture Reader (editor; new edition 2010), Marina Abramovic (in TDR) and on performance art histories. Her book, Self Image: Technology, Representation, and the Contemporary Subject (2006) was followed in 2012 by Seeing Differently: A History and Theory of Identification and the Visual Arts and Perform Repeat Record: Live Art in History, co-edited with Adrian Heathfield. Her exhibition Material Traces: Time and the Gesture in Contemporary Art took place in 2013 in Montreal and her edited volume Sexuality was released in 2014 in the Whitechapel Documents series. Her new projects address the confluence of 'queer,' 'feminist,' and 'performance' in relation to the visual arts.
Amelia Jones lecture: Material Traces: Performativity, Artistic 'Work,' and New Concepts of Agency, Lecture Theatre 101, New Law School, Eastern Avenue, University of Sydney, free, 2 June, 6:30-8pm
RealTime issue #126 April-May 2015 pg. online
© RT ; for permission to reproduce apply to realtime@realtimearts.net