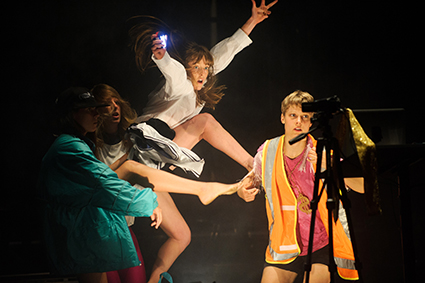 photo Sarah Walker
Overworld
At Dance Massive Varia Karipoff encounters works from emerging and established artists that engage with the relationships between the body and its manifestations on screen, in ethnicity and the everyday as well as with ritual and the anxieties of mortality.
Rebecca Jensen & Sarah Aiken, Overworld
There are two scenes that capture the audience in Overworld, an interchangeably blithe and scathing take on popular culture and alternative spirituality. The first is the opening scene when the four performers are tightly enshrined in a pentagram constructed from a rainbow of op shop detritus. From a foetal position they become activated, awakening physically and mystically in a primal, pulsing and (seemingly) un-ironic fashion before unleashing chants that sound like three-second sound grabs from YouTube videos.
The second scene is the climax, where playful chasing and orgiastic discarding of costumes gives way to a frenzied altercation between two performers. The defeated is left lying naked and wounded—I saw welts on her skin. The sounds of the scuffle are recorded on mobile phones and played back—the phones placed at rest in coloured glass vases like oil lamps in a temple, distressed female cries wafting out instead of smoke. The effect is just as voyeuristic and uncomfortable as seeing the crumpled body lying prone. Incongruously, the victim then rises to eat an ice cream offered from a crystal plate. With the performer playing goddess and victim, the feminine is explored in the context of religious ceremony and pop culture. This idea is returned to in the closing scene, where the quartet ham it up to rap music, notorious for both objectifying and empowering women.
There was a jerky transition when the note-perfect ceremonial-type chanting cut to a lengthy and odd audience participation exercise. Despite this touch of chaos, Aiken and Jensen hit gold when examining the right to access mythic traditions in contemporary terms.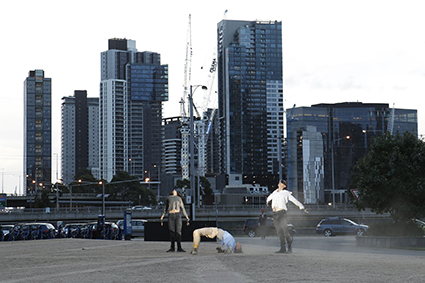 photo Jeff Busby
Depth of Field, Chunky Move, Dance Massive
Chunky Move, Depth Of Field
On the Malthouse Forecourt, a dancer puts on a pair of gloves and strides through gravel and sand, her boots raising dust. We could be on the set of a post-apocalyptic outback film, although even with headphones on, the city seeps in, becoming the backdrop in landscape and soundscape, our view framed by it. Pedestrians making their way home in early autumnal dusk stop to look in on the action. Our hands are raised to shield our eyes from the setting sun, which slides behind skyscrapers. The effect is slick and cinematic. Across the road, a man in yellow is dancing, his jagged moves like an inexperienced hip hop busker.
Depth of Field commences; it's a bone shuddering, breakneck, frenetic action drama that spills beyond the Malthouse forecourt. Three dancers swirl violently, landing in the dust, rolling as though thrown from a vehicle, their bodies propelled by external forces. Sometimes they seem to be in control, as though in a fight only to be knocked down again, their movement slowed down. They run as if being pursued, dazed, wide-eyed. One dancer uses her skull to balance in improbable poses. Pedestrians stop and stare; two women on bicycles go by. As the dancers begin to come together, making contact with dramatic lifts, we suspect that small scenes going on at the edges of the dance just might be orchestrated too. On cue, pedestrian extras and dancers alike fall to the ground as one.
Victoria Chiu, Do you speak Chinese?
A line from the score to Do you speak Chinese? refers to "white Australia's hungry ghost." Like that ghost, we often willingly consume multiculturalism, as long as it comes in a take-away box. Choreographer and dancer Victoria Chiu and collaborator and dancer, Kristina Chan, elegantly turn over questions about post-colonial identity and the connection between language and roots just as deftly as they fold giant sheets of paper. First the paper obscures their faces (and by default, race and identity) then in a contemplative roll and twist their bodies manipulate the paper to form a sailboat, a nod to Chiu's native Hong Kong. Chiu doesn't speak Chinese. We hear a language lesson where it is discovered that what was assumed to mean "Happy New Year" is actually a blessing for financial success.
We embrace Chiu's awkwardness; she enters the space feet first, sliding on her back, writhing in, feeling with her hands the corners and liminal spaces of the room. It's a visibly painful way to move. When the dancers stand, they continue to obscure their faces, mashing them with their hands, pulling their eyes into thin openings. Finally, we see that their faces are indeed 'Chinese' and the reveal is loaded. Moments of flowing movement give way to confrontation. Chiu and Chan fight their way into long knit dresses—simplified cheongsams; their limbs form angular, uncomfortable shapes as they wrestle in the restrictive fabric. With striking paper props and light humour, Chiu questions her wrestling and ours too. When a musician plays the guzheng, the sound is so achingly haunting we also miss a China we don't know.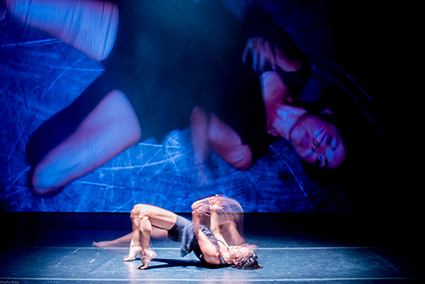 photo Mischa Baka
Paula Lay, Ten thousand small deaths
Paula Lay, 10,000 small deaths
Walking into the theatre through an aperture-like opening of black curtains sets the tone for Paula Lay's polished dance-cinema work. The title makes one think of the French idiom for orgasm, la petite mort (the little death) and sure enough, Lay appears from the darkness, on her back, pulsing and straining, lifting herself up on her hands. A camera captures her sinew and strength, dramatising it as cinema does, projecting it onto a screen (video Martyn Coutts). In comparison Lay's body seems slight, less dramatic. The camera exaggerates and tricks, stealing from reality to create something more desirable. Where the opening scenes recall birth, or at least an earthy act, the piece ends with a death. In a video projection, Lay, naked and in a foetal position, is slowly buried on a forest floor.
The interaction between film and dance provides moments of telling interplay. In a black and white short film, Lay is topless, apparently on a beach, the shot tightly framing her body. She waves her arms deflectively, or it could be a practised action, like tai chi. The movement is slowed to motion blur. In darkness Lay stands next to her screen self; as the giant shadow of her arm descends it momentarily illuminates her as if cutting her down until the arm in the film repeats the motion.
The notion of a 'small death' also brings to mind Flaubert's A Simple Heart, where the protagonist—an uneducated country maid—leads an unexamined life and dies her small death in a crumbling house. Repetition and fluidity are cornerstones of Lay's 10,000 small deaths, one motion running into the next as days do. The repeated movement looks a lot like a training montage—though graceful and ritualistic at first, continual repetition implies that it lacks significance as though time has sped up and reduced existence to the movements the body makes in the everyday.
Sue Healey, On View: Quintet
Five characters each 'own' a screen, as they later each own a kind of spirit animal. The screens hang in a semi-circle. The characters are built from moments on screen and from their movements in front of us, a visual archive of their individuality. We get to know Raghav Handa's wide-eyed stare and the way his hip dips as he performs a turn. Shona Erskine, a tall, regal presence who dances with a stuffed fox, I quietly dub, Julie Andrews. The quintet is painted in generous cinematic strokes, with extra layers provided by luxurious costumes and lush cinematography. In towering platform stilettoes Benjamin Hancock is especially splendid; he doesn't seem to possess bones as he displays super human flexibility in what can only be described as a gimp rabbit suit, complete with stocking ears ending in tufts of fur. Likewise, Nalina Wait, exhibiting emotional range as a voluptuous starlet in a silver shift dress, interacts with her film shadow, first letting it correspond to her movements then running counter. Eventually the line between screen and live action is blurred with projections onto muslin held by the dancers and then on skin, and once I am certain there is a projection of a projection—a visual and semantic tangle.
On View is most effective when it is confronting. After we have idly, judgmentally watched them on screen, the performers are released into the live space to stare into the audience. Otherwise this is a contemplative and introverted work, not so much revealing the dancers as ruminating on the way we see others.
Dance Massive 2015: Overworld, Rebecca Jensen & Sarah Aiken, Arts House, North Melbourne Town Hall, 10-14 March; Depth Of Field, Chunky Move, concept, choreography, direction: Anouk van Dijk, Malthouse Forecourt, 6-14 March; Do you speak Chinese? choreographer, performer Victoria Chiu with Kristina Chan, Malthouse, Tower Theatre, 18-21 March; 10,000 small deaths, choreographer, performer Paula Lay, Dance House, 20-22 March; On View: Quintet, film, choreography (with the dancers) Sue Healey, Dancehouse, 20-22 March
RealTime issue #126 April-May 2015 pg. 24
© Varia Karipoff; for permission to reproduce apply to realtime@realtimearts.net