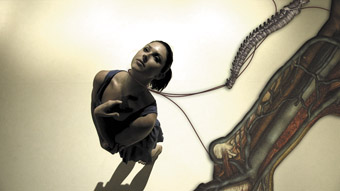 Rachelle Hickson, 'Reading the Body' in The Curiosities
PHILOSOPHER DREW LEDER SAYS THAT THE LIVED EXPERIENCE OF THE BODY IS MOSTLY ONE OF ABSENCE. THE INTERNAL BODY DISAPPEARS FROM BOTH VISIBILITY AND SENSATION UNLESS THERE IS PAIN, IMAGING, DISSECTION OR A RETURN TO THE BODY THROUGH DANCE. SUE HEALEY AND COLLABORATORS HAVE BECOME CURIOUS ABOUT THESE ABSENT LAYERS OF BODY. WITH MEASURED ATTENTION, HEALEY'S LATEST INVESTIGATION, THE CURIOSITIES, EVOCATIVELY PROBES OUR INTERNAL STATES AND STRUCTURES, REVEALS EXTERNAL CONNECTIONS AND IMAGINES THE POSSIBILITY OF BEING ANATOMICALLY OTHER. REPRESENTATIONS OF THE HEART, BRAIN AND SKELETAL SYSTEM ARE MANIPULATED USING PROPS, ISOLATED AND SUSPENDED THROUGH ANIMATED IMAGE, AND REINTEGRATED THROUGH THE MOVING RELATIONSHIP OF DANCERS NALINA WAIT, RACHELLE HICKSON AND LISA GRIFFITHS.
A screen is suspended in front of the upstage wall. To the right, a rectangular screen on its side hangs close the ground. A white cube two metres in dimension is downstage centre, a mobile site for analyses and scene transitions. The opening projection is of a richly coloured throbbing heart, rhythmically pulsing, indicating a living creature, absent.
Nalina Wait interrupts the image, stands in a column of white light, face widened with exaggerated emotional confusion. She eyeballs the audience. Her solos vacillate between explosive reaction and considered retraction of extended limbs thrown from a fluid, breath filled centre. Deeply sourced, Wait's energy percolates, whipping the space in fitful bursts of acute self-awareness: causation. Her manner sometimes borders on the stylised: construction. Appositely adorned in red heart-shaped fairy lights, during a cutesy 'kitsch' moment, she presses a love heart about the space she moves within.
Wait's facial expressions and hand gestures remit a quality rather than identifiable character. Following a playful chess game and assembling of a model brain and heart by Hickson and Griffiths, a seated Wait pushes a table backwards while wringing clasped hands with throbbing gestures. A wicked smile causally connected to the pleasures of her action disappears into the darkness.
The clarity of Hickson's grand extensions carries the "rational, scientific perspective" to a point. Her inquiry is direct and calm. She observes by looking at how her body moves and is moved by Griffiths, a character facilitating "possibilities for movement." There is a softness and creamy tempo in the unfolding of limbs along direct pathways, arrival entailing a pause with hand flourish or finger gesture: dabbing, curling, then little shakes. The lower leg rotates in the knee joint as an afterthought, causing a different part of the body to respond in circular isolation.
Griffiths manipulates Hickson through supportive limb lifting, pushing, stance arrangement and dragging of protruding bone—manifest as fleshy skin sculptures. She instigates many of the moving duets and trio sequences: fully lit for their duration, screens inactive. The lyrical dances are met by the more melodic moments of Darrin Verhagen plumbing the depths of his variegated soundscape.
The image of a bird's wing in skeletal form is projected onto the rectangular screen as if inserted into the dancer's shoulder joint, permitting us to see the possibility of interspecies experimentation. The idea is thickened by a final moving trio: heads bowed, scapulas slide awkwardly upward, reconfiguring the distal relationship of limb points where embryonic flight unfurls in the cacophonous shrill of many birds: a large aviary or Hitchcockian anxiety?
The production of animated space in the projected film Reading the Body (animator Adnan Lalani, performer Hickson) mirrors, dissects and makes visible the felt forces and linear geometries expanding beyond the boundary of skin: how do we move? Animated objects are spookily suspended like child mobiles. Graphics resemble the crude, naive surrealism of Mexican folk art figures: bones in their own dance. The dancer interacting—measuring, shaping up, now inside-out—Hickson disassembled in the apprehension of absences.
The pleasure of Healey's installations is found in the sober balance between dancing and screen work which mediate her explorations. The Curiosities avoids saturation of one media and the jarring consequences of poorly developed dramaturgical interactions between bodies and screen. In one playfully engineered moment, Griffiths and Wait, supine, pump arms and legs in a raucous running style. They are captured in real time and recast as little figures in the slapstick chase of a bouncing love heart. Healey has allowed the work's structure to breathe: this is felt in the pause of a phrase which permits a new cycle and in the white cube's revolving display of bodies re-examined, recreated and restless in form.
–
The Curiosities, director, choreographer Sue Healey, performers Nalina Wait, Lisa Griffiths, Rachelle Hickson, animation Adnan Lalani, film Louise Curham, sound Darrin Verhagen, visuals Adam Synnott, IO Myers Studio, UNSW, Aug 13-16
RealTime issue #87 Oct-Nov 2008 pg. 41
© Jodie McNeilly; for permission to reproduce apply to realtime@realtimearts.net