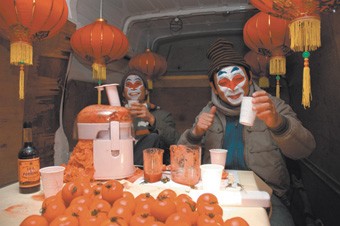 photo James Champion
Mad for Real (Cai Yuan & JJ Xi)
GIVEN THE SENSATIONALIST REPORTING OF SOME OF THE MORE EXTREME EMANATIONS OF CONTEMPORARY PERFORMATIVE CHINESE ART (SUCH AS ZHU YU'S PURPORTED BANQUET OF FOETAL BODY PARTS), A FULL-SCALE FESTIVAL OF CHINESE LIVE ART CALLED VITAL ALWAYS CARRIED WITH IT THE VEILED POSSIBILITY OF AN OUTPOURING OF VISCERA AND BODILY FLUIDS. BUT IN THE EVENT, VITAL 06 AT MANCHESTER'S CHINESE ARTS CENTRE FOUND A POWERFUL PULSE WITHOUT RECOURSE TO BLOODLETTING.
Hong Kong artist Leung Po Shan set a contemplative tone in her opening durational performance, Hammering-In-Time. Illuminated by a single candle, a broken tree branch in the centre of the small studio space cast its looming shadow across the walls. In the gently flickering half-light, the diminutive figure of the artist, in a diaphanous gossamer skirt, attempted to nail down the shadow. Following the edges of the silhouette, Leung Po marked out the outline of the tree shadow in a trail of copper tacks, pursuing the shape with the aid of a ladder where the shadow crept over her head until it spilled out of reach across the ceiling.
Hour after hour, she tap-tap-tapped with a dainty hammer, the meditative rhythm interrupted only by the occasional plink of a tack slipping through her fingers to the wooden floor. Post-performance, the course of the shadow survived as a raised dotted line branching across the white walls in an installation viewable throughout the festival. The intangibility of light and shade had been temporarily translated into palpable metal. However, the broken outline hinted at the incompleteness of the picture: a metaphor for everything that is un-pin-downable in live art. From a lived moment, rich with human breath, flame-warmed in the wavering light and a room vibrating as echo dissolved into echo, all that remained was a scantly delineated after-image.
Gamine and slight-framed, with cropped hair, Leung Po also goes by the name of Anthony, thereby injecting a little gender ambiguity into her next multi-sensory performance, an intimate one-on-one interaction called Itchy Scratchy.
The pungent smell of eucalyptus and wintergreen seeps down the corridor. A glass bottle of Chinese White Flower Oil is slipped into my hand with the invitation to enter the studio and rub the embrocation into the artist's body. Anthony Leung Po kneels naked, on a small wooden platform, staring straight ahead at the incoming visitor. The furled bloom of a white rose pokes out from her silent lips.
A mirror offers both a reflection of the artist's slender back, and the incomer's own awkward gaze. Feeling exceptionally ungainly and over-clothed, I drip a few drops of oil onto my palms and try to decide how and where to start anointing this boyish body. Tentative massage of a smooth brown thigh evokes an immediate response as the artist unfurls gracefully, bending to follow the touch, revealing toes tied together with red ribbon. A metronome ticks insistently by her side as a reminder of the present passing moment. I conclude my session too hurriedly, and sense too late that I've made the wrong choices, and haven't allowed this encounter to play to its full flirtatious, sinuous, potential—damn, I'm feeling irritated with myself now. As Anthony takes the rose from her mouth and pins it to my jacket, I realise I've misinterpreted the performance title. Itchy Scratchy isn't the action of the white flower oil on bared skin: it's the tantalizing mental discomfiture of laying your hands on that proffered body, and all the niggling anxieties it incites.
VITAL interspersed new commissioned live work with a number of documentary presentations, showcasing artists from mainland China and across the diaspora. Patty Chang (USA) introduced films of herself sucking her reflection from a water-covered mirror and travelling to China to reconstruct a plywood and sponge cake Shangri-La. A weather-beaten He Yung Chang (China) reminisced about his days spent incarcerating himself inside concrete. Ying Mei Duan (China/Germany) hid behind a cupboard door whilst screening an intriguing set of performances: accident-prone in gawky dresses and over-sized glasses, sleepwalking, or stranded on top of a high wall, wriggling tummy-down like a stranded insect.
Marcus Young (USA), serene and monkish in pale floor-length robe, and carrying a huge sky blue umbrella, passed daily along Manchester's busiest shopping streets, gliding at a snail's pace and smiling beatifically amidst the urban bustle. Lisa Cheung (Hong Kong/UK) created a performative installation, filling the darkened gallery with a confusion of shadows. Kinetic lamps, part child's nightlight, part lighthouse, flashed rippling texts around the walls—"water sinking…sinking water". The familiarity of the words began to sink in—these were the last desperate phone messages of the 23 illegal Chinese immigrants recently drowned in the winter darkness while picking cockles in nearby Morecambe Bay.
Exuding menace, in the red and white face paint of legendary Chinese troublemaker the Monkey King, artist duo Mad for Real (Cai Yuan and JJ Xi) invited passersby to join them in the back of a white van. Armed with a juicing machine and a mountain of tomatoes, the pair slammed the van doors locked and held their human cargo hostage until enough tomatoes had been pulped and drunk. Just a few uncomfortable, airless minutes in which to contemplate the unimaginable horrors of an illegally trafficked journey to the UK.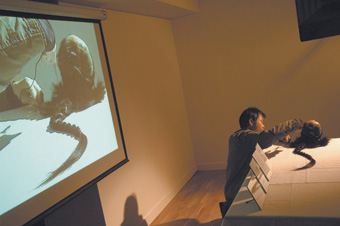 photos James Champion
He Cheng Yao, Auction of Very Personal Possessions, bidder Cai Yuan
He Cheng Yao (China) provided VITAL's finale with an "auction of very personal possessions." The nature of the lots on offer remained a mystery even as we queued to register for a numbered bidding card. A shiver of unease crept up on the crowd, jostled and crushed at the back of the room, peering round shoulders and under elbows, as we gradually made out the viewing table and the artist herself, utterly still, kneeling beside it. The event's organiser, Sarah Champion, took to the podium as auctioneer and lit a tiny birthday candle. We would be bidding on He Cheng Yao's hair, and the winner would be the last bid received as the flame went out.
A live video feed projected onto a big screen kept in view the ever-shrinking candle and He Cheng Yao with her head tilted uncomfortably backwards and her gaze tilted up, her hair braided into a long black plait stretched out behind her along the white tablecloth.
The severance of hair, whether involuntary or self-imposed is always a potent symbol, simultaneously evoking subjugation and sacrifice, modernity and emancipation. Here was a 10-year personal-history, 112cm of hair, offered willingly for sale, yet in a scenario that evoked an execution. At this time of meteoric escalation in the economic value of contemporary Chinese art, we were invited to question the role of the artist in the art marketplace. Auctions usually unite art objects and buyers without the inconvenient intrusion of artists. No need to think about the unpalatable lives that give rise to the works. He Cheng Yao's performances are slow-growing and deeply personal. Her work has consistently drawn on intimate, often painful biographical experiences; they do not emerge lightly, and are not performed without emotional consequence. Was her hair just another decorative commodity?
While the ethical considerations of buying part of someone else's body began to percolate through the room, along with questions about racial and gender power relationships and all the cultural and historical implications of hair-shearing…the first bidder was already marking out his territory with an assertively high offer. Participation in the sale had been swept imperiously out of most people's reach. Heads craned to spot the big-money investor, and discovered artists Cai Yuan and JJ Xi bidding determinedly until emerging victorious to the tune of £325.
The Chinese-born, British-based duo have made a habit of intervening in other artists' work since 1999: holding a pillow fight on Tracey Emin's bed and pissing on Duchamp's urinal. Was this to be another artistic hijacking?
Perhaps the high bidder was expecting simply to snip off the pigtail and hold it aloft triumphant, for Cai looked uncharacteristically gobsmacked to discover that, like Shylock, he was required to claim the entirety of his prize clean to the scalp. For ten long minutes, He Cheng Yao stared unflinchingly into the eyes of her new collector as he struggled to scissor his investment free. So whose was the crowning glory?
VITAL 06, Chinese Arts Centre, Manchester, UK, Nov 2-5 2006. VITAL 07 takes place October 2007. www.vitalfestival.org
RealTime issue #77 Feb-March 2007 pg. 4
© Judith Palmer; for permission to reproduce apply to realtime@realtimearts.net