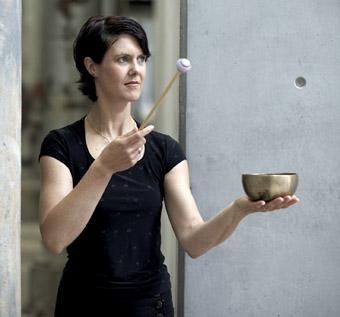 photo Keith Saunders
Alison Pratt, Gethsemane
IN THE BIBLE, GETHSEMANE IS THE PLACE WHERE JESUS CRUMBLES, FOREKNOWING HIS OWN DEATH, FEELING ABANDONED BY HIS GOD. THE RABBLE WILL TURN HIM OVER TO HIS CRUCIFIXION. THROUGH HIS INTENSELY PERSONAL SUFFERING, CHRIST DOES NOT GIVE UP; RATHER, HE GIVES OVER: PEOPLE WILL DO AS THEY WILL DO. THIS FEAT OF ACCEPTANCE IS PROVOCATIVE AND DEEPLY MOVING.
Gerard Brophy's Gethsemane follows quite a different trajectory. The five textual passages around which the performance is shaped depict snapshots of life, struggle and death in contemporary Calcutta in a journey across the city from dawn to dusk. The musical form winds and unwinds around these passages. I have an image of spirals within channels of decay—like the labyrinthine passages of this ancient 'city of joy,' like a worried angel overlooking a putrefying feast.
Martin del Amo's first solo dance passage is accompanied by an ascending electronically generated scale which begins in unison but proceeds to divide. His arms and torso—rising, falling, being pulled and propelled—struggle like cells parting ways. The dance becomes thicker, as if spiralling through honey. This is a slow death.
A later dance becomes thinner, sowing its struggles in water, thence becoming brittle, as if broken apart in wind. The Song Company as chorus also works its struggles, shuddering and shuffling in alleyways, trembling as if scattered by internal quakes. A final, jagged scavenging, as if trapped within a thin cylinder of breath, is quieted by the blow of conch horns, sounding the gates of hell (or the other place). The soprano saxophone, a cobra's dance, calls the final chant; the figures become translucent and turn to their deaths.
Throughout, the choir—always exemplary in their vocal work—is comfortable in its motions; for each member their movement decisions seem entirely in place. The choreography as a whole displays an admirable restraint in tone, letting me sit within the experience.
The weakness for me is in Brophy's text. Even the Song Company's website describes it as 'florid'; as an actor, I would find it very difficult to know how to pitch it. The main issue, I believe, is that it is overwritten, and the narrative of ambiguous disposition—horror? disgust? wonder? Its delivery lies just on the edge of scorn. Even after reading the text and then watching again, it remains very hard to grasp in real time. The imagery lacks tautness and coherence—especially in comparison with the music, which has both these qualities.
The vocal writing is spare, almost plainchant, nodding towards the Flemish masters (Lassus and Tallis) whose lamentations Brophy did not want to imitate, but which recognise the power of sound quality—whether vocal, instrumental or electronic—to carry experience from the deepest chambers of human experience. I am still haunted by several glorious, sparse melodies. Eastern tonalities resonate, without making the mistake of imitation. This work is grounded in the concrete timbres of sound and transcendent of specific geography. It carries a landscape of soul.
By its final moments, I am left strangely opened, yet also closed: moved, worked on by grief, but also strangely neutered. What has happened here?
Song Company director Roland Peelman initiated the project by pointing Brophy to the Lamentations of Jeremiah, where he watches the city of Jerusalem burn. As a prophet, warning his people about the impending wrath of God, he had been reviled and jailed. But Jeremiah's lamentations as he watches his beloved city fall express an intensely personal grief that is also full of love for the very people whom his God destroyed.
I expect this compassion is what is missing from Brophy's text. The story, the lecture on the city's filth, corruption and waste, the finger pointing to its social injustices throughout the program notes, are confusingly angry yet ungrounded, disgusted and yet aloof. What makes us care is the ache in the movement, and the music: simple rising scales with raised fourths and lowered sevenths, played on chimes or bells whose pure and complex timbres sound the world; the electronic aural landscapes that prise space apart; the spiralling motions of the dancers and the dance, the shudder of their struggles against the limitations of the alley and the wall; the struggle to move beyond, but being held back.
Calcutta is not a destroyed city, as was Jeremiah's Jerusalem. It is teeming, fetid, dangerous, tangled with contradiction, but it is also 'the city of joy', full of life. If only this Gesthemane could perfect its passions. I could then sit with its musics and motions and be fired with passion, sorrows and compassion, for all the days of my life.
With thanks to Roland Peelman and Timothy Constable for discussing Gesthemane with me.
Song Company, Gethsemane, concept and music Gerard Brophy, texts Gerard Brophy, plus Bible adaptations, director Roland Peelman, dancer, movement director Martin del Amo, performers Song Company, Synergy Percussion's Timothy Constable and Alison Pratt, saxophones Christina Leonard, sound design Bob Scott; St Paul's Church, Canberra, NSW tour, March 21
RealTime issue #96 April-May 2010 pg. web
© Zsuzsanna Soboslay; for permission to reproduce apply to realtime@realtimearts.net