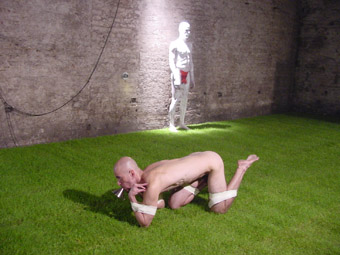 photo Luiz Fernando Lobo
Pacitti Company
GRAND FINAL AT SHUNT VAULTS RATTLES THE NERVES OF EVEN THE MOST HARDENED EXPERIMENTAL THEATRE-GOER. PACITTI COMPANY'S IMMERSIVE, NON-NARRATIVE REWORKING OF EMILE ZOLA'S 1867 NOVEL OF DEATH, SEX, MORALITY AND POWER, THERESE RAQUIN, IS SET IN THE DARK, UNDERGROUND, RAT-INFESTED HOLE-CUM-NIGHTCLUB HOME TO THE SHUNT PERFORMANCE COLLECTIVE IN THE OLD RAILWAY TUNNELS BY LONDON BRIDGE.
Grand Finale has been performed over the last seven years, in cities as varied as Brussels, Birmingham and Rio De Janeiro, but remains profoundly and politically site specific. Each host city impacts on the work to produce a unique performance every time.
On its way through a maze of dark tunnels the audience passes a corner illuminated by a disco ball, under which a heavily tattooed lady dances on a shabby white grand piano—a disturbing curtain raiser to the main act where we encounter Sheila Ghelani, tightly muzzled and glamorous, alongside a cast of all-female guest performers.
Ghelani removes the muzzle, launching into a monologue: "I am Therese, I am an experiment. I am under analysis, under the microscope. My fate is fixed and I wear the perfect costume." She is Therese, the protagonist of Zola's novel, but shares the part with her fellow female performers. Grand Finale's dispersal of the Therese role fits with the central motivation of Zola's novel, to study human actions and temperament but not character. It also ties neatly in with Pacitti Company's non-theatrical treatment of the novel in order to pursue the real drama and themes contained within.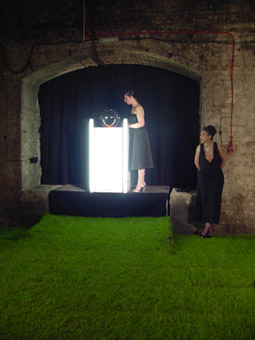 photo Luiz Fernando Lobo
Pacitti Company
Later, the 22 performers break away leaving the audience free to wander and witness a range of vignettes beneath the railway arches, escalating the show's dark aesthetic with images of sex, violence, domestic abuse and suffocation variously involving bared breasts and genitals, raw meat, milk, wine and bin bags. One vignette tested the central dilemmas under analysis in Zola's novel more acutely than any other. In it Ghelani slowly drowns a large goldfish by gradually removing water from its small glass bowl. Of course the fish only appears to be drowning—it clearly has enough water throughout—but what's signified is more important. The scene embodies a live manifestation of Zola's example of the helpless victim, its impending death and the exercising of power to kill devoid of any moral or legal right to perform such an act. It is a gesture that creates audience concern, questioning the integrity of using a live animal in performance. In short, the scene presents a moral conundrum: it is the best act for all the wrong reasons and as such its place within Grand Finale is entirely fitting.
Grand Finale was more than a climax to the month long Spill Festival. It was about exchange, bringing local and international performers to an existing but open-ended, radical structure in order to 'produce' while simultaneously exploring collaboration as product in and of itself. Grand Finale functioned as a microcosm of the Spill Festival as a whole, embodying the individual and collective aim to provide, and moreover share, this unique UK platform for performance.
It is an event no-one will forget thanks to Grand Finale's compulsory post-performance handwash for every audience member. This sinister ablution on the way out represented one last sly grope, courtesy of Pacitti Company, ensuring the grime of Grand Finale lingers on.
Grand Finale, devised and performed by Pacitti Company in collaboration with Françoise Berlanger, Eve Bonneau, Caroline Daish, Richard Eton, Sheila Ghelani, Richard Hancock, Traci Kelli, Louise Mari, André Masseno, Tuca Moraes, Priya Mistry, Robert Pacitti, Sylvain Reymond, Valerie Renay, Jason Sweeney, Carla Esperanza Tommasini, Heather Uprichard, Julie Vulcan, Hannah Williams, soundtrack Velma; Shunt Vaults, SPILL Festival of Performance, London, April 21, 22
RealTime issue #80 Aug-Sept 2007 pg. web
© Rachel Lois Clapham; for permission to reproduce apply to realtime@realtimearts.net