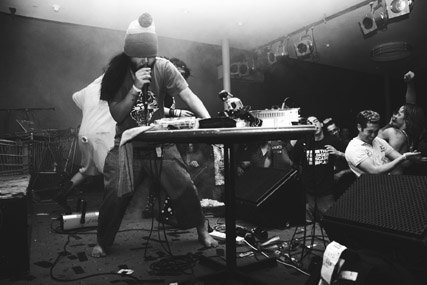 photo Alex Davies
Scotch Egg, Gado! Gado! Gado!
ELECTROFRINGE HAS OUTGROWN THE CHEERFUL AMATEURISHNESS OF ITS ROOTS AND TAKES THE QUOTIDIAN BUSINESS OF FESTIVALS IN ITS STRIDE. THE RUN-OF-THE-MILL BUSINESS OF FESTIVAL, WHICH IS INNOVATIVE AND WELL CURATED EXHIBITIONS AND SHOWS, ARE ALL PRESENT AND CORRECT. MORE CAPTIVATING though ARE THE ODDITIES OF THE MANY-APPENDAGED BEAST.
Because while these events aren't always successful, neat, or even deliberate, the volume and quality of that bizarre spontaneous insanity is the flesh on the solid Electrofringe bones of conventional festival fare.
It's a delicate business, the fostering of spontaneity. Hybrid media jam venue Collabrador doesn't have it this year, not to the same degree as last year's digital arts debauch of the same name. Unreasonable Adults, however, are doing a solid job over at Gift/Back on Hunter St. Like most things at Electrofringe, if it doesn't begin in cyberspace, it at least protrudes into it, and I guess that's the motivation for their inclusion in a new media show. Either that, or their hybrid media nature puts them on the same page of a funding acquittal. Whatever the excuse, they are a stack of frenetic fun, remixing such diverse ingredients as books, videos, ministerial correspondence and chocolate bars from punters into an equally diverse profusion of video snippets, photos and sleep deprivation. In their hands, random items, suggestions and textual snippets from all-comers are the seeds of an ebullient upwelling of things performative. The injunction "make a one-minute musical", a discarded embroidered red dress, and the SMS poem (or IRC chat log?) 'she is…' become possibly the world's shortest musical to still cram in a toe-tapping tune at one minute and 42 seconds. As such, it's a marked improvement on the genre of the musical all round, with new media cred to boot.
The Unreasonable Adults' genius is in the material they coax from their audience. As many media as they are toying with and as dispersed the crowd, the Adults still work the Electrofringe audience with a captivating mix of childishness and wryness. The submissions they elicit in the course of their play are little works of art themselves, and they are preserved on the Unreasonable Adults website: "You have to randomly include numbers one inclusive to 512 into your improvisations in no sequential order. Or sequential if you want more of a challenge." "When you say the word 'and' you have to physicalise a Rodin pose…" Or the items "2 x Multicoloured feather boas; Chimes; a packet of 15 whistles; four leaf clover 'good luck'; Tetrapak purse with 25 cents and old celery; a piece of coral from Daydream Island."
Holding the banner for the non-sampling, 100% new material contingent is Spain's hybrid dance Colectivo Anatomic whose AV dance/musical performance piece RAW is noticeable both for its total absence of any unoriginal or sampled material, and its verbose concatenation of every conceivable funding-ready sounding component of new media art. Custom control interfaces? Tick. Motion tracking eyeball controllers? Tick. Mobile devices? Hybrid media? Custom software? Multichannel live video remixes? Tick. What it lacks, sadly, is coherent vision. It's not like they are at all unskilled, either. Their custom motion-sensing video projection piece was surely the most tightly integrated, well-rehearsed and smooth motion tracking projection performance I have seen. But it was still two dancers running around without detectable motivation after a projected dot, sandwiched between two other performances, with little coherent justification other than showing off their PDAs.
Back to the world of questionable intellectual property then, where we're all comfortable. Filastine's set at the festival was an essay in, among many things, artful appropriation, world cultures of music and industrial zoning chic. From a podium of two shopping carts affixed with auxiliary bullhorns, they mix Cuban, drum and bass and hip hop tracks in at least three languages and play a profusion of percussion instruments, including the shopping carts themselves. It's a danceable but painfully literate set, crossing smoothly and respectfully between traditional rhythms of South America, the Middle East, India and various schools of music in which I am totally unversed. In terms of source material, if not production techniques, this set is remarkable for the explicit avoidance of the musical hegemony of the West, combining tracks and loops on their own terms. After the somewhat restrained record playing of the prior hour, the crowd explodes. This dreadlock'd gentleman has the advantage of being at one of the moments, if you had to pick two, that climax the festival. The other contender occurs only a few minutes later, an unplanned exploration of collaborative live jam spontaneity: dual-gameboy-and-megaphone gabbacore DJ, Scotch Egg, aka Shigeru Ishihara has taken the stage and incited the crowd into near epileptic convulsions with what afficionados term 'spastic beats', and is dancing onstage with a woman in a furry chicken suit. Then Newcastle fixture Peter "Shok" Hore, aka Peter Michael Howard, Serial Pest, crash tackles Shigeru's precarious bar table of gear, simultaneously invalidating a half dozen warranties and dislodging sundry leads, cartridges and batteries. The most ear crushing silence I have ever heard ensues.
The crew down the stage lights while Hore is bodily ejected from the venue. In the brief window of audibility Filastine has started spruiking his music from an upturned bin by the toilets, and it's the grimy panic-riddled but desperately fun face of This Is Not Art (TINA) we've come to love. I don't have exact change to buy his latest album… "You can download it with p2p filesharing instead," he says, "or I'll throw in my last album for 5 bucks and we can make it a round 20." Having thus found a model solution to a decade of digital intellectual property conundra and scored me two new CDs in a single act, we are drowned out by the birth cries of Scotch Egg's rebooting Gameboys. Three minutes later Hore walks back in the other door, which has a different bouncer, and is dancing in the front row to the renewed barrage. Oh yes, we like our intractable madness here.
TiN Radio is the stalwart hold-out of TINA/Electrofringe institutionalised chaos, a kind of grab-bag festival clearing house of podcasts, net streaming and even FM broadcasting. Sandwiched between pine-effect chipboard partitions, behind a sign proclaiming "Newcastle Sight-impaired Radio", the studios heave with an endless stream of guests through the not-just-metaphorically open doors of the not-quite anechoic space, snuffling and cracking through the not-really-studio-grade mixer. Under-resourced, perpetually late and messier than my bedroom after a housefire, TiN Radio looks like a disaster in waiting, but they reliably produce the goods, particularly in the genre of 'rawcus.' The wanton collaboration of The Night Share, for example, is dead on the money. This project is a joint venture between many parties united under the banner of Radio National's most fearlessly mutating audio project, The Night Air. Although it isn't quite the debut of their Radio National remixing project, it is the boldest thus far.
The first part of the show, Live Feed's consensus internet-driven mixing experiment is the most radical in production—a different studio setup with impromptu ill-prepared vox pops, live input, including actual pancake chef, in the studio and production over the net-driven August Black's browser-based Userradio collaborative software. The product is predominantly smooth and surprisingly subtle, with occasional jarringly repetitive interjections, distinctly close to the typical aesthetic of The Night Air. Which may or may not be an endorsement of The Night Air, depending on your faith in the public. For my part, it makes me exceedingly happy. After half an hour of this, Enter Escape's more conventionally disco production is a welcome stylistic break, dropping the collaborative impromptu mixing for a solo impromptu bracket, macerating the Radio National back catalogue into a parodic mélange of détourned reportage… The Religion Report, amongst others, is thoroughly raided for funk cliches on the theme of "soul", and all this is interspersed with the room noise and cheers of a crowd of fellow collaborators in the throes of mixing down their own contributions on this, the final night of the festival. And, of course, it's all podcast.
Electrofringe, curated by Sumugan Sivanesan, Ben Byrne, Cat Jones; This Is Not Art, Newcastle, Sept 28-Oct 2; http://www.electrofringe.net
Unreasonable Adults, http://unreasonableadults.va.com.au/giftback_newcastle.html
Filastine, http://www.filastine.com/
DJ Scotch Egg, http://www.adaadat.com/artist.php?artist=3
TiN Radio, http://www.tin.org.au/
The Night Share/Electrofringe: live_feed, Sophea Lerner, Andrew Burrell, August Black, Jodi Rose, IONiC, Stephan Wieland, Shannon O'neill, Lloyd Barrett, Lucas Darklord, TiN Radio, http://www.abc.net.au/rn/nightair/stories/2006/1732373.htm
RealTime issue #76 Dec-Jan 2006 pg. 25
© Dan MacKinlay; for permission to reproduce apply to realtime@realtimearts.net