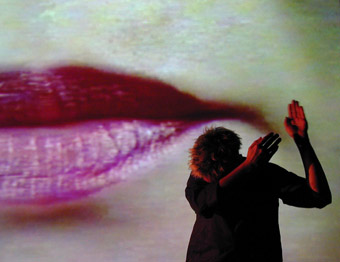 image Russell Emerson
Tess de Quincey, Nerve 9, Performance Space, opening May 24
The loss of the Performance Space in Sydney is imminent. The organisation has to leave its famous home by the end of the year. At The Vision Thing, a RealTime-Performance Space forum (Monday March 26), Nigel Kellaway spoke eloquently about how he cannot separate his work and its evolution from this space he has worked in for so long. When he envisions a show, he sees it in the Performance Space. However, given the impossibly high rental, the move out of the building is inevitable. What we all hope is that the spirit of the place will travel with the organisation. And that governments, state and federal, remain committed to the organisation's future as it continues its search for a new home.
We spent 10 years ourselves performing in the building and like many can sense performances past and read the walls and ceilings for signs of decades of great work. We will lament its passing, especially at a time when it's enjoying a surge of activity, but will passionately support its next incarnation as we hope all RealTime readers will. We asked Performance Space Artistic Director, Fiona Winning to explain the situation. Virginia Baxter & Keith Gallasch
After decades of intensive experiment and critical debate at 199 Cleveland Street Redfern, Performance Space is moving on. In the best traditions of experimental work we have no destination yet, but the search for a new and better place continues. (Sixteen potential buildings/sites have been investigated in the last 3 years with a view to relocating.)
The Cleveland Street space has been home to a huge family of artists and an enormous variety of works that have attracted national and international attention and acclaim. Over the years the immense body of work produced here has been critical to the development of hybrid performance, dance and visual cultures in Sydney and Australia. The debate surrounding that work has been fundamental to understanding the evolving languages of performance and the limits of its potentials.
Now we approach another limit. The increased costs of commercial rent, of running and maintaining the 70 year old building as a venue, along with static or decreased funding over the years, has resulted in our need to move out of this building at the end of 2001. For the last five years, the proportion of our annual income spent on running the venue increased—and the percentage invested in the art decreased. Late last year, the Board agreed that it is impossible to continue this trend without serious artistic compromise or economic risk.
The irony is that this is happening in a period of increased demand on the space, when many established and emerging artists are developing good work, when our audiences are on the increase and when there is a terrible shortage of rehearsal and performance space in Sydney.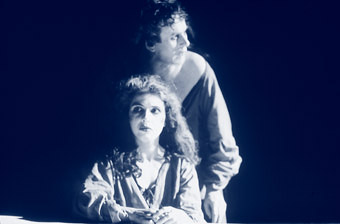 photo Heidrun Löhr
Katia Molino, Nigel Kellaway, El Inocente, Performance Space, opening May 2
This is not to deny there have been significant shifts in the performance environment over recent years. There's been an exciting increase in site-specific work being made by companies such as Gravity Feed, Urban Theatre Projects, The Party Line, Nerve Shell and freelance artists such as Julie-Anne Long. But while this means they don't necessarily need our venue to present their work, these artists have often based their operations with us while working offsite.
This increased interest in the use of other spaces, does not diminish the need expressed by many companies and independent artists for a performance space with a critical environment and a profile to premiere their work. These include The opera Project, De Quincey & Co., austraLYSIS, William Yang, Nikki Heywood, Rosalind Crisp and the stella b. ensemble, Morgan Lewis, Andrew Morrish, Trash Vaudeville, Frumpus, and Version 1.0. Companies and independent artists based outside of Sydney also require a space to tour their work from interstate—aphids, Hubcap Productions, Rakini, PVI Collective, Shelley Lasica and Stacey Callaghan; not to mention international artists such as Russell Maliphant (UK) and Jyrki Karttunen (Finland) and others.
So with no shortage of interesting artists making good contemporary performance and time-based art and no shortage of new and emerging artists becoming involved, why has this happened now? The issue is that most of these small companies and independent artists have little or no funding to realise their work. Our role is increasingly to present, co-produce or produce more and more work—which, in addition to running the venue with fewer staff hours than we've had since 1995, has proved unsustainable.
Our situation reflects a deep crisis in resources for contemporary art practice in Australia and most particularly in New South Wales. It's impossible to avoid the question: how can this happen in Sydney with its cultural and international pretensions? While our peers in Queensland are benefiting from state and local governments' substantial and visionary investment in capital infrastructure —the Brisbane Powerhouse, The Empire (opening later this year and home to Elision, Rock'N'Roll Circus and the Institute of Modern Art) and the new Cairns Contemporary Arts Centre (2.7 million)—we in New South Wales are going backwards, closing doors, losing ground.
Most comparable arts organisations around the country are provided free or substantially subsidised space by their state or local governments, as well as separate program funding—including Perth Institute of Contemporary Art and Brisbane Powerhouse.
As audiences and artists, we urgently need to lobby the NSW Ministry for the Arts and the Government to provide appropriate conditions for contemporary performance practice in this state.
On paper, the Government would appear to be on the case. "We will pursue opportunities for rehearsal and performance space for smaller and medium sized groups." (Encouraging the Arts in Local Communities: The Carr Government's Cultural Development Policy 1999, p19)
But the reality of our political and cultural context is not promising. Firstly, there is no action resulting from several recommendations from the Ministry for the Arts Advisory Council to support Performance Space in resolving our accommodation crisis. Secondly, the Ministry's recent major capital purchase was for a building in Leichhardt that currently leases its entire ground floor to major companies to house their flammable storage. While we have been invited to consider negotiating a space in that building, its location is unlikely to be suitable for a performance space within a 5 to 10-year time frame.
In the circumstances, it's deflating to open the newspapers and read that Bell Shakespeare Company has been offered a home at Wharf 2/3 in the arts precinct at Walsh Bay—next to Sydney Theatre Company, Sydney Dance Company, Bangarra Dance Theatre, Australian Theatre for Young People and Carnivale.
I'm not suggesting for a moment that these companies shouldn't be provided this subsidised accommodation, but that Performance Space needs equivalent support. We are a vital part of the ecology of the arts in this state. We've played a key role over the last 2 decades in the development and presentation of new work. We are a well managed, dynamic organisation presenting 40 to 50 events per year to enthusiastic audiences. We work directly with 30 small companies and hundreds of local, national and international contemporary arts practitioners annually. We provide a fundamental contribution to the cultural life of Sydney and NSW and on December 31, we will be homeless.
It's clear we won't be able to secure a building that can operate as a venue by that time. We're currently considering moving into an office and studio space in the short term while our campaign to secure an appropriate and affordable venue continues.
We will present a vital, focused program supporting the research and development of contemporary performative work, the professional development of artists and the presentation of new works in partnership with various venues and sites around Australia.
As the soon to be homeless home of contemporary performance in New South Wales, and the first of its kind in Australia, we seek your support in the process of securing a space. We need artists and audiences to stand up (as they often do at Performance Space) for contemporary practice. So please phone or e-mail us to register your name on our campaign list and keep an eye on our website for news.
www.performancespace.com.au
RealTime issue #42 April-May 2001 pg. 12
© Fiona Winning; for permission to reproduce apply to realtime@realtimearts.net