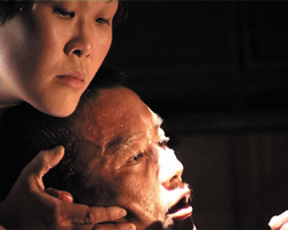 Dylan J Volkhardt
Yumi Umiumare & Tony Yap, How Could You Even Begin to Understand?
Butoh's founder Tatsumi Hijikata once reflected that a body that rests upon straight legs is a body equipped with reason, while that on bent legs lies at the edge of reasonable understanding (Jean Viala, Nourit Masson-Sekine, eds, Butoh: Shades of darkness, Tokyo, Shufunotomo, 1991). Mixed Metaphor 2001 abounded with dancers whose forms rose above the ground with an uneasy step. Opera Somatica for example offered a study of empty, externalised identity which concluded with a near naked performer tottering before a projection of cracked soil, while Lynne Santos bent low to the floor to transform her body, sensorium and movement into a sympathetic environmental system.
The highlight was the latest collaboration from Butoh-trained Yumi Umiumare and Grotowski-trained Tony Yap. Umiumare and Yap have often come together for others (Kagome, Meat Party) as well as their own productions, of which How Could You Even Begin to Understand? comprised the 9th to 12th versions. Over the past 6 years they have developed a sensitivity finely tuned not only to each other's movements, but also each other's states and microscopic energy fluxes. They venture far beyond their original training into a fluid, loving, meditative discipline which is as close as many of us will come to shamanistic techniques—though their work is no more fully described by such terms than it is by postmodernist performance art. The communion and slight return that they enacted simply by moving past each other was redolent of soft restraint, generously deferred violence, uninhibited, chaotic improvisation, and structured, minimal abstraction.
The distinctiveness of this compassionate vision of sympathetic, physical, 'chaos without limit' is especially apparent in light of the visit to Melbourne of Butoh luminary Min Tanaka earlier this year. Ironically, Yap and Umiumare have produced their most individual aesthetic yet by returning to a style strongly akin to that of Tanaka's nearly prop-less, terrifying yet joyful, physical amorphousness. This artistic progression in Umiumare and Yap is echoed by that of their sometime collaborator Santos.
Though Santos is a superb, multi-disciplinary performer, she has tended to be slightly overshadowed in her work with Yap and Umiumare. Her latest self-devised solo however has definitively established her as an independent artist with her own take on these traditions. Santos has a taut yet soft presence all her own, with that slightly deferred sense of gender one finds in Laurie Anderson's performances: not quite 'feminine', yet not 'masculine'—a cool, relaxed elegance.
In Desert Country—A body record Santos epitomised the performative ideal of existing in and through space. Her body was like a bead on a string or a sieve in water, a porous site through which air and space flows. Santos spinning while holding a basic flag, literally generating a sympathetic response in the windy ether, was a particular highlight. Using a mixture of stripped-back anthropomorphisms, open-armed salutes to the skies, and pseudo-pleasurable tremors, she reproduced not only the physical memory of what it is to be in the desert, but what it is to be desert. This was beautifully enhanced by Nik Pajanti's lighting. For How Could You Even Begin? Pajanti provided amber streams tightly confined to Yap, Umiumare and the path that connected them. In Desert Country however the whole space darkened or glowed with colour in response to Santos' emotional states.
Martin Kwasner's 'body-map' from Legless Lizard was rather different. The closest comparison to his solo is Trevor Patrick's Continental Drift (1997). Both comprise a psychokinetic auto-portrait. The body is described by light (here large illuminated slits, and projected close-ups of body parts), choreography and text to produce an abstract biography. Whereas Continental Drift had a striking sense of cyclic cohesion, Kwasner produced a pleasing sense of disparity and montage. His fluid yet various movement phrases functioned similarly to the filmic mise en scene of Robert Altman and Quentin Tarantino. To quote The Simpsons: "There is no moral—it's just a bunch of stuff that happens!" Kwasner's solo operated on a prosaic, humorous level while also hinting at deeper relationships and experiences (an unnamed soul-mate, an unexplained affinity for the feeling of rain).
The irregular surges of momentum and angularity which have tended to define the work of Lucy Guerin and some other Melbourne choreographers played only a small part in Kwasner's solo. Nevertheless the extremely expressive abstraction he produced recalled Guerin's more dramatically accessible yet conceptually dense combinations of late (notably The Ends of Things). Kwasner's more rounded, 'user-friendly', choreography represents the new face of this trend, which sits well alongside the post-Butoh movement to which Melbourne also home.
Mixed Metaphor, season curator Helen Herbertson: How Could You Even Begin to Understand? Version #9-#12, performers/devisers Tony Yap, Yumi Umiumare; Wall Pieces, performers/devisers Wendy Morrow, Leigh Hobba; FashionMotionExhibit, BODY, choreographers Natalie Cursio & dancers, performers Shona Erskine, Danika Barnett, Anna Burgess, Kimberly Lawrence, Elsie Nelson, Felicity Pearson, Ellise Peart, Leana Rack; Mask, Opera Somatica, performer/deviser Elizabeth Keen, operator/performer Circle K; Desert Country—A body record, performer/deviser Lynne Santos; Legless Lizard, choreographer/performer/writer Martin Kwasner; Dancehouse, Melbourne, Sept 13 – 22
RealTime issue #46 Dec-Jan 2001 pg. 27
© Jonathan Marshall; for permission to reproduce apply to realtime@realtimearts.net