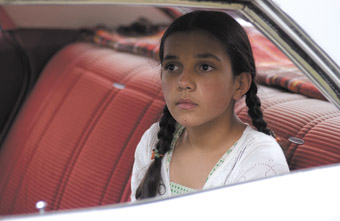 Back Seat
IN THE WAKE OF TROPFEST, INCREASINGLY SHORT SHORT-FILMMAKING HAS BECOME A FECUND TRAINING GROUND FOR WOULD-BE FILMMAKERS AND OTHER FANTASISTS USING LOW COST, HIGH-TECH EQUIPMENT AND FILLING THE LISTS OF EVER PROLIFERATING SHORT FILM FESTIVALS OR BROADCASTING THEIR DIY ON YOUTUBE AND ELSEWHERE. WILL A VIABLE MARKET FOR SHORT FILM ONLINE, ON-PHONE, IN I-POD EMERGE IN TANDEM WITH THE RUSH OF SERIOUS NEW MAKERS? PERHAPS THE AUSTRALIAN FILM COMMISSION'S INDIGENOUS BRANCH THINKS SO.
The wonderful short films of 10-30 minutes (and several 50 minute features) that came out of the AFC Indigenous Branch's Sand to Celluloid initiative over some 12 years provided evidence of a talented generation putting to good use the carefully constructed programs and partnerships available to it (involving the AFC, SBSi, FTO, Film Australia and other screen organisations and committed individual producers). The Indigenous Branch's latest initiative, however, has gone with the trend, commissioning 13 five-minute films, offering more opportunities for a larger number of mostly emerging filmmakers than the three to six films made for each of the earlier programs.
Aptly titled Bit of Black Business, the films made for the initiative are precisely that, works tackling issues that continue to preoccupy Aboriginal people and their filmmakers. They attempt to sustain a collective sense of culture and individual dignity, often against great odds, but not without wry humour. In this collection, there's a marked sense of the viewer engaging face to face with the characters. It's as if, in grappling with limited duration, the makers have for the greater part decided to work intimately, creating brief narrative episodes from larger lives and shooting often in close-up and frequently with faces looking into the camera. The point of view of children, adolescents and young adults is recurrent as they admire or are mystified by or painfully detached from people much older than themselves.
In Michel Blanchard's Custard, a young woman visits her home in beautiful waterside country to see her grandmother whom in the voiceover she recalls as tiny and unwell, but also how she made custard for the family. The house is not one she recalls lovingly, deploring the memory of a sick old grandfather shuffling about in the night. She sits with the grandmother in the kitchen and then by the water, the depressed older woman worrying at what killed her husband—alcohol, cancer, schizophrenia ("We'll all get it now. Oh well, what's one more thing?"). Back in the kitchen, the young woman pretends to read to her grandmother from the death certificate: "You know what killed him? Acute custardisation." They laugh and, for a moment, the darkness is dispelled. It's all that can be done and perhaps it's enough. She leaves. Murray Lui's cinematography glows with the glitter of sun on the water and there's almost a sense of nostalgia in the warmth of the light on the greens and browns of the countryside. It's just right in tempering the sadness the film generates, that sense of melancholy about the distance between the older and the younger woman. Wisely avoiding dramatic action and focussing on stillness and reflection, Custard makes its five minutes feel satisfyingly full.
Martin Leroy Adams' Days Like These vividly portrays a growing sense of despair in the face of racism as a young black boxer, urged by his mother to find work as the household bills accumulate, barely gets to first base on most of his interviews despite looking good and behaving well. He has no criminal record but the fact that his father is in prison is enough to guarantee rejection. Beaten up by hostile white boys, he is found by cops, one of whom growls, "Hello, monkey." It's a brisk, blunt film, shot with a casual documentary feel. The opening, with the boy in a boxing ring, has him punching at us in extreme close-up. It's a confronting image and the rest of the film suggests where his anger and strength might be coming from.
Back Seat by Pauline Whyman is one of the strongest films in the collection. It opens with us face to face with a 12-year-old girl in the back seat of a flash American car on her way with her white foster parents to see her Aboriginal mother, brothers and sisters. As in Custard, there's a feeling of disconnection, again kept at a distance from melodrama and textured with a touch of nostalgia—the car, the stepmother's hairstyle and the black mother's home furnished with middleclass thoroughness, intriguing artworks and nicknacks and populated with neat children.
Back Seat deftly lets the story tell itself in close-ups of the girl. She doesn't get to speak for herself—her stepmother over-eagerly listing the child's school achievements, crowning it inadvertantly with "I don't know where she gets it from"). The girl is too shy to communicate with her siblings who giggle at her, so she seeks refuge in the back seat of the car, winding up the window, shutting herself off from the mystery that is her life. A sister cajoles her to return for a group photo, a Polaroid shot which she fingers softly as, soon, the car pulls away and she looks longingly out the rear window. Back Seat implicates the viewer with a heightened subjectivity as we come face to face with an emotionally impossible situation, but at least there's affection and yearning even if the distance between the child and her real family seems vast. It's a very different account of a Stolen Generation life, but the same sad story nonetheless and based on the filmmaker's own. (See also p19.)
Warwick Thorton is an experienced cinematographer (Radiance and many short films) and writer-director (Green Bush). Nana is his tribute to Aboriginal grandmothers. He said, on the opening night of 2007 Message Sticks Film Festival at the Sydney Opera House, venerable Nanas can do what they wish and they can be 'wicked.' Again, the point of view is a child's, a five-year-old, the camera alternating between her and Nana, facing us as they see each other: Nana cooking, later Nana taking food to older people in the district, Nana conning white buyers of Indigenous art, Nana, rifle in hand, catching food (a volley of shots and a close-up of the bodies of wallabies and lizards slapped onto the bonnet of her car), Nana and an aunty on night patrol apprehending alcohol smugglers, throwing the booze into the bush and mercilessly beating up the offenders with big sticks. In a reverse shot the little girl, sitting in the car, looks on, bemused, admiring. The film is a little comic shocker made with electrifying assurance.
Jacob Nash's Bloodlines is a simple but effective account of a young man building up the courage to telephone the mother from whom he was separated as a child. But we don't know that until the end of the film. He lives in a stylish, comfortable apartment. He's naked except for shorts, amplifying his vulnerability, and nervous, the soundtrack beating like a heart. He puts off approaching or even picking up the phone. We look into his face and then, with him, at the photographs of the white family of which he is a part but, at the same time, not. Nash's approach is simple but focused and intense.
In Kelli Cross' The Turtle, a boy in early adolesence, withdrawn, baseball cap over his eyes, earphones plugged in, arrives in a remote coastal town where he's picked up by an uncle who takes him to where his father lived. The lone possesion is a tortoise shell: "all he left behind." The boy won't budge. He's here because he's been in trouble, presumably with the law. When his uncle can't start his boat, the boy starts it for him, is persuaded to go out on the water and then, astonished to suddenly find himself in the water at his uncle's prompting, flips over a turtle, thus disabling it. In a mere moment he has reconnected, however tenuously, with his father and his culture. Like Custard and Back Seat, the mood is reflective and considered, although here there's a sense of release despite the enormous distance between son and dead father.
Sharpeye by Aaron Fa'aaso is an intruiging tale of a 12-year-old Torres Strait Ilsander boy playing spy for the local army reservists when their island is invaded during a military exercise by Special Forces. The plot is slight and we learn little about the boy, but we do get a strong sense of the pride of these part-time soldiers (elaborately uniformed and equipped with the best) and especially of their joy in victory, which they dance like their warrior forbears.
Trisha Morton-Thomas' Kwayte has its moments and again they're built around a child, here a three-year-old. It's her birthday and her father has arrived home in the morning with a hangover. His wife won't speak to him and his little daughter supplies him with glasses of water, one after the other, which intially he needs and later feels obliged to accept and which it turns out she has taken from the toilet bowl. The apparently benign "little princess" with her crown and wand has punished her delinquent father—but will she transform him? The ending feels a little thin, but the film's construction is tight, and the little girl is engaging.
Adrian Wills' Jackie Jackie has the look of a John Waters movie. An Aboriginal girl, Jinaali, works on the checkout in a sleek supermarket, Sunnyshine, otherwise staffed with glam white checkout chicks in plastic wigs. She hangs up a cardboard sign over her cash register saying "Equal Opportunity Line" and accrues a long ultra-multicultural queue of customers. But our heroine's appoach is too casual for the grumpy store manager, who would prefer "ladies' best friend" to "tampon" for her amplified price check. After he castigates her in front of the customers, Jinaali unleashes an Anthony Mundine toy on the manager and then tackles him herself, joyfully denouncing him as racist. It's light as a souffle and good to look at, but the dialogue is clunky and the film is not as funny or political as it could be, but Wills has a certain verve. (See also p19.)
Of the 10 films in this collection that particularly appealed to me (a high ratio for a 13-film set), some handled their five minutes better than others, but most avoided the temptation to make economy versions of feature films, still a common impulse in short filmmaking where the product is seen as a stepping stone to greater things. The directors were certainly blessed with the guidance of producer Kath Shelper and the mature artistry of the cinematographers, editors and sound staff who worked with them in generating spare narratives and strong images in mere screen minutes. Bit of Black Business does its emerging talent proud, doubtless encouraging the emergence of another generation of fine filmmakers.
–
AFC Indigenous Branch, Bit of Black Business, directors Martin Leroy Adams, Jon Bell, Michelle Blanchard, Kelli Cross, Dena Curtis, Aaron Fa'aoso, Debbie Gittens, Michael Longbottom, Jacob Nash, Trisha Morton-Thomas, Warwick Thornton, Pauline Whyman and Adrian Wills, producer Kath Shelper, Film Depot, Indigenous Branch of the Australian Film Commission, SBS Independent, New South Wales Film and Television Office and ScreenWest, 2007
RealTime issue #81 Oct-Nov 2007 pg. 23
© Keith Gallasch; for permission to reproduce apply to realtime@realtimearts.net