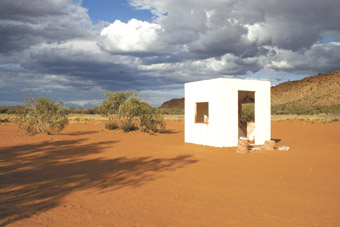 photo Elan Rabinovich
Daphna Yalon, Porthole to the Earth
ALONG THE RANGES, OCHRE PAINTINGS SHELTER IN THE GAPS. BLUE SKY BLAZES AND COUNTRY STRETCHES AWAY RED-GOLD. ALICE SPRINGS, SLIGHT AS A SCATTER OF SALT, LIES TO THE NORTH OF THE GAP ALONGSIDE THE SANDY YELLOW TODD RIVER.
Over 21 days in May, Shifting Ground showcased over 40 local, interstate and international artists at 13 sites around Mparntwe/Alice Springs. Their common aim was to link people to art, land and culture, responding to the arid lands on a physical, social and cultural level, telling stories of people and place and exploring sustainability and ecology.
The opening at the Ilparpa claypans, hard baked by the hot, dry summer was at sunset. Dark thunderclouds banked up creating a light show to rival the human one. After welcome to country by traditional owner, Sybaella Turner, longed-for rain drowned the voices of poetry readers and sluiced down the screen of projected images of desert water. The white cube home of Israeli artist Daphna Yalon's ground-breaking, installation Porthole to the Earth shone in the dark attracting the soaked audience like moths. Adrienne Kneebone's thorn-pierced red knickers blew on the Hills Hoist. High on the range-side, the solar lanterns in Richard Thomas' installation, China, had shone briefly at dusk until smashed by vandals.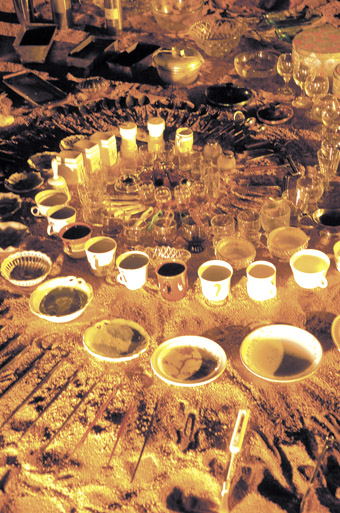 photo Chloe Erlich
Franca Barraclough, Cleaning Country/Mandala
Out west at the Desert Wildlife Park, while the birds slept, local poets read from The Milk in the Sky (25 stories by local writers published by Ptilotus Press), followed by Sound Atlas, more live music and Arrernte woman, cultural educator MK Turner. Sculptural installations by Pam Lofts, Sue Richter, J9 Stanton and Sue Taylor sat in the earth. Franca Barraclough performed Cleaning Country/Mandala, laying out domestic paraphanelia also on bare earth as she constructed "an invisible Western house on the pristine traditional country of Central Australia…to see the awkward and eerie juncture of two worlds." Pauline Hanson had come to town to launch her book.
All the while negotiations and confrontations between the Federal Minister for Aboriginal Affairs, the NT government, Alice Springs Council and Tangentyere Council over land and houses for local Arrernte people were being acted out.
There were artist forums, one a Moonlight Picnic on the Adelaide House lawns in the Mall, alongside the Story Wall, which screened Pip McManus's video installation Ichor (1 kôr), documenting the soft disintegration of a clay figure. Violent assaults in town camps continued throughout the three weeks.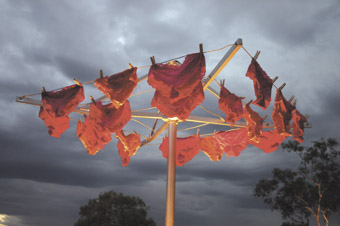 photo Pip Mcmanus
Adrienne Kneebone, Hills Hoist
Araluen Galleries showed Deborah Clarke's Boots and All; mixed media works conveyed walking the Larapinta Trail; and Shifting Ground explored 'this place' with Michael Gillam's photographs of arid land minutiae, Genevieve and Christopher O'Loughlin's photo series, The Laneways (resonating with Under Today, an excavation of storied sites by Alexandra Gillespie and Dani Powell performed in an Eastside laneway) and Alison Hittmann's paintings on rusty metal sat alongside Mervyn Rubuntja's sun drenched watercolours of country.
The desert water of Pam Lofts' Ripple Affect video flowed around in its never-ending cycle whilst national water policies and global warming heated the airwaves.
The nuclear dump debate re-emerged. At Watch This Space, Inhabited, 12 photographs with interviews by Jessie Boylan and Bilbo Taylor, recorded the stories and protests of Indigenous and non-indigenous people affected by uranium mining in Australia.
Indomite, a video by Chilean artist Leonardo Ortega exploring Aboriginal community housing issues at Ntaria, played in a shop window as, reflected in the glass, the shadowy figures of an Aboriginal family passed by, glancing at an Aboriginal man, on screen, indicating Albert Namatjira's old home.
Down the dusty Old South Road, the Wild Plum Dreaming rock carvings at Ewaninga sit in country forever.
Shifting Ground, an Art/Land/Culture project initiated by Watch This Space, various sites and venues, Alice Springs, May 4-25; www.wts.org.au/alc/shiftgallery.html
RealTime issue #80 Aug-Sept 2007 pg. 8
© Mardijah Simpson; for permission to reproduce apply to realtime@realtimearts.net