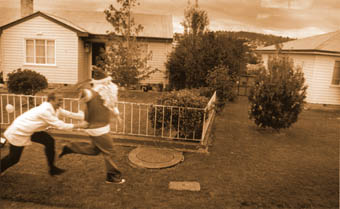 Jessica Wilson, Sight Seeing
The Works is an 8-day community arts festival that celebrates the art, heart and soul of the City of Glenorchy. A community-driven, grass-roots arts event, it is unlike anything else seen in Tasmania. More than 40 commissioned Tasmanian artists worked with school kids, youth groups, pensioners and people from Aboriginal and other communities to build collaborative relationships and create 36 diverse projects including film, sculpture, theatre, writing, music and visual art.
An initiative of Glenorchy City Council and Kickstart Arts, The Works succeeds because it is a themed festival that energetically explores the ideas of working life that are central to the Glenorchy community's view of itself.
Pasminco's Zinc Smelter was the venue for the Dusk Drive short film night coordinated by Roland Gabatel. Assisted by creative mentors, 24 filmmakers produced short video, animation and grooves. While often focused on young male enthusiasm for skateboarding, motor-X, horror and music, the art and animation clips interspersing each video short included the talent of Trent Robert Fisher's Witness da Quickness, Squid and Jester and Tara Ford's smart and imagistically street-wise SK8 Girl. Sixteen of the filmmakers contributed to the shoot-to-show Pocket Maxi program of 3 minute super 8 films, with the Benjafield Collective providing an enthusiastic and often amusing live backing track.
The Community Spirits exhibition at historic St Matthews Church, coordinated by visual artists Chantelle Delrue and Gwen Egg and audio designer Geoff Allan, explored the meaning of individual and community spirit. The exhibition featured hundreds of individually painted prayer flags, each with a Peace motif and a temple sculpture developed by the Burmese Buddhist Society beside Jo McCann's delicate painted-glass mandala tiles.
Palawa Aboriginal Corporation was the setting for an open day celebration of contemporary Aboriginal culture and the screening of Muttonbirding, a continuous journey by video artist Fiona Richardson. This work featured a group of Tasmanian Aboriginals on their annual mutton birding trip and includes a moving sequence that revisits and reinforces the potency of traditional ways.
At the hard rock, hip hop sound stage, Lab A revved it out as part of the multi-arts street party. Professor Psycho's arresting vocals were backed by the impressive drummer Evil, bassist Komodo and lead guitarist Gede.
A pack of reporters accosted a surprised spectator. Microphones, cameras and sound booms were thrust into the victim's face. The quirky Jamie Thompson group of local grade 8 drama students interviewed in unison, extracting intimate confessions in a barrage of mindless copycat reporting.
With a section of Main Road covered in piles of junk, enthusiastic teams competed in the loud and live Collex/Recovery Sculpture Slam. Urged on by MC Ian Pidd, the wannabee Robert Klippels managed to create the humorous and bizarre with the winners decided by spectator applause.
Norman Circle, Glenorchy was the hilarious setting for Sight Seeing, one of 4 plays included in Blockbusters Theatre. Metro bus passengers observed residents and supporting actors during 4 circuits of the street. The plot unfolded with the aid of a shepherd searching for his sheep, an inebriated father en route to his daughter's wedding, a Santa being chased after nicking a video recorder, and the recurring rear view of a streaker. Directed by Jessica Wilson, the delight of Sight Seeing was the involvement of local families in a realistic drama that will be the talk of Glenorchy.
Situated on Tasmania's West Coast, Queenstown has a reputation as a tough town with a savage pride. On March 22, 70 Queenstown residents crowded into the Mt Lyell Mining & Railway Company General Office. They witnessed their story at the launch of Mining the Imagination, a multi-media CD-Rom depicting Queenstown's social history and contemporary life, landscape industry and culture. Mining the Imagination is a complex community cultural development project that included an artistic team of 12 and 70 community members involved in making art and photography. The project's thematic elements were developed in consultation with over 245 community members during the last 2 years. Another initiative of Kickstart Arts, this time with the West Coast Heritage Authority, Mining the Imagination included mine worker portraits by local photographer Dayle Sturgess and video interviews and stills by Matt Newton. The project also featured Martin Walch's unique animation of the landscape around Mt Lyell. Taken from mining survey photographs, Walch's images are a testament to the spirit of an extraordinary place. Mining the Imagination aims to deepen understanding of the Queenstown community and to enable connection with a magnificent story.
The Works: Art, Heart and Soul, artistic director Ian Pidd, producers Richard Bladel, Fiona Richardson, City of Glenorchy, May 3-11; Mining the Imagination, producer Richard Bladel, creative director Steve Thomas, animation & imaging Martin Walch, video Matt Newton, editing Raef Sawford, photography Dayle Sturgess, sound design Boo Chapple, design Dean de Vries, programming Chris Reeves, community outreach worker Karen Sturgess, writer/researcher Melinda Standish, Mt Lyell Mining & Railway Company General Office, Queenstown, March 22
RealTime issue #55 June-July 2003 pg. 45
© Sue Moss; for permission to reproduce apply to realtime@realtimearts.net