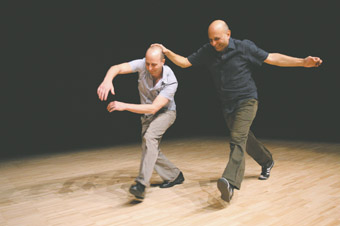 photo Alastair Muir
Jonathan Burrows and Matteo Fargion
A GEOMETRICAL APPARATUS TAPERING OFF INTO BENCHES, SCREENS AND AN IMMACULATE LINE-UP OF ELECTRIC GUITARS IMMEDIATELY CONVEY A SENSE OF A LABORATORY SCRUBBED IN READINESS FOR THE NEXT EXPERIMENT. THERE IS EVEN SATISFACTION IMAGINING WHAT CHEMISTRY THOSE SHINY METAPHORICAL INSTRUMENTS MIGHT CHARGE INTO THE THEATRICAL SPACE. BY CONTRAST, TWO WOODEN CHAIRS PLACED IN PICA'S UNADORNED BLACK BOX PROMISE LITTLE OTHER THAN A CONVERSATION. WHAT TRANSPIRES IN THOSE TWO DISPARATE SETTINGS THROWS CONCEPTS OF SCIENTIFIC EXPERIMENTATION INTO DISARRAY AND SCORES ANOTHER POINT FOR THE POTENCY OF UNPREDICTABLE SIMPLICITY.
There is no direct correspondence between Buzz Dance Theatre's Depth Charge and Strut Dance's presentation of Jonathan Burrows and Matteo Fargion's The Trilogy, other than being two dance productions which surfaced in the same time-frame and yet their coincidence raises questions about performance and transformation. Whereas Depth Charge announces itself with a bionic forearm, imaging "a future where dance ensembles are genetically engineered", The Trilogy relies on its UK origins, a few phrases from 'spellbound' critics and, for a select group of aficionados, anticipation of an actual encounter with two men who have honed choreographic formalities down to two sets of hands. With Buzz's commitment to creating performances and developmental dance opportunities for young people, explorations into bioethical issues arising when science breaches nature's laws appear apt and timely. Likewise Burrows and Fargion's radical movement palette concurs with Strut's objective to expose the local community to choreographic diversity.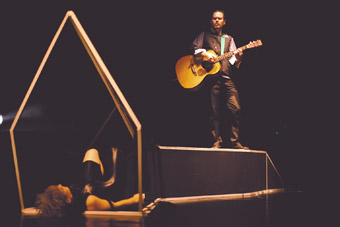 photo by Loft Group
Depth Charge, Buzz Dance
The boldness of Depth Charge falters at its inception. A mild mannered musician, Leon Ewing, enters the ordered laboratory, takes the first guitar from the board and sings. Screen codes appear and fade into supine dancers moving like their live counterparts on stage. After the fact of 'creation', genetically engineered dance creatures take over. Could it be that the collaborative team, led by artistic director Felicity Bott, intended to upend the obsessive behaviour of those legendary megalomaniacs, Drs Coppelius and Frankenstein, to suggest that birth transgressions now reside in computer nerds' fingertips? Desires to create the perfect loved one flicker as does a utopian notion of 'creativity,' but the resultant cyborgs of flawless skill do not convey any of the conflict of Coppelia's soullessness nor of the tragic designation of Frankenstein's unloved monster.
Even the promising sequence of computerised joint manipulation played out between screen imagery and performers becomes aesthetically normalised, voided of the computational crunching that arguably would be required to tease a forearm's complex articulation. Explosive rock dissolves too quickly into harmonious scores to intimate gravel-like irruptions and the dancers' virtuosic performances suggest other than fearsome bionic creatures defying ethical parameters of humanness. Admittedly, Depth Charge is a work-in-progress, still in a stage of genesis wherein the main thrust of the work has yet to find its shape of impact. Its multiple influences and modes, at this point, evade cohesion.
The Trilogy, alternatively, enacts a single idea—relations between music and dance—through two compositors bent on teasing out eye-ear interconnections with distilled detail and glissandos of playful daring. Ironically, this gentle work of art exemplifies scientific rigour.
Bearing imprints of postmodern minimalists, the dance of Ann Teresa de Keersmaeker (Company Rosas) and the music of Philip Glass and Steve Reich, this experiment in performance makes gesture vibrate and sound twist and skip in Möbius-strip loops where the distinctiveness of one expressive form slides over into the textures of the other. Viewed from another set of coordinates, the two mature spirits (performers/scientists) map out sketches of a Wagnerian total theatre. This appealing small talk theatre contains all dimensions: the tension, intensity, amazement and incisive timing of a spectacle seen through the key-hole of human intimacy. On the other hand, Burrows and Fargion simply engage in a conversation that begins and ends on chairs. That's where the bald pates' acrobatics lie, in the flips, crossovers and slightly competitive actions while sitting.
Both Sitting Duet opens with the performers placing their scores on the floor, signalling the eloquent dance of palms, wrists, fingers, elbows, shoulders and head which unfolds until upper torsos, whipping tongues and side-glances are all involved in the rhythmic interplay. Parodic classical ballet moments splinter into the exchange, with Burrows using the encoded position of the arms in counterpoint with Fargion's four metre bar scansion. Mathematical in-jokes elucidate the scientific scrutiny of the complex music-dance relationship. The quips are deliciously fast, resounding against a Cage-like silence until the coda is punctuated with erect moments of stamping like some ironic operatic crescendo which dissipates back into the sitting.
A roar from Fargion describing a downward-bending walk from Burrows launches The Quiet Dance. Reciprocation comes with Burrow's 'shussing' the same phrase enacted by Fargion and so the permutations spill sonically, rhythmically and spatially to enunciate and amplify the rifts initiated in the 'sitting' gestural animations. Music is harnessed to the dance, made literal by the glanced partnering conventions where Burrow leads Fargion physically across the space.
Speaking Dance reverts in some ways to known Dadaist experiments with word, sound and rhythm and, though cleverly exploiting innuendoes of 'left', 'right', 'stop', and 'come on', the effect separates music and dance, dislocating Burrows' beautifully executed movement from Fargion's equally exquisite Italian folk singing. Is this a mirror-image of Sitting's silent dance where sound becomes the dominant motif, or an expression of dance's freedom from musical enslavement? Text, recorded music and harmonicas, while treated playfully, break the spell of the intimacy between these two nomadic scientists of the imagination.
Science and art share explanatory functions in human affairs. Over time, their divergences have become ostensibly acute with science's emphasis on fact and art's claim to imaginative capacities. Burrows and Fargion's unorthodox, yet meticulously formal experiment into the facts of sound and movement questions such deviations, asking, moreover, why knowledge needs to be compartmentalised. Their Trilogy initiates questions for the future when two middle-aged men may encounter younger but, possibly, less informed cyborgs.
STRUT dance: Jonathan Burrows, Matteo Fargion, The Trilogy—Both Sitting Duet, The Quiet Dance and Speaking Dance; PICA, April 26; Buzz Dance Theatre, Depth Charge: Dance meets science with explosive force, Playhouse Theatre, Perth, May 6-16
RealTime issue #91 June-July 2009 pg. 37
© Maggi Phillips; for permission to reproduce apply to realtime@realtimearts.net