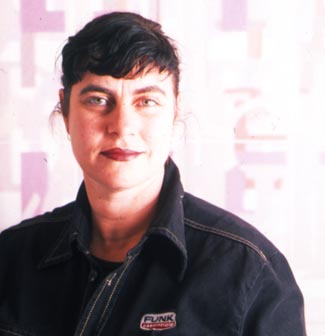 photo Grantly Trenwith
Julianne Pierce
Julianne Pierce has been an artist (one of VNS Matrix, an influential team of cyberfeminist artists), a program manager (Performance Space), a producer (of the award winning Debra Petrovich CD-ROM Uncle Bill), co-curator (Biomachines, Telstra Adelaide Festival 2000 and Spectrascope, Sydney Biennale 2000 satellite exhibition), curator (Encryption Corruption, Physics Room NZ, 1998 and Code Red, Performance Space, 1997). She is now Director of ANAT (Australian Network for Art & Technology), the peak national art, science and technology body based in Adelaide. According to Julianne, her first 12 months as Director have gone very quickly. As well as running a number of projects she's used this as establishment time to find her niche in the organisation and to work with staff and Board on the way forward.
One of the directions from our Board was to embark on a period of consolidation because ANAT had been through such growth, and there were 3 new staff—myself, the Manager Caroline Farmer and Web and Technical officer, Claudia Raddatz. The only staff member who was not new was Charity Bramwell, the Information Officer. So the first task was to look at the infrastructure and settle in the new staff and reassess where we were and rebuild some of our systems. And look at things like marketing and ANAT's profile and how we're positioned and how to actually give the organisation greater visibility.
ANAT's seen as valuable to its membership, especially for the training opportunities it offers a lot of artists.
The training has been integral to the organisation: the National Summer Schools still play a really important role. But we're noticing that a lot more training opportunities are being offered by people like Metro Screen in Sydney and Ngapartji in Adelaide. We're interested in focusing more on specialised training. We're running an Indigenous Summer School in late 2002. The first one we did in Darwin at NT University in 1999 was very successful. So we want to do another next year and also focus on masterclasses. We're keeping on the professional development arm and we're looking at our Conference and Workshop fund as part of professional development.
What sort of fund is that?
It's a small fund that ANAT offers on a monthly basis. It works on quick response. It's open for ANAT members to apply for up to $2,000 to attend a conference or event within Australia or overseas.
It's true that there are lots of courses being offered around the country, but in any artform there's often not much for mid-career artists.
The Summer Schools are also a meeting place. It's not just about training, it's about networking and some really interesting projects have come out of them such as nervous objects, an informal collective of artists working with sound and other media. We want to keep that momentum going but using different models and perhaps not providing so much grass roots training.
Does ANAT play a facilitating role in collaborations?
More and more. And increasingly we're seeing ANAT as having a brokering role. Under the umbrella of professional development is our residency program. We've brokered 3 Indigenous residencies in the last 12 months: Jason Davidson at 24HR Art in Darwin, Christian Bumbarra Thompson at CCP in Melbourne and Jenny Fraser with Hermannsburg potters in the Northern Territory.
This year we've also developed 2 science residencies as part of the Scientific Serendipity Program with the support of the Science and Technology Awareness Program run by the Federal Government's Department of Industry Science and Resources. There have been 4 residencies in all, and in 2001 we negotiated for Brisbane-based sound artist Adam Donovan to work at the Defence, Science and Technology Organisation in Salisbury, South Australia. Sydney artist Justine Cooper has been supported by ANAT in her residency at the Museum of Natural History in New York. Both of these artists are included in the Adelaide Biennial of Australian Art (2002 Adelaide Festival), which is a great outcome for our residency program.
We're also supporting collaborations between artists. For example, out of Alchemy (the Summer School in New Media Art and Curation held at the Brisbane Powerhouse last year: RT38 Working the Screen 2000, p10-11) has come a collaborative performance/hybrid work between Monica Narula from Sarai (RT43, p21) in New Delhi, Sarah Neville from Adelaide and Sydney-based digital artist Mari Velonaki. We help with planning and we provided some seed funding for Sarah and Mari to go to India for a couple of weeks. We don't see ourselves as a producer but as a supportive partner.
Basically the organisation supports the membership. We have quite a substantial national membership. We produce a quarterly newsletter and send out an email digest with updates, conference and workshop reports and some critical writing. More and more our members use us as a resource. This year we have a full-time staff member servicing the membership so that we can respond to requests within 24 hours.
We also play an advocacy role and represent our members to government and lobby groups, and I sit on quite a few committees. ANAT is being called on more and more to represent the cultural sector to government. This is where we need to be focusing in terms of bringing more revenue into the organisation but also having an effective voice to add to government policy. But how do you maintain the status as a peak body within a continually shifting landscape? The number of reports that come through! There are so many opportunities and ANAT has to be able to respond to those.
Do you mean by the "shifting landscape", the developments in new media that are constantly happening or changes in the political landscape?
Across the spectrum. For instance, with Senator Alston's recent release of the funding for broadband and the whole issue of digital content and digital industry clustering, how does ANAT get involved with these processes and represent "the cultural sector"? I read lots of reports and I think the funding scenario is now shifting. Obviously, the New Media Arts Board of the Australia Council plays a vital role but increasingly state government bodies are supporting projects and artists and, of course, there's the AFC. I'm thinking also of initiatives like the Australian Centre for the Moving Image in Melbourne's Federation Square that will provide a permanent exhibition venue for Australian screen based work.
Do you think in the future it will still be viable for the New Media Arts Board of the Australia Council to be funding distinctly digital media works on the one hand and, on the other, hybrid performance works, some with new media components, some not?
Obviously the fund developed in response to a change in practice. I don't think it's the other way around. There was a recognition that some forms were shifting to a more interdisciplinary mode. Those directions were very strong and still are. But there probably needs to be a clearer distinction within the Board of what sort of work they support, because I think it's unclear to some people. I still think the fund can accommodate both of those strands. It's difficult for interdisciplinary artists to go to the Theatre or Dance Boards because their guidelines are quite rigid whereas the New Media Arts Board is flexible and fluid and responsive to that work.
I think new media practice is still seen as marginalised within the visual arts and crafts sector. And I think that exhibitions like Space Odysseys (AGNSW, see review) are creating an acceptance of the practice. It's a new genre but artists are creating fascinating and important work. There's been a great leap beyond the technical barriers, creating work that goes beyond pure technicalities. This sort of work has to be accepted within a more mainstream visual arts culture. I think it is an issue of resources for a lot of galleries but it also challenges the idea of what contemporary practice is, in the same way that installation once did.
Is ANAT working with the Adelaide Festival?
Yes. Charity Bramwell is working a day each week as the archivist for the Adelaide Biennial so she's collecting material and documentation which will end up as a web-based database of artists, resources, notes. For the Adelaide Fringe we're co-ordinating the Trickster masterclass on VJ-ing and video-mixing. The masterclass is being conducted by VJ Iko from Portugal, who has worked with Jean Michel Jarre, the Beastie Boys and Daft Punk. We often partner with other organisations around Australia to develop projects, such as the recent TILT event in Sydney, which was developed in partnership with dLux media arts. This is a great strength of ANAT, enabling us to work with different organisations and reach diverse audiences.
You also have a publication coming out in December?
We're aiming at 3 publications over the next 12 months. Arcadia (Theology and Technology) has resulted from a research project conducted by Samara Mitchell. It involved a research phase which developed into a listserv discussion on a broad range of topics. The listserv was moderated by Samara and involved invited participants discussing spirituality, the arcane, the idea of soul etc in relation to current developments in technology. The publication includes edited excerpts from the listserv and we've commissioned Hakim Bey and Eric Davis to contribute essays. We're launching it in print in December and it will be free. The other 2 publications will also result from projects and residencies, and will be launched during 2002.
At the moment every time that "infrastructure organisation" is mentioned, everybody immediately thinks "service". It's not that simple.
We did a members' survey this year, getting some feedback about our direction. We're also working on putting up a new website. Doing that has really made us reassess how we talk concisely about an organisation which is quite amorphous and broad. Basically the organisation has a professional development arm, an information and resources arm, and a project development and support arm. We can talk about the organisation as having specific roles. When people say, so what does ANAT do, it's always been a bit like, well what doesn't it do! Reaching a younger audience and engaging with a diversity of dialogues and attitudes is also important to us, hence the TILT and the VJ-ing projects.
Some great clusters!
Yeh, we're clustering! ANAT has a high profile internationally. We get so many queries from overseas, wanting to connect to Australian artists, wanting to know what's on. In terms of the service we provide as a membership-based organisation, that sort of thing is really beyond our charter in a way. But it's a vital aspect of what we do. And servicing an international community who are wanting to find out about Australian artists is ultimately supporting our membership.
As a peak organisation, presumably you'll have a position on the whole broadband issue?
I think we've got to be there. We have to represent artists, look at their role as "content providers" for broadband. Look at the role of artists and creative thinkers and cultural workers in creating this new landscape of digital content. New media artists are already working in games companies, working in the media. I think one of the beauties of new media art is that these artists are really working with language and narrative and non-linearity. And they're experts at it, specialists in it. They can really contribute to ideas like what interactive television could be.
I'm looking at how new media artists are remunerated for their work. What do you charge for a link to a website from a gallery? What do you charge if someone wants to cache your work in an exhibition? We have to look at setting some protocols. The whole method of distribution changes the nature of the work and I think some artists are feeling exploited and a bit unsure about how to deal with institutions and the distribution of their work. New media artists are also incredibly in demand which is both a positive and a negative, as it can put strain on an artists' output and practice.
At the same time, it's very exciting for artists working in this field, who continue to work both nationally and internationally. ANAT has really been at the forefront of this push over the last 12 years. It reflects the growth and maturity of the sector. It's a great time to be involved in ANAT.
ANAT, Australian Network For Art
RealTime issue #46 Dec-Jan 2001 pg. 19
© RealTime ; for permission to reproduce apply to realtime@realtimearts.net