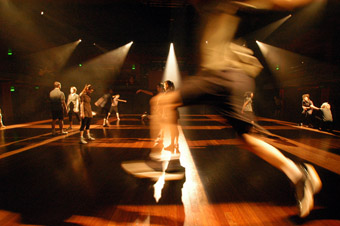 Special Mention, photo: Patrick Ronald and Shannon McDonell
Staged in the round with mezzanine seating providing an aerial view of the action, Special Mention pumps its audience pre-show with a "We will rock you"-type riff, the atmosphere similar to a sporting match. Flyers on the seats read, "Keen to succeed? Afraid of failure? Call our hotline now! 1-300-SUCCESS". The pressure is present and pulsating in this first work from Sydney youth dance group danceTank, commissioned by the Sydney Opera House with Critical Path, and directed by Luke George and Bec Reid of Launceston's Stompin Youth.
The music accelerates. A burst of intense white light blinds the audience. A mix of live and amplified clapping, whistling and cheering builds to a climax as the performers enter in single file, jogging in sync. In shades of military green and black they run a lap around the audience before descending to the stage where, with energy and precision, they execute a routine that captures the mood of a techno dance party whilst suggesting the relentless physical and mental focus involved in training. The quest for success is constantly likened to the rigours of sport.
Light magically divides the space into a grid in and around which the dancers perform until interrupted by the frustrated scream of a fellow dancer who has just made a mistake. Forced to start again and again, the performers repeat the sequence, running, jumping, helping, falling… but now the pace is relentless, the anguished dancer left behind.
Large ensemble moments are juxtaposed pleasingly with solo ones. Under an intense central spotlight, a microphone is slowly lowered from above, past the the lips of a performer forced to bend and twist lyrically, even comically, in order to be heard. The physical struggle echoes his agonising over choices and when to "seize the day." As the microphone ascends, the performer jumps after it, words disjointedly amplified, leaving us with a powerful image of failed striving.
Now in blue and white sports outfits with coloured sashes-and one performer in gold-the dancers perform an award ceremony. But the supportive applause and praise dwindles into forced sporadic clapping. Within seconds glory is transformed into isolation. Under an intense spot, the deserted dancer resorts to sit-ups.
A series of photographic tableaux of significant life moments (catching a large fish, giving birth, proposing) confirm the pressures of social ritual but do not achieve the intensity or clarity realised in the dance sequences.
The abrupt conclusion, with a largely incomprehensible text yelled through a megaphone to a 'machine gun' soundtrack, suggested that competition is a manic state of stress, confusion and struggle.
Special Mention's energetically explosive style kept the audience grappling with the forces that drive us through life. The production was largely successful, however more effective theatricality in some scenes and conviction in text-based moments would have ensured a more consistently engaging work.
For Special Mention, Reid, George, sound designer Bernie Tan, composer Luke Smiles and apprentice choreographer Lisa Griffiths brought together 21 dancers aged 14-26, with the long term ambition of making danceTank on ongoing venture. It looks promising.
danceTank, Special Mention, The Studio, Sydney Opera House. Sept 13-16
RealTime issue #75 Oct-Nov 2006 pg.
© Lucy Shepherd; for permission to reproduce apply to realtime@realtimearts.net