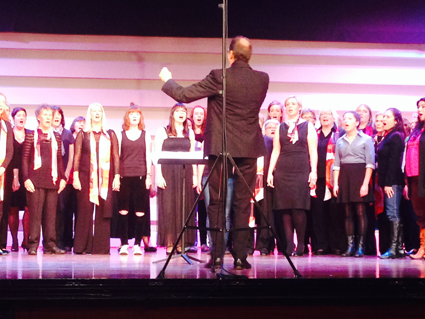 photo Felicity Clark
Aurora Chorealis, Song Company
What's more courageous: doing something wild where anything is permitted, or doing something vaguely contrary where conventions are still strictly adhered to? If scope and scale matter, then choristers are some of the most dauntless folk out there. As part of this year's Aurora Festival, participants from the community joined in Aurora Chorealis, a day-long program of workshops and performances, with guidance from Song Company, Scandinavian calling expert Christine Strandli and vocal coach Rachelle Elliott at the Joan Sutherland Performing Arts Centre in Penrith.
These Western Sydney singers put on one hell of a show at the evening concert. But the program was far too long. Much of the repertoire explored diversity and obscurity with a little too much vigour. The exceptional Song Company held our interest with two sets. First their signature repertoire including 13th century chant and a Cantiga from the wise old Alfonso captivated, followed by spectacular contemporary songs of Elena Kats-Chernin and Pelle Gudmundsen-Holmgreen.
After a trip to Estonia with Kooskōlas, a local community choir about to embark on an international tour to sing at the UNESCO Heritage-listed Estonian Song Festival, Song Company returned with a light set of popular song from more recent centuries including an arrangement of Bon Iver's "Skinny Love" made famous again in 2011 by starlet Birdy. Other recondite diversions came from Sonya Holowell who delivered a committed and expressive performance of Gyorgy Kurtag's Jozsef Attila Fragments. This confronting modernism, starkly lit and traversing more octaves and emotional vignettes than Eurovision winner Conchita Wurst's side-show, was followed by Strandli's rendition of four Sami songs. These Norwegian ditties had subtly shifting tonal centres and were based on non-rhyming poetry without definite structures.
As is often the case at community choral events (this has been my experience as a chorister) there are seldom more in the crowd than on stage. It was a great idea of the festival to reach out to the public by making Aurora Chorealis inclusive, open to anyone to participate, regardless of previous singing experience.
Aurora New Music Festival commissioned two new works for this event's massed choir. The first, Cooee Karjapasun by Paul Kadak, explored sonic calls common in Australia and Estonia. A cooee might be vocally sounded in the bush to echo-locate or signal to a companion, and a Karjapasun is a type of herding trumpet, nearly two metres long. Folk stories tell us that these instruments are not allowed to touch little boys who instead should play trumpets and horns, and that's about the only fact available online about them. Needless to say, the Karjapasun entered this aural landscape in foghorny tones. The second premiere, Aurora by Paul Jarman, was sung twice by the massed choir as both finale and encore. Performers had learnt Jarman's piece from scratch on the day under Roland Peelman's animated direction. With whispering, stomping and clapping this was the show-stopper.
Unusual repertory. Daring non-uniformity in performance attire. Risqué back-row bop-alongers. Aurora Chorealis showcased the everyday gallantry of the community choir.
Aurora Festival & The Joan Sutherland Performing Arts Centre: Aurora Chorealis, Song Company, director Roland Peelman; Sonya Holowell; Kooskōlas, director Rachelle Elliott; Penrith Conservatorium Singers; Christine Strandli; massed choir Aurora Chorealis, Joan Sutherland Performing Arts Centre, Penrith, NSW, 3 May
RealTime issue #121 June-July 2014 pg. 47
© Felicity Clark; for permission to reproduce apply to realtime@realtimearts.net