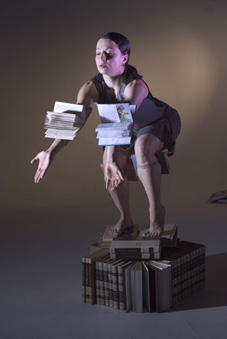 photo Ponch Hawkes
Jodie Farrugia, In Outside
A corner of the stage is piled with books: old, gilded spines, gold, red and leather binding, a 20th century curiosity on the edge of the present. It looks like the fragment of an old bedroom, fusty with childhood and single beds. A book is extracted, unlikely words spoken representing 'time.' Jodie Farrugia dances towards a book, mesmerised. It moves out of her reach, jerking its own jig. For a while I am intrigued by the locomotion of the books, disappointed to unravel their mystery–fishing line.
Three performers successively reach for these books. Clearly they stand for something. They are everywhere, above, below, always out of reach, stepping stones to an abyss. What do books stand for? In my lifetime, they have become archaic: papyrus leaf, cave paintings, scrolls and parchment, remnants of an old world. Yet their outdated status belies the vigour of writing, the dynamic relations that enthral the reader. My bedside novel insinuates itself into my imaginary body. But when I look at these artefacts dangling, they appear alien, inert objects not up to much, as distinct from the 3 performers–Farrugia, Darren Green and Dylan Hodda–who exude vitality. Much of their movement quality is athletic, sometimes dancerly, with an overlay of naturalistic interaction. In Outside aims to convey a relationship between people and these objects.
Despite the bookish theme and the implications of its symbolism, In Outside is brought alive through the energies of its performers. Farrugia works with an acrobatic idiom, adapting its form towards staging human modes of interaction by producing a choreography which combines acrobatics with human meaning. The play between performers elicited gasps of amusement from the audience. There were also moments when Farrugia reverted to a dancerly series of movements, skating across the floor, seeking out spatial coverage. Her performers had signature phrases, occasionally echoed in duet. There was a satisfying middle section involving all 3 performers, intertwining their material, and a striking section against the back wall–3 dimensions squashed into 2, splattered, suspended, slowly disintegrating. Farrugia also used the books in a lateral manner, attached to her joints, in the space between her legs. These imaginings brought them to life in a different way, their pages yawning like piano accordions.
According to the program notes, this is a piece which has evolved over a number of years. In Outside bears the mark of time; it is a polished piece of work. On the question of future polishing, it would be nice to see a greater variety of movement qualities, timbre, speed, energy, breath. Does acrobatic work require a certain kind of approach or attack, or can it be enlisted to produce a wider range of performative solutions? Perhaps it's an issue of what occurs in the space between movements, in breath prior to action. Similarly, the more dancerly traversals of space had a recognisable locomotive quality, a gliding motion across space on softened knees, with limbs extending from the centre. How is it possible to challenge an idiom so that it can become more than itself?
As a work, In Outside represents challenge, anticipation, aspiration, subjection and overcoming–themes ably animated by athletic imagination and dynamic performance.
In Outside, choreographer Jodie Farrugia; performers Jodie Farrugia, Darren Green, Dylan Hodda; sound score Chris Amor; lighting Mark Gordon, Sam Johnstone; Dancehouse, Melbourne, April 28-May 8
RealTime issue #67 June-July 2005 pg. 15
© Philipa Rothfield; for permission to reproduce apply to realtime@realtimearts.net