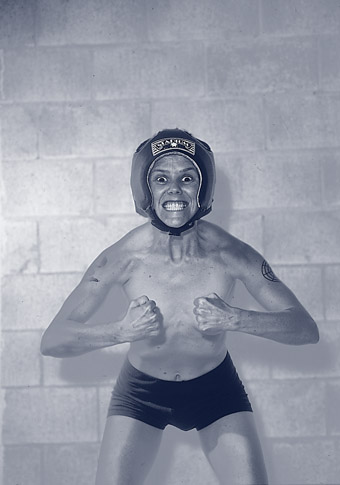 photo Ross Bird
Stacey Callaghan, When I was a Boy
Although the trigger for this performance, a broken back from a circus accident (and the pain that still lingers) is very real, the incident serves as symbolic for reflection on the formation of a life from early childhood; after all it was the accident that enforced the stillness that allows for the new perspective, a new life. Stacey Callaghan is a Brisbane-based artist. This account of her growing up is performed with a good humour, physical and verbal, that initially belies the seriousness of a struggle to find a self that was too good at hiding from life. This self resolved itself into 3 personae—a tomboy Scott Challenger; Jessie Kidd, a circus performer (the first name suitably androgynous, the surname indicative that she was still really a child); and the Unitard Bomber, an acerbic drag queen, about as far as Callaghan's fantasy of sugar and spice and all things nice could go. The Boy therefore looms large in her, and she binds her breasts flat to her chest, and constantly fiddles with the bulge in her shorts. And there's a toughness and insularity that goes with these personalities…and the fantasy of invulnerability. The only love she needs is that provided by an audience watching her on a trapeze, "I do it for love, not for the love of it, but for love…"
The splitting into 3 tough, essentially masculine personalities and the oblique reaching for love bespeak a dogged interiority, initially and hilariously portrayed in her first appearance, zipped up in a small bag. But it is also a selfishness that she needs to overcome and for that she needs us, her audience, in a different way, to address as confidantes, requiring several of us to help her (get her out of the bag, play games with her, help her urinate in a hospital bedpan) and, finally, in a couple of surprising reversals, offer one of us something special. At last the self has met the world, face to face, hands on.
Callaghan is utterly engaging as the tomboy (the best realised of the personae) and the abrasive circus performer (making out in a yoga class), but the Unitard Bomber is insufficiently bitchy, lacking the cleverness to be revelatory, and slows the show down dangerously. Physically, as in the scene where she plays both masseur and client, Callaghan is a dextrous clown. Gail Kelly directs with theatrical verve and inventiveness, working with lighting designer Clytie Smith to alternate a metaphysical circus of life and death with an intimate chat—the lighting is the set. The sound score is less effective, beginning portentously and powerfully, then (if rather literally) paralleling the action with clock ticks and heartbeats, and ending rather soppily with birds tweeting and guitar and synthesizer burblings—then again the New Age it conjures is perhaps part of Callaghan's new world. Fair enough.
Callaghan's winning personality, good audience responses in Brisbane (where the work was orginally commisioned by the Brisbane Powerhouse) and Sydney, and an evocative production suggest that with a bit of re-working (of the Unitard Bomber in particular) When I was a Boy warrants a longer life, to take audiences around the country on a fascinatingly bent path. And it's great to see a physical theatre performer's life realised on stage.
When I was a Boy, written & performed by Stacey Callaghan, dramaturg Shane Rowlands, director Gail Kelly; Sydney Gay & Lesbian Mardi Gras, Performance Space, Feb 20 – March 2
RealTime issue #42 April-May 2001 pg. 29
© Keith Gallasch; for permission to reproduce apply to realtime@realtimearts.net