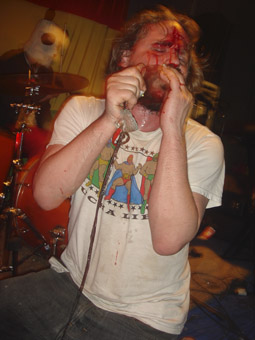 photo courtesy the artists
Lucas Abela, Yang Yang (in panda suit), Rice&#23630Corpse
TONGZHOU IN BEIJING'S FAR SOUTHEAST HAS BECOME SOMETHING OF A HAVEN FOR MUSICIANS GRAVITATING TO THE CAPITAL FROM ALL OVER THE COUNTRY. THEY ARE ATTRACTED BY TONGZHOU'S CHEAP RENTS AND BEIJING'S THRIVING ROCK SCENE, CENTRED ON A HANDFUL OF CLUBS LIKE MAO LIVE, DOS KOLEGAS, D-22 AND YUGONG YISHAN.
Punk-influenced rock is Beijing's staple musical diet, but local venues host an eclectic range of events, including talks, films and avant-garde music performances. It was this burgeoning scene that prompted Sydney-based noise musician Lucas Abela, famed for his aural onslaughts on a miked and effected pane of glass, to apply for an AsiaLink residency. The result was Rice&#23630Corpse–an improvising band with Abela on glass, Yang Yang on drums and Li Zenghui on piano. ('Rice corpse' is the literal translation of the Chinese character for 'shit'). They had four rehearsals, two of which were recorded providing the material for Mrs Rice, a CD co-released by Abela's own Dual Plover label and Subjam through its experimental wing Kwanyin, run by Yan Jun, a dynamic force in the Beijing experimental scene. The trio then proceeded on a 10-city tour of China: Beijing, Tianjin, Yinchuan, Lanzhou, Xi'an, Chengdu, Guangzhou, Changsha, Wuhan and Shanghai.
Abela was very strategic in his approach to the project. He chose China for his residency because "when you've got 12 grand to spend and you want to get a lot out of that money I thought China would be the go. But I was interested in China as a place—politically, socio-economically, ethnically—all sorts of strange things are going on there. So I got Yan Jun from Subjam to host me. The thing that I like about self-initiated residencies is that it shows that I have initiative and drive, but also, I'm the only person in competition for it!"
Abela had a clear vision that he needed a drummer and a pianist. With Yan Jun's help he teamed up with drummer Yang Yang, a well-known figure in the scene recently described by Time Out Beijing as the "spiritual leader" of the Tongzhou community. He presides over the noise band Mafeisan, often performing with a bag over his head (and for this tour in a panda suit). Finding a pianist proved more difficult, however owner of Sugar Jar records Lao Yang recommended Li Zenghui, currently a solo saxophonist and part of the duo Hetao shi (Walnut Room). Li had played keyboards in bands when he was living in Qingdao, a resort town on China's east coast, where coincidentally Yang had also spent some formative years playing in experimental rock bands before gravitating to Beijing.
Abela was interested in the piano and drums forming a rhythm section. "I think I aurally hallucinate when I play, because I'm hearing all sorts of things. I'm always playing along with this imaginary band in my head. In this instance I've got this real band, and they're outwardly influencing me. I'm hearing them and I'm following a rhythm or following a change of theirs. It added new elements—made me play in different ways."
The tracks on the CD Mrs Rice were recorded at the very nascence of the group, during their first rehearsals. "All the tracks are completely improvised. I was only there for a month and in the first couple of weeks I was trying to get the band together. When we finally got together we only really did four rehearsals [of which] two were recorded and edited down to the album. There are a couple of other tracks that I wanted to put on the album. I mixed them and finished them but Yan Jun from Subjam said 'the album's too long, you should just make it tighter, it'll have more impact.' I don't usually think that way, but he was completely right and taking those tracks out made a much more cohesive record."
Jun offered good advice—Mrs Rice is a concise, punchy album. While Abela was looking for a format that would let him 'play lead', the piano and drums are far from just backup. There is a real sense of shared exploration across the tracks, and more dynamic range than the all out splatter mayhem that one usually expects from Abela. As they shared little to no spoken language, the sense of the artists getting to know each other musically is particularly strong and engaging. Yang Yang says "If you ask me whether language itself is a hindrance or a barrier, of course language would help. But every musician uses music to communicate."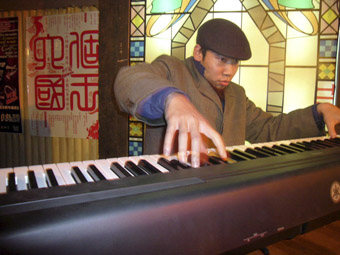 photos courtesy the artist
Li Zenghui, Rice&#23630Corpse
Abela had toured to four cities in previous visits, but the Rice&#23630Corpse tour extended further into northern and western China, thanks to the band's personal networks. Abela says "the circuit is growing, there are lots of live houses. There's less for the kind of stuff we're doing, but there's just so many cities there. Things that you wouldn't even look at on a map and are probably bigger than Sydney. If you splintered even 1% of the population, there's still a decent touring circuit for the bands in China—especially for the punk bands." However for experimental musicians, it's still hard to make a living, and audiences are only just developing. Yang describes reactions: "It was more or less the same, but the audience was divided into three categories. First were those who left as soon as we started playing. The second stayed to the end and then said, "That was dog shit!" The third got excited. But the number who got excited was very few…because experimental music has only just started in China, so most people don't know about it."
With increased attention on the underground music scenes, I asked Abela if there was any truth in the press predictions around the time of the Olympics, that Beijing is becoming the new Berlin? Abela says: "It could become a Berlin type scenario for foreigners who could easily move in and live off nothing, but they probably won't make money as musicians. There's more happening on a nightly basis than in Sydney, which is saying something…But I think they do it a lot harder in Beijing than the Europeans." An important distinction is that while the Chinese government tolerates experimental music, there is no institutional support in terms of arts grants or even community radio. In fact the national media still doesn't support rock music, let alone experimental acts, with only traditional folk and Mandarin pop music permitted. Yang says pragmatically: "Experimental music has nothing to do with Beijing. It has something to do with the universe. It is immortal. I do the music here because I live here. The Beijing audience is more or less the same as in other cities, [but] Beijing provides many chances to perform. In other cities there is no chance. Here you can get information and opportunities." Li offers a more poetic view of the potential: "Beijing has fresh air for music. In other cities there is no fresh air."
For Abela, the band experience was particularly important for developing the perception of his glass playing as not merely a freak show but a serious musical pursuit. "I've been playing glass since 2003, but from a technique I've been developing since the late 90s. I see it as a new instrument. I vibrate the glass, press it against my lips and hum and vibrate this sheet, I can't think of another musical instrument that works in that way. It's not wind, I'm not blowing through it; it's not percussion, I'm not hitting it; it's not strummed; I'm like vvvvhhhhh—just vibrating the sheet. One of the reasons why I wanted to move into a band context was to show off its musicality, which no one really sees when I play it because I've got very discordant taste." However, after initially deciding to not complete each show with his signature glass smashing and face gashing, he couldn't help himself. "It's not just for the shock of it. It just seems the right way to finish a show. It's at the heightened point when I'm feeling good and I get a rush and bang… and there's the trickle of blood across my face [he giggles]. I love that."
Because of the language barrier, Abela was unsure as to how the band experience was for Li and Yang. Both admit that musically they are fixed on their own trajectories, so while the collaboration was interesting, it did not so much affect their personal music making. But like all good exchanges, the effect is more far reaching than just the art. Yang says: "In terms of my music there's been no influence, but in terms of life there's been an unpredictable effect…" Li, a man of few words, sums it up best: "We miss Lucas."
See also a full interview with Lucas Abela; and a review of Mrs Rice
Rice&#23630Corpse, tour November 2008; Mrs Rice CD, Dual Plover/Kwanyin-Subjam 029, 2009
Thanks to Wang Yi for her assistance in translating Dan Edwards' interview with Yang Yang and Li Zenghui
RealTime issue #92 Aug-Sept 2009 pg. 12
© Gail Priest & Dan Edwards; for permission to reproduce apply to realtime@realtimearts.net