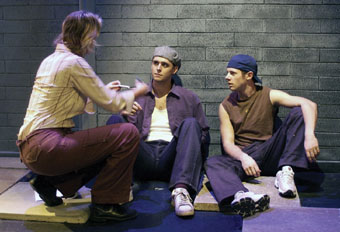 WAAPA 3rd Year Students, ATM
What makes an actor? What are the ingredients for a flexible performer who is able to cope with the secret business of directors and their methods of rehearsal? Some prolific directors offer their perspectives on working with graduates of actor training courses in the past 5 years.
"Over 5 years I've observed quite a number of graduates from training schools," says Robyn Nevin, Artistic Director of the Sydney Theatre Company. "The STC employs quite large numbers from acting schools, predominantly graduates from NIDA, WAAPA, VCA. My great concern…is in the area of voice and text. It is very often a teaching situation in the rehearsal room since recent graduates have little understanding of the fundamentals of grammar and sentence structure, and almost none of the rhythm and music of language."
This deficiency, says Nevin, stems from, "a different emphasis in the fundamental education [of] Australian children…I am such a dinosaur because when I was at school we did a lot of poetry and written and verbal expression. We learnt grammar, sentence structure, the way in which language is put together and why. Nevin believes that actor training courses fail to compensate for this lack of basic training in the uses and structure of language in the schools system. She also passionately believes, "If you can do the classic texts you can do anything. They stretch you emotionally, intellectually, vocally, and physically. There should be a greater emphasis on this aspect of the actor's training, because at the receiving end you just wish they had that grounding."
Michael Gow, Artistic Director of Queensland Theatre Company works with a training ensemble—4 actors "whose work has come to our attention through fringe theatre" have become staff members for a year. He stresses that the ensemble tends to be made up of actors who are not "straight from school." Gow is interested in the graduates who have a mix of disciplines and approaches in their work. He observes, "people up here are susceptible to fads…they have to grab all these complex methods rather than simple things." Gow notes that the Suzuki method is popular in Queensland at the moment, and that it is "great for a particular kind of performance, but it leads people to being incredibly self-conscious physically." He prefers the "old fashioned conservatory course" such as the one at the University of Southern Queensland where students are given some basic skills and an indication of their strengths as performers "rather than playing with their heads."
Wesley Enoch, a freelance director based in Melbourne, is disappointed that there are "so few Indigenous graduates from the main institutions [and] few graduates from non-Anglo backgrounds." He feels there is a "house style" for each of the actor training courses. He doubts that "a 3-year course for teenagers will ever 'create' a good performer, but it can give a good introduction and grounding so that after a person graduates they can learn their craft in the field, observing, engaging with, working alongside more experienced performers." Enoch criticises the "in-house" nature of training for actors and believes that "students should be exposed to many working methods" since the drama school house style "isn't always applicable to every process." Gow also refers to the fluidity of the process of making theatre, "I'd hate to be in a rehearsal room where everyone works in the same way. My job is to 'sus out' the differences between each performer and then create the structure, so we can just start working. At the outset I do make it clear that the way I work, we'll go up an awful lot of blind alleys."
Ros Horin, who recently retired as Artistic Director of Griffin Theatre after 12 years, feels that recent graduates are "usually brave and adventurous physically" but weak in voice training. However the graduates she has worked with "have all been great. I usually select very carefully graduate actors who are quirky and very individual. Horin believes that graduates don't come out of drama school knowing how to use their skills in a range of styles. "I think they struggle with something that's not naturalistic and with finding the truth in it, but…that ability comes with experience when you have worked across a range of styles." Horin sometimes finds students are "so keen to impress and do the right thing that they try to do it on their own. They are so focussed on what they are doing and their actions that they don't allow it to be free and relaxed between [themselves] and the other actors."
Wesley Enoch also observes that "the practical application of skills is the hard thing [for young actors] and it takes time to discard [certain] things and to learn new things on their own terms—that is, to remove their teachers from the equation." He also has reservations about the vocal skills of recent graduates, "…some vocal training focuses too much on the psychological blocks when good old capacity, vocal range and dexterity is what is needed." Like Gow, Enoch wishes for more training on the traditional aspects of the actor's craft. "Sometimes I don't care about what an actor is going through to achieve a performance—instead I want them to focus on what an audience is getting from their performance and delivery. This can be difficult [for some graduates] when some training approaches require a strong internal life for a character but don't provide the actor with skills to pass the story through feeling, text or physicality, on to an audience. There can be a level of self-justification and lack of respect for the needs of an audience."
Gow says the training at some acting schools "turn[s] graduates in on themselves, rather than teaching them to listen and play as part of an ensemble." He cites the graduates who have asked in a rehearsal process, "I haven't cried yet, so is it valid work?" He believes that acting is about "reacting truthfully, rather than knowing what you are feeling." As a director he is "not a puppet master—I like to know what people are thinking and where they are at." A shift in attitude from "so you want me to do this here?" to "this is what I think" can take some time in a rehearsal process, he says.
How students of the various actor training courses survive once they have graduated comes down to a 'nature or nurture' argument. Nevin says she is "often reminded of how the passing of 3 or 4 years can bring about great changes in graduates. They audition, and 4 years later they come back and look completely different…unrecognisable. All sorts of things contribute to the maturation but…it depends on the individual, how they cope with the real world—the difficult world of being an actor is damaging to some and can be invigorating for others."
Despite her reservations about voice and text training, Nevin enjoys working with recent graduates. "[M]any of the graduates I've worked with I find to be hungry and open to learning more. Then I get some reports from others that some are less open, in conflict with the director, and late. Often graduates grow out of these rebellious tendencies after a couple of years."
Enoch thinks that if "a talented, politicised and switched-on person goes into one of these institutions more often than not they emerge talented, politicised and switched on with some more skills—but I can't see how the institution has inspired them." It troubles him that "graduates don't know what companies are doing what! People make ill-informed decisions about which institution and working method would work for them, what companies and directors they'd be interested in working with, and what skills they'd like to develop. The institutions don't articulate that they offer a house style, nor do they inform the students of their options." Gow believes, "in an ideal world the training would include some sense of the world."
Enoch says, "older artists are under-utilised as potential resources in the training of other artists." He identifies the apprenticeship model as perhaps the most effective way to train an actor, but admits that the 'how and where' of this idea is vexed. "The major companies no longer use understudies, there are no repertory or company ensembles, and we as a culture still haven't found a place for our elders." He is most disappointed by "the inability [of graduates] to articulate their motivation" for being actors. However, he sees this as "a concern for the whole arts community. The question 'why?' isn't asked enough."
RealTime issue #56 Aug-Sept 2003 pg. 4
© Jane Mills; for permission to reproduce apply to realtime@realtimearts.net