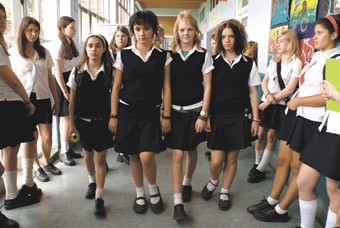 Hey Hey It's Esther Blueburger
THE ONLY JEWISH GIRL AT AN UPTIGHT PRIVATE CHRISTIAN GIRLS SCHOOL, 13-YEAR-OLD ESTHER BLUEBURGER (DANIELLE CANTANZARITI) SERIOUSLY STRUGGLES TO FIT IN. ONE OF THE FEW LINES SHE SPEAKS TO ANYONE AT SCHOOL PRETTY MUCH SUMS IT UP, "I KNOW YOU HATE ME, BUT MY MUM THINKS YOU'RE COMING TO MY BAT MITZVAH."
Writer-director Cathy Randall has described Hey Hey It's Esther Blueburger as a female twist on the Holden Caulfield tradition, made in response to her own experiences of growing up without access to female outsider heroes.
Esther finds her own way to fit in by breaking out. This happens in part because she meets Sunni (Keisha Castle-Hughes) who plays the drums, goes to the local public school, has a cool, relaxed mum (Toni Collette) and does not judge Esther for being different.
Esther also breaks out successfully because she has a seriously camp sensibility. The opening sequence of the film gives an almost aerial view of the school grounds as uniformed schoolgirls choreographically embrace their lunch. It's a satirical homage to Busby Berkeley that makes eating school lunch look like synchronised swimming or perhaps more like a propaganda film for the Hitler youth. In fact, this high angled view of the playground is Esther's. It's what the film's production designer Nell Hanson calls "Esther-Vision." It is not quite reality but it reflects the way Esther sees things with her impressively quirky imagination.
Esther-Vision is, in many ways, what drives this film. It comes on with varying degrees of intensity throughout. When Esther is peer-pressured into giving a guy a blowjob in a back alley on a night out, instead of the act we see her dancing in garish bright colours atop a makeshift stage. When Esther clandestinely attends Sunni's public school as a Swedish exchange student, it's a ruse that produces a strange piece of performance poetry for her new class. She is suddenly compelled to repeat it upon return to her private school and is chased off the edge of the stage by a school prefect for her efforts.
This is not a traditional teenage comedy but it draws on many major elements of that genre. What makes the film work is its ability to use the over-the-top camp satire of Esther-Vision for sharply observed social critique. At one moment during Esther's bat mitzvah, all the mothers and grandmothers in attendance seem to chase her around the family garden recommending hairdressers and putting down her rather geeky appearance. Such a moment might border on cheap and clichéd satire but it works as critique, partly because we see all of this from Esther's point of view.
This comic critique extends perhaps most unflinchingly to the dysfunction within Esther's nuclear family. Her twin brother Jacob (Christian Byers) travels on his own hilarious journey of teenage identity crisis from obsessive genius to expelled, fantastical axe wielding menace, to becoming Jewish Orthodox.
Esther's mother, Grace Blueburger (Essie Davis) also goes on an emotional journey as a result of Esther's escapades. She never moves too far away, however, from the inhibitions arising from her obsession with living up to her middle-class cultural expectations. Esther's father, Osmond Blueburger (Russel Dykstra) maintains a stronger sense of empathy with his children throughout the film but remains somewhat in the background.
Thankfully, the film does not resolve the family's dysfunctional relationships in the final dinner scene. Esther's parents still fail to really acknowledge her but have come to some self-awareness and a sense of humour about the way they all misunderstand each other.
It has taken more than six years to realise this gorgeous project. In 2002, Randall won a scholarship to attend the Los Angeles Film School's Feature Development Programme. In 2003 she received an AWGIE award nomination for best un-produced screenplay. It was then picked up as the first feature produced by Miriam Stein with Tama Films, the company Stein set up in 2003. The South Australian Film Corporation provided incentives for the feature to shoot in South Australia.
Hey Hey It's Esther Blueburger was one of two Australian films selected for the Generation section of the 2008 Berlinale, along with The Black Balloon. Since 1978, the Berlin Film Festival has had a special section dedicated to films that look at the world from the viewpoint of children and youth (a children's section has been introduced to the Sydney Film Festival in recent years). It is exciting to see Randall's first feature film being celebrated at home and overseas. Let's hope it continues to reach Esthers everywhere and to foster the camp imagination in all of us.
Hey Hey It's Esther Blueburger, writer, director Cathy Randall, producer Miriam Stein, director of photography Anna Howard, production designer Nell Hanson, editor Dany Cooper, original music Guy Gross, sound designer Liam Egan, Tama Films, distribution Disney; www.estherblueburger.com
RealTime issue #85 June-July 2008 pg. 22
© Megan Carrigy; for permission to reproduce apply to realtime@realtimearts.net