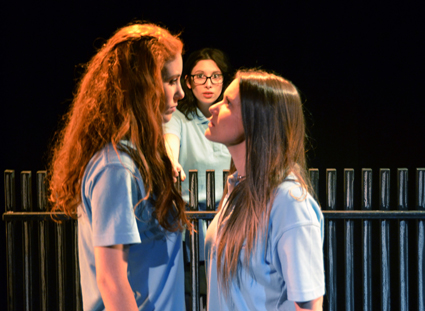 photo Claudia Chidiac
(lr) Danielle Baynes, Nicole Dimitriadis, Kate Englefield, Tough Beauty
Projected onto a versatile, mobile stage flat, Karina Gonzalez greets us with with a sophomoric sneer. She is the alluring husky voiced TK, lyrically and graphically inviting us to relive or even abet a violent event in which she leads her gang into baiting and subsequently knifing an unsuspecting, unnamed victim.
Aided by a supporting cast of witnesses who provide verbal testimony in fragmented drip-feed, the work strives to highlight the authoritative claim to authenticity of video documentation, begging the question: if there was no one to film it, did it really happen?
Written by Finegan Kruckmeyer and directed by Claudia Chidiac, the development of Tough Beauty is the first in-house work facilitated by Casula Powerhouse Arts Centre, itself a concrete paean to arrested brutalist vision in the heart of the Moorebank Parklands. It aptly points to the inspiration for the work's concoction: a rash of YouTube videos actually depicting suburban teenage girls beating each other up, the art of hazing and contemporary schoolyard politics refracted through the self-promotional lingua of social media.
The first onstage characters we meet, Rana (Danielle Baynes) and Nat (Nicole Dimitriadis), dive straight into reviewing their place in the schoolyard pecking order in dialogue that is deft and light-hearted. The stability of this alliance seems to be threatened by the hovering Mika (Rebecca Hitch), the resident bully whose ties to TK are suggested. Rana's meditation on the dormant bloodlust that rules the schoolyard forces us to share Kruckmeyer's self-confessed awe at what he has heard over months of research.
However, it is when New Girl emerges that the pot is stirred for real. By far the most intriguing character onstage, Kate Englefield capably embodies her with a pronounced skulk, alluding to a troubled past cited as the reason for the transfer. When we see her cornered at the toilet block backdrop, the New Girl's mask of survival endures a verbal assault, confidently delivered by Mika in slam-meter and supported by Shauntelle Benjamin's silent and agile sidekick. The stage combat that accompanies this is swift and fluid but nothing prepares us for the New Girl's Hulk-like explosion heard from behind the toilet door.
Drawing on conversations with students, educators, researchers and artists, Chidiac and Kruckmeyer, assisted by a tense and haunting soundtrack (Gail Priest), stitch together a portrait of narcissism that also defers to a technological hall of mirrors populated by psychopathic impulses.
Tough Beauty sits well as a conjectural response to last year's The Tender Age (version 1.0, ATYP) and Lachlan Philpott's Truck Stop (Q Theatre), the creative team drawing from a rich thematic and solid research methodology. While the work is effectively founded on the theatrical adage that the hidden can be more powerful than the seen, it nonetheless leaves room for development, namely greater clarity about the New Girl whose story drives the work.
Casula Powerhouse, whose home is threatened by development of a transport hub, deserves to live on as is, continuing to seed stories that need to be told.
Casula Powerhouse Arts Centre Productions, Tough Beauty, writer Finegan Kruckemeyer, director Claudia Chidiac, video design Elias Nohra, design Arthur Koutoulas, costumes Ruby Langton-Batty, Powerhouse Arts Centre, Casula, NSW, 15-17 Aug
RealTime issue #117 Oct-Nov 2013 pg. 38
© Teik-Kim Pok; for permission to reproduce apply to realtime@realtimearts.net