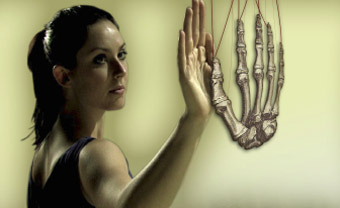 Rachelle Hickson, Reading the Body, Sue Healey & Adam Synott
SUE HEALEY AND ADAM SYNOTT'S READING THE BODY APPEARS ON A SUSPENDED SCREEN IN THE CENTRE OF THE IO MYERS STUDIO, DRAWING THE VISITOR INTO THE DARKENED SPACE. ATTENTION IS HELD BY ITS ELEGANT JUXTAPOSITION OF A MOVING FEMALE PERFORMER (RACHELLE HICKSON) OVERLAID WITH SKELETAL ANIMATIONS THAT ATTACH THEMSELVES TO THE DANCER'S BODY.
New Zealand poet Jenny Borholt's text provides more layers: "The body as intention. It means well. Is full of good intent. Body as desire." It's a fittingly elusive and alluring entrée to the experience of GESTURE, part of ReelDance 2010, a screen-based exhibition running across the UNSW Kensington Campus and, according to the notes, "exploring the performance territory between dance, the everyday and dramatic body."
Curator Erin Brannigan writes, "Choreography can play with our knowledge of gestural performance, occupying the space between walking and dancing, action and elaboration, communication and expression…These works take the choreographic manipulation of gesture further by spreading the performances across screens, dislocated spaces, manufactured locations and defamiliarised temporalities."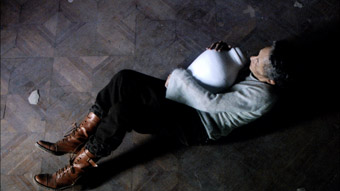 Anna Mittel, Promise of Fallen Time, Isabel Rocamora
Isabel Rocamora's video Promise of Fallen Time beckons from a curtained corner of the studio, compelling us to follow the full 19 minutes of its sombre scenario. We are led inside a derelict building, which might be an antechamber to the underworld. A slightly built but powerfully intense performer (Anna Mittel) advances tentatively through this grey world. Her movements are minimal but precise, appearing at times almost involuntary. She encounters a man (Enric Majo) and together they navigate the surfaces of this place (a derelict palace in Barcelona as it turns out), appearing sometimes to be propelled along its walls. Where they're heading is unclear but the sense of foreboding is palpable, enhanced by the sound of a soft gong and whirring, thrumming chords. A door opens to reveal a young boy with a large dog. The frame freezes. The world turns and we begin again with the two dancers in another place, another time. I head for the light.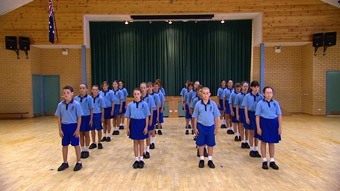 Assembly, Kate Murphy
Positioned in a triangle of monitors above head height as well as on a single monitor over the lift, Kate Murphy's Assembly takes its place in the West Foyer of the Australian School of Business.
Twenty-four children in school uniforms stand in four rows inside a school hall. From time to time their arms move sideways or clutch at their hearts, hands inscribe crosses on their chests. The rhythms of the children's gestures and their wobbly stillness fit neatly into the fabric, subtly shaking the bland edifice they occupy
I read in the program that these children are moving in response to "reflection exercises" being read from prayer cards that are used daily in the Australian Catholic primary school system: "Close your eyes and imagine that you are being held closely, tenderly in the arms of a most loving person…Whisper in your heart, "I am surrounded by God's loving protection." I shiver.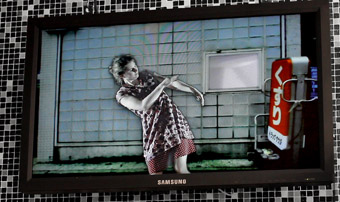 Vivaria, Sam James, installation view
Sam James' Vivaria presumably takes its title from those places where animals or plants are kept for observation or research. Installed against a "pixellating" wall of black and white mosaic tiles, Vivaria displays the cream of Sydney's contemporary dance species—Linda Luke, XX, Peter Fraser, Lizzie Thompson and Martin del Amo—each displaced into and onto an array of architectural spaces. The video works within its own grid, a gradually rotating cube with each facet revealing another setting, another performer. Gesturing at internal states, the dancers move as if feeling their way in the dark. Meanwhile buildings transform around them. Their setting renders tentative gestures more dramatic. An arm is caught inside or has it colonised concrete? "A co-joining of impossible spaces and bodies elicits the dancer as a hybrid creature—anthropomorphic like Descarte's Animal Machines," writes James. The work is richly textured, at turns elegantly pensive and playful, a meditation on the competing presence of bodies and the built environment.
To experience Vivaria in full requires standing for 26 minutes halfway up the stairs—not something that comes easily to students in the School of Busy-ness who are more likely to accumulate a vision of the work in fragments. I imagine Vivaria functions quite well in this way too. One student asked me why I'm so immersed. "Are you searching for the meaning?" he asks and I imagine one could do worse these days in the School of Business.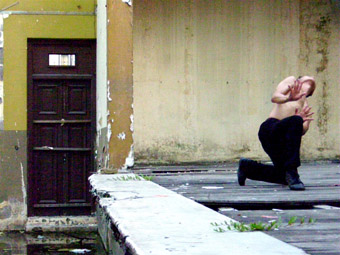 Tony Yap, Melangkoli – Sen Siao, Sean O'Brien
Sean O'Brien's Melangkoli Sen Siao is housed on the 3rd floor of the Robert Webster Building where the two-screen work is installed in the tight reception area of the School of English, Media and Performing Arts. Earphones in place, listening to Madeleine Flynn and Tim Humphrey's score, I sit inches away from office workers to be transported to the steamy streets of Melaki (Malaysia) and Yogjakarta (Indonesia) where dancers Tony Yap and Agung Gunawan are enacting intensely passionate rituals of grief in response to interior and exterior landscapes, sites that are "key to the performers, to their bodies, to their memories." In this small, contained space I feel entirely displaced.
GESTURE offers many such disconcerting breaks in the continuum, a series of small shocks that open the mind to the world beyond surfaces. It's a pertinent provocation and a gift to that increasingly fluid and fast moving entity called the student body.
–
GESTURE: Performance/Film/Dance,ReelDance Installations #04: Reading the Body, choreographer, filmmaker, editor Sue Healey, digital artist Adam Synott, music Darrin Verhagen, animation Adnan Lalani, cinematography Judd Overton, performer Rachelle Hickson, Io Myers Studio; Promise of Fallen Time, director, choreographer Isabel Rocamora, featuring Anna Mittel, Enric Majo, photography Nic Knowland, sound design, Jem Noble, Io Myers Studio; Samuel James, Vivaria, dancers Martin del Amo, Lizzie Thomson, Peter Fraser, XX, Linda Luke, sound Gail Priest, consultant Paul Gazzola; Assembly, Kate Murphy, Australian School of Business; Melangkoli—Sen Siao, writer, filmmaker, editor Sean O'Brien, choreography, dance Agung Gunawan, Tony Yap, music Madeleine Flynn, Tim Humphrey, Robert Webster Building; University of NSW, June 15-19
RealTime issue #97 June-July 2010
© Virginia Baxter; for permission to reproduce apply to realtime@realtimearts.net