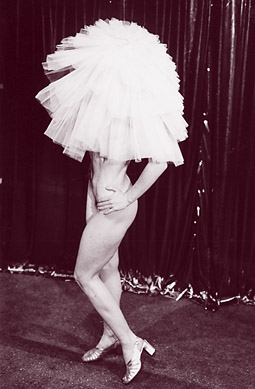 photo Eddie Safarik
Wendy McPhee, Censored
Until this year Tasmania had never held a major international arts festival. After much planning, 10 Days on the Island became a reality in March and April. The festival was strongly supported by locals and a significant number of interstate visitors. The theme of the festival, "the island", provided open-ended inspiration for a range of artists, groups, works and events, including international imports.
There were many highlights amongst the performance-based works. A Tasmanian physical theatre event CENSORED, devised and performed by Hobart dancer and choreographer Wendy McPhee, played to sell-out houses. The pseudo-autobiographical tale of a classical ballet dancer who never quite made it, CENSORED is a risk-taking combination of drama and stand-up comedy plus recontextualised ballet and modern dance.
Confessional in tone, the work seamlessly crosses the boundaries between artforms, showcasing the comic talents and acting abilities of McPhee who already has a solid reputation as one of Tasmania's best classical and contemporary dance performers. Set in suburbia, CENSORED explores the dancer's love-hate relationship with her art and the sacrifices and traumas—notably body-image issues—it involves. To this end, McPhee spends a third of the performance virtually nude, heightening the already well established vulnerability of her character.
The work expands McPhee's extensive repertoire as actor, dancer, raconteur and comedian. Her willingness to push the boundaries and her fearless ability to confront the kinds of demons and insecurities we all recognise gives this young woman's story a genuine universality.
The show is noteworthy for its tight direction by Deborah Pollard and high production values, particularly the sound design by George Khut, one of Tasmania's most innovative sound and installation artists, recently relocated to Sydney (see interview RT#42 p37). It is possible that CENSORED will tour interstate; don't miss it.
Within the visual arts, the festival offered an engaging range of choices. The City of Hobart Art Prize has established a reputation for presenting the best in cutting edge contemporary artforms, Australia-wide. It concentrates on 2 media/techniques annually; this year the categories were fashion and photo/digital media.
The fashion section was by no means conventional. From 14 finalists the award went to Melbourne designers Denise Sprynskyj and Peter Boyd, aka SIX, showing a recycled man's shirt inserted with laser-cut polyester, a hand-painted organza square tailer dress and a handbag made from a man's jacket.
Hobart-based Sarah Ryan, formerly of Brisbane, won the photomedia section with her trademark, a digital lenticular photograph, using a technique she has developed as part of her current PhD research. Her large, shimmering image, The Real Escape, is of an eerily neutral, almost empty, modernist space—it could be either interior or exterior—dominated by a similarly unreadable metal screen. The illusionistic qualities of her lenticular technique give unremarkable subject matter a disquieting resonance.
Held on beaches and private property on the Tasman Peninsula, an hour from Hobart, Sculpture by the Sea featured 60 works pre-selected from over 120 applicants. Part of the pleasure of visiting is engaging with the rugged coastal scenery of the region and following sculpture trails in the 3 venues. A full-on, full-day experience. Some works responded to the natural environment in which they were placed; others, particularly those in hi-tech/man-made materials, intervened in—and provided a strong and often thought-provoking contrast to—their surroundings.
Anna Phillip's monumental Doily II, fashioned from crocheted recycled plastic bags, explores the medium's mutability and continues the artist's exploration and deconstruction of symbols that form and inform the female condition. Helene Czerny's Victory Roll captures real human hair in perspex tubing—a juxtaposition both abject and aesthetic, exploring "hair and its journey…"
Poets and Painters is another established event incorporated into the 10 Days program. The concept involves the pairing of 15 visual artists with writers of poetry and creative prose, each duo producing a collaborative work. Participants are free to work together in any ways that seem appropriate: sometimes an existing work or idea is the catalyst, other pairs work together from scratch, and so on. The exhibition's opening, hosted by Robyn Archer, was performance in its own right, with spoken word renditions from most of the writers—and Archer moved to burst into impromptu song.
Two other noteworthy exhibitions were Response to the Island, a craft- and design-oriented blockbuster curated by Grace Cochrane, and Island Postcards, over 130 pieces wittily and irreverently referencing and re-inventing the form, or concept, of the postcard.
For a first festival, remarkably few glitches were evident, no doubt due to Archer's professionalism and the enthusiasm she inspires. There were so many events and attractions that it was not possible to view them all in the 10 days available. Happily, many of the art exhibitions were extended beyond the festival.
The festival generated a palpable buzz, exciting for a place that so often misses out on touring shows from interstate and overseas. There was a stimulating menu of music, dance, puppetry, drama, physical theatre, visual arts and more. It has been confirmed that the festival will continue as a biennial event; we look forward, then, to what 2003 will bring.
Censored, Wendy McPhee, director Deborah Pollard, Theatre Royal, March 29-April 7; City of Hobart Art Prize, Tasmanian Museum and Art Gallery, April 1-May 20; Sculpture by the Sea, curated by Dick Bett, Tasman Peninsula, March 23-April 8; Poets and Painters, curated by Dick Bett, Bett Gallery, March 23-April-18; Response to the Island, curated by Grace Cochrane, Long Gallery, Salamanca Arts Centre, March 28-April 29; Island Postcards, co-ordinated by Penny Carey Wells, State Library of Tasmania, Hobart, March 28-April 29.
RealTime issue #43 June-July 2001 pg. 24
© Di Klaosen; for permission to reproduce apply to realtime@realtimearts.net