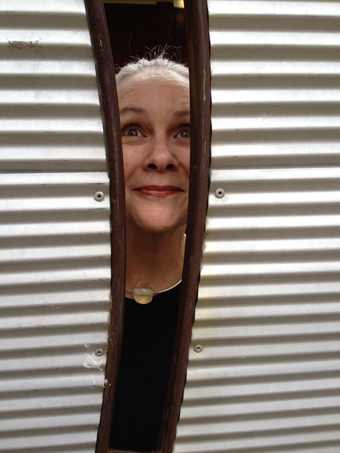 photo Fiona Fraser
Rosemary Miller
When I ask CEO and Creative Director Rosemary Miller to describe the way she visualises the Salamanca Arts Centre (SAC), she refers to work done some years ago by Neil Cameron. After interviewing a wide range of people involved with SAC, Cameron created a delightful physical map from thread and pins, painting a complex portrait of this place. At its centre is SAC—a generating point—surrounded by a wildly branching network of connections. Miller enjoys this image as she sees SAC as a starting point or 'engine room,' supporting artists to begin, create and present new work that shows locally and reaches beyond the bounds of Hobart, Tasmania or even Australia.
Like the labyrinthine buildings that make up SAC, diving into the organisation occupying these spaces is a little disorientating to the uninitiated. The Centre has many faces. It is an organisation that incubates and presents new artistic work, an initiator of major arts projects, a dance school, an umbrella platform for marketing, a landlord, an administrative body, a theatre, a weekly bands venue, a shopping arcade and importantly, a custodian for an organic bundle of heritage buildings that cling to a cliffside in the heart of Salamanca Place.
Evolution
Coming up to its 40th birthday, the Centre was initially established as The Community and Arts Centre Foundation, at a time when locals were in need of "a home for the arts" and Salamanca Place was a shadow of its current bustling self. The first chairperson was winemaker Claudio Alcorso, a key supporter of the arts in Tasmania throughout his life, setting up the collection of antiquities and contemporary art that has since become MONA. Alcorso was also Chair of the Tasmanian Arts Advisory Board at the time, so from the beginning there was a connection between the Centre and the State's broader cultural agenda.
Shape
The Centre is made up of a number of sandstone warehouses that spill directly onto Salamanca Place, but also connect laneways and courtyards that define the area. At the top of the cliff sits an historic cottage used for artist accommodation. Behind a continuous stone façade is a maze of spaces that house the Salamanca Arts Centre staff; a number of arts organisations such as Terrapin Puppet Theatre, Tasmanian Theatre Company and the Festival of Voices; artists' studios; a range of gallery spaces; and a hive of small retail tenancies. While the physical infrastructure is complex, the organisational structure is quite simple. A board of nine governs the activities of the Centre and these are then driven by a small administrative team lead by Miller. The series of tenancies are just as important as the program. Each organisation or retailer is approved on the basis of demonstrable involvement with contemporary arts practice, bringing a curatorial approach to the Centre as a whole.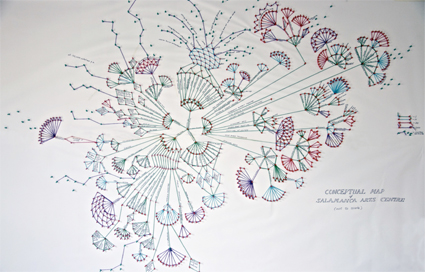 Neil Cameron, Conceptual map of Salamanca Arts Centre (not to scale)
Vision & projects
Leading SAC for almost 15 years, Rosemary Miller has a background in multi-arts bodies and festivals, with past roles at Arts Victoria and as Director of the Adelaide Fringe. As a result, she naturally fosters contexts that encourage artforms and organisations to mix and manages her team as one might a festival, retaining a core to run annual projects and maintain infrastructure, expanding as required for larger productions. Artforms that intersect within SAC include writing, theatre, dance, puppetry, film, sound, music, visual arts and craft.
The Centre runs an annual program that includes a curated visual arts show, curated installations within Kelly's Garden and exhibitions within four galleries; but it is the longer term projects and structures that are at the heart of SAC's current vision. Three interconnected and ongoing projects currently define its vision. First is Mobile States, which was set up in 2004, but seeded prior to this so that Miller could bring Sydney-based The opera Project's The Berlioz—Our Vampires Ourselves on from its Brisbane Powerhouse season in 2001. Mobile States, managed by Performing Lines, subsequently emerged as a nationally funded touring consortium that includes PICA (Perth), Performance Space (Sydney) and Arts House (Melbourne). Its mission is to extend the season, audience and impact of original shows, by touring between these venues. SAC's priority with this program has generally been to present challenging, hybrid performances, integrating learning and professional development opportunities for local artists wherever possible. This year's program brings Chunky Move's Keep Everything.
The second key program is HyPe, produced by Kelly Drummond Hawthorne, which incubates new, hybrid work in Tasmania. Recurring annually, this program draws in performance practitioners Deborah Pollard, Martyn Coutts and Aphids' Willoh S Weiland as mentors and provocateurs for intensive arts laboratories. The program keys in with local festivals like Junction in Launceston, which will this year incorporate a pitching event for artists to develop funded projects for next year's festival. Rather than present each idea that emerges from this program, SAC aims to support artists to find funding and forge relevant relationships. There are seven HyPe projects currently in development.
The third project, SITUATE, now in its second iteration, keys in with Tasmania's bubbling festival landscape. Interestingly, this project navigates changes to the state's arts ecology, brought on by the introduction of MONA FOMA, which is now seen as the leader in Tasmania's festival scene. While Salamanca Arts Centre played a fundamental role in the first MOFO festival, it has refocused its energy back to its central purpose—to incubate risky, hybrid projects that push the bounds of artforms. SITUATE brings together emerging hybrid practitioners (sometimes rolling out of HyPe) with experienced events professionals to develop pitches for experimental public projects suited to local, national and international festivals. SITUATE currently has memoranda of understanding with six festivals and a number of projects in development. Miller is really excited by the projects underway: Giidanyba (Sky Beings) by Tyrone Sheather which will premier at Dark MOFO in 2015 and Plastic Histories by Cigdem Aydemir, currently showing at Vryfestival in South Africa. Critically, SAC doesn't believe in pushing projects to fit particular annual timelines, but instead considers ways to give ideas the time needed to develop.
As MONA is on everyone's lips when they think of Hobart and Tasmania these days, I ask Miller how she sees this diagrammatically. She gestures inward. She sees it as a place that people are drawn towards, a destination. Salamanca Arts Centre is also a destination, and a hub (as we speak on Saturday afternoon, we hear choirs in rehearsal for the Festival of Voices) but philosophically, as described by Cameron's imagery, it is a place that thinks outwardly. Here, the focus is on developing artist careers and sending them outwards, with improved skills, a sense of autonomy, a desire to introduce risk into their practice and excellent connections.
Salamanca Arts Centre, Salamanca Place, Hobart, Tasmania
RealTime issue #122 Aug-Sept 2014 pg. 32
© Judith Abell; for permission to reproduce apply to realtime@realtimearts.net