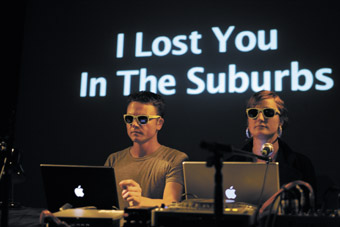 photo Bohdan Warchomij
Martyn Coutts, Willoh S Weiland, Deadpan
IN THE OPENING PANEL DISCUSSION OF THIS IS THE TIME…THIS IS THE RECORD OF THE TIME, A TWO-DAY SYMPOSIUM ON INTERDISCIPLINARY PERFORMANCE PRACTICE AT THE PERTH INSTITUTE OF CONTEMPORARY ARTS, JULIE VULCAN REMARKED OF UNREASONABLE ADULTS' GIFT/BACK (2006) PERFORMANCE PROJECT THAT "YOU OFTEN DO NOT KNOW WHAT YOU HAVE BEEN GIVEN TILL FURTHER DOWN THE TRACK."
With its wordy titular focus on the here-and-now, titt…titrott was staged to mark the 10-year anniversary of pvi collective establishing their practice in Perth, and situated deeper within the retrospective context of the Artrage festival's Silver anniversary program. That both of these auspicious events took place at all, would seem like acts of defiance against the city's natural-born tendency to efface local cultural memory and to continually replace and renew. Silver, a compelling historical exhibition of visual art and artefacts connected to Artrage over 25 years—installed throughout the vast spaces of PICA—celebrated the work of local practitioners both past and present and also served as a reminder, to me, of the more recent demise of the artist-run initiative in this my former hometown.
But while the mineral boom and rising real-estate values have pushed out artist-run spaces from the city, organisations like Artrage has shifted focus to devising programs that assist artists with longer-term development of new work. They have maintained ongoing relationships with practitioners—Artrage presented pvi collective's first performance project, Easy Listening Under the Truth Serum, in 1998 and has continued to support the efforts of the collective ever since. Perth is also the site of two significant and collegiate national centres for research in emergent and cross-disciplinary art forms: SymbioticA, now a Centre of Excellence in Biological Arts at the University of Western Australia, and the pvi collective's newly established Centre for Interdisciplinary Arts (CIA), both of which provide opportunities for residency, exchange and discourse with peers nationally and internationally. SymbioticA were hosting a visit by Steve Kurtz of the USA-based Critical Art Ensemble (CAE), who had been cleared in June of all criminal charges brought against him and another scientist in 2004 for procuring harmless bacteria cultures for an exhibition. It was around Kurtz's lecture at UWA entitled Crossing the Line—a convergence of politics, activism, democracy, terrorism, freedom of expression, citizenship and justice—that the participants gathered, setting the tone somewhat for the symposium and performances to follow.
The event drew artists together from across the country including panther (Melbourne), Spat 'n' Loogie (Sydney), David Williams of version 1.0 (Sydney), Sam Fox of Hydra Poesis (Perth), Unreasonable Adults (Sydney/Adelaide), Deadpan (Melbourne), Something In Common [sic] (Perth) as well as producers Cat Jones from Electrofringe (Newcastle), Rebecca Conroy from Performance Space (Sydney) and Jeff Khan of the Next Wave Festival (Melbourne)—many of whom initially worked with pvi on their TTS Australia and Reform tours. Pvi collective divided the symposium event into two parts: this is the time…, an evening of performances held at The Bakery, and this is the record of the time, a two day symposium which book-ended the performance night. This is the time… provided an occasion for the participants and audience to reflect on a vignetted representation of an artist's/group's practice before returning to articulation and discussion around the realisation of their work. As such, punters arriving at this is the time… as a separately-billed event, expecting pvi to deliver on the promotional hyperbole of an evening that "promises to rattle the cage of contemporary performance practice as we know it", might have been confused by the lecture-style delivery and necessarily pared-back nature of some of the works.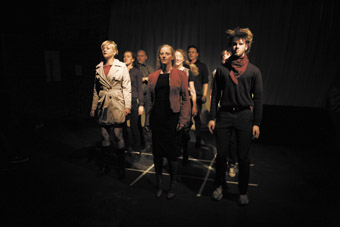 photo Bohdan Warchomij
Something In Common (sic)
One of the main topics of discussion throughout the symposium was the site-based or non-institutional nature of much of the work being produced by interdisciplinary performance practitioners in Australia today, and of the risks, challenges and possibilities of creating work on the "hybrid stage of public space" (a useful description offered by Andrew Donovan of the Australia Council's Inter-Arts Office), collapsing the distance between art and everyday life while finding, engaging, implicating and including new audiences in performance experiences. The cabaret and installation format of this is the time… while somewhat paradoxical to the methodologies of most of the artists involved (Michelle Outram's political oratory and endurance-based performance Not The Sound Bite!, for instance, originally conceived for Speaker's Corner in The Domain in Sydney had an obviously decontextualised resonance when re-staged in The Bakery's courtyard) afforded a semblance of projects past, present and in-development that all hinged around particular contingencies, whether political, societal, temporal, technological or environmental.
The scheduled part of the evening of live art, this is the time… began with Unreasonable Adults' If Not For You Then Who with Jason Sweeney performing live and Fiona Sprott emerging from the white-noise-ether of videotape to deliver dark and self-annihilating monologues on sex, failure and illness. As a part of their collaboration, Unreasonable Adults are adaptable and deliberately flexible to the specificity of the moment in which a work is being made, choosing to deliver performance and other outcomes across the internet, through installation, videos and performance. For this event Sweeney punctuated the meditative slowness of the grainy black and white video and audio environment after each of Sprott's confessions by writing in loud staccato on an amplified blackboard in chalk, questions like "ARE YOU DEAD INSIDE?", renting apart the darkly comic reverie created in these scenes by questioning the emotional health of the audience.
Among the participants in the symposium Sam Fox of Hydra Poesis identified a personal intent to create a platform for outrage, pathos and emotion to be directed at perceived injustices as an honest form of communication back to the "hegemony", reflecting more violently comments by Michelle Outram during the symposium that artists should be "agents within their own culture" and by David Williams of the desire to "perform citizenship." For this is the time…Hydra Poesis created a one-on-one interactive performance utilising a threatening teleprompter with the intention of causing the sole participant to feel fear or aggression. Meanwhile, panther, an artistic duo also interested in person-to-person relationships, arrived in Perth fresh from presenting their new work Exercises in Happiness for the Melbourne International Arts Festival [p6] wherein audience members could perform and articulate the things that made them happy, or occasionally find deep-seated sorrow as a result of being rejected from an experience of the work. For this is the time… panther also yelled at the stars in a proclamation that mixed nihilism with optimism, pessimism with passivity and gave philosophical answers to pragmatic questions (and vice versa).
On the first panel David Williams of version 1.0 responded to questions regarding the sustainability of an issues-based theatre and the actual time it takes to bring new work to the stage. Williams counterpointed the rapid delivery of much of version 1.0's verbatim source material—Hansard, the transcript of parliamentary proceedings being complete and available on the day after a sitting of the Senate or House of Representatives—against the need for continual revision of a script in order for its issues to remain pertinent both to the company and to an audience cognisant of changing world affairs. Embellishing the history of version 1.0 in a performance lecture for this is the time… Williams also alluded to the inadequacy of critical language in providing feedback to new and developing forms of performance by quoting from the retinue of version 1.0 reviews, "Apparently we were 'challenging and hilarious.' Apparently we didn't 'have strong characters' and, as such, 'had no clear character motivations'."
Cat Jones, a performer and a curator of Electrofringe also manipulated language through the relatively new form and sonic intonation of avatar dialogue through a 'play reading' of a cat_gURL interactive event. Delivering a verbal introduction to the experience of entering a previous installation, Jones intercut video documentation and her reading with live performances of webmistress cat_gURL's automated, gendered script about sexing and finding definitive sexuality. Creating another kind of visceral/virtual paradigm that connected the fleshy with the flat and pre-recorded, Spat 'n' Loogie's Holiday took members of the this is the time… audience away on a sensorial approximation of an exotic holiday, replete with cocktails, a walk in the sand and a mushy holiday romance.
In closing this is the time…this is the record of the time, a producer's panel convened to discuss the ways in which certain organisations including Next Wave, Electrofringe and Peformance Space are continuing to support the development phases of interdisciplinary performance practice through programs such as Kick Start and by working in concert with one another. With the understanding that the field is continually redefined, reframed and revised by both practitioners and the changing nature of the social and political spheres in which they choose to make work, this is the time…this is the record of the time, was an invitation to participate in the nurturing of an artist-led commitment to hybrid performance practice. And it took place in Perth. While this was the place and a particular moment, the effects and the influences of the program will continue to be felt "further down the track."
this is the time…this is the record of the time conference presented by pvi collective in partnership with PICA and Artrage, PICA, Oct 31, Nov 1; performances: The Artrage Bakery Complex, Oct 31
RealTime issue #88 Dec-Jan 2008 pg. 13
© Bec Dean; for permission to reproduce apply to realtime@realtimearts.net