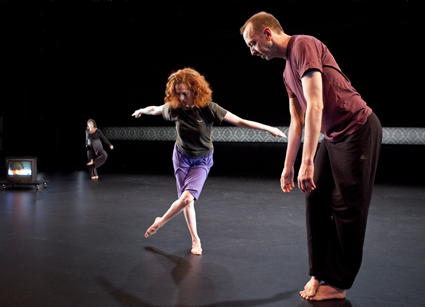 Becky Hilton, Jodi Melnick, John Jasperse, Becky, Jodi and John
Vladimir: He didn't say for sure he'd come.
Estragon: And if he doesn't come?
Vladimir: We'll come back tomorrow.
Estragon: And the day after tomorrow.
Vladimir: Possibly
Estragon: And so on.
Vladimir: The point is—
Estragon: Until he comes.
[Samuel Beckett, Waiting for Godot]
Becky, Jodi and John, from New York's John Jasperse Company, is a Trojan horse, a masquerade, a depth beneath the façade. It is also what it seems, funny, witty, casual, undulating, perambulating, a play of surfaces. Beneath the mask of hilarity lies a serious piece. Or is it the other way round?
Film titles roll down, looking a bit like Episode 20 of StarWars telling us about the work. Let's begin with an existential conundrum: this piece is about life. It was conceived by the artists in 2006, but that was some time ago and life has changed. What's more, someone's not here. But that's okay, because we've called her on Skype. So here we have it, an absent presence, time out of joint, framed by the group, by the collective 'we.' That collective framing remains throughout, warming us with its camaraderie.
Becky, Jodi and John emerge; quirky limbs peek over the wallpaper frieze, their timing eccentric. Chrysa also appears on a monitor manifesting the same wallpaper. Domesticity abounds. She speaks into her webcam, her face looming against what appears to be her bedroom. Chrysa can't be here, she had too much on to participate in this project. Well, she certainly made up for it, raising questions throughout, inserting propositions, even teleporting her stuffed animal for a disco solo later on.
"The trouble with us," Chrysa opines, "is that we are too articulate." There is no lack of articulation here. Jodi Melnick's early solo is nothing if not articulate. Strong, clear events resound in the body, kinetic initiatives pass through her torso or pelvis, bouncing around like billiard balls, fine dancing without the aid of excess muscularity. There is an intense delicacy about her dancing.
Becky and John offer their own duet behind Jodi. They begin by rubbing their knees, looking like a Greek chorus of washerwomen but then the rubbing becomes something else, a dance forming a tangent with the everyday. There are many everyday moments; emails are read out, the threesome have a break and open up for audience questions. But these elements are completely integrated into the work. So they are no longer everyday.
The spectre of time hovers, endings loom. Becky reads an email from Jodi cataloguing all the problems that have developed in her body. Becky tells us why she stopped dancing. John refers to a critical response to his work which suggests he should perhaps stop making art, as if the time for art has come to an end.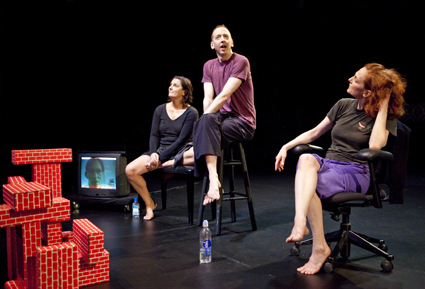 Chrysa Parkinson (on monitor), Becky Hilton, John Jasperse, Jodi Melnick
Physically, the duets, trios and solos are a pleasure to watch. Bodies engage through touching, pushing, softening, leaning, falling. Their touch is considered. John stands naked in front of Jodi. Her proximity to his nakedness raises questions; how will she touch him, where will she touch him? She meets his skin time and again. Heads roll of their own accord while a torso propels itself across space, a snifter of Cunningham. But these bodies are soft. They soften around a pushing hand, then plump up again. Jodi falls on the group, a percussive moment of choreography becoming humour. There is a casual feel about this dancing and spoken text, aided and abetted by Hahn Rowe's music which is quirky and whimsical, relaxed, inviting laughter.
No-one takes themselves too seriously, but neither are these conversations just played for laughs. Anxieties about the body surface in Jodi's conversation. There is a marked tension between her catalogue of infirmities and this capable, dancing body. Becky narrates a story about her son's superhero fantasies. She returns dressed in a makeshift outfit in imitation of that worn by her then eight-year old child. Her breasts are bare, green tights are pulled up high and a footy flag (the Western Bulldogs) is tied around her neck. But for her breasts, she could be that child. There is an air of vulnerability about her nakedness, a sort of Bill Henson turning away from the gaze.
John recounts a colleague's critical comments about experimentalism in his work. These are read out by Jodi. By way of response, John appears naked, holding a huge pile of pretend bricks. Unstable, they collapse, falling to the ground, the last one revealing his genitals. Is this a riposte, an experiment or a compulsion to return to the source of irritation?
The audience is at some point invited to ask questions, which are in turn deflected and treated obliquely. There is a distorted skull in Hans Holbein's The Ambassadors (1533), a disguised reference to mortality that appears only through a change in perspective. Are these deflections an anamorphosis, distorted reflections on mortality? Chrysa misses her friends. Chrysa isn't here. Chrysa's elephant dances under the disco mirror ball. Maybe all this hilarity is a carrier, death's Trojan horse. There is this scene I recall in a film about Congo's ill-fated president, Patrice Lumumba (Lumumba, director Raoul Peck, 2000). Lumumba and his best friend lie tied and beaten up, waiting for the inevitable. They tell stories, reminding each other of earlier times. The two of them piss themselves laughing. Then they die. I'm sure they would have danced too, if they could.
–
Dance Massive: John Jasperse Company, Becky, Jodi and John, creators, performers Becky Hilton, John Jasperse, Jodi Melnick, Chrysa Parkinson (online), choreographer, director John Jasperse, music Hahn Rowe, lobby video Ben Speth, Dancehouse, Melbourne, March 24-April 3; www.dancemassive.com.au
RealTime issue #102 April-May 2011 pg. 17
© Philipa Rothfield; for permission to reproduce apply to realtime@realtimearts.net