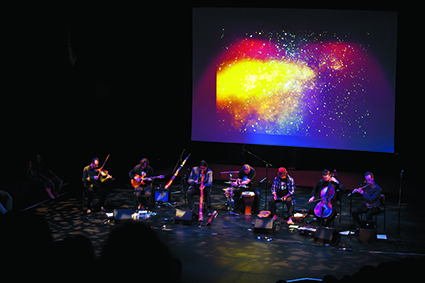 photo Holly Jade
Reflection Tour
The TURA-led Reflection Tour brought together two of Australia's most revered Indigenous musicians, William Barton and Steven Pigram, with a range of instrumentalists from different performance contexts to make up the Narli Ensemble. Travelling to 12 locations around Western Australia's Kimberley and Pilbara regions, the eclectic ensemble performed concerts and school shows for around three weeks before winding up in Perth for a finale concert. The night was filled with surprises, with music that ranged from traditional and story-led songs to atmospheric and electronic offerings. It's hard to describe how such different kinds of music fit together so well, but the night felt entirely fluid, as if every musician were telling the same story from their own unique perspective.
Over the course of the concert musicians wandered on and offstage, resulting in an ever-changing ensemble that performed a range from solos and duets to full band works. The night opened with a solo improvisation titled Kimberley Night Sky by didgeridoo virtuoso William Barton. As he plays, it's hard to take your eyes off him, such is his focus and intensity. He traverses the boundary between traditional and experimental music with ease, mixing stick taps, whistles and abstract sounds with the drones and barks of the didgeridoo sound with which we are more familiar. It's an effective opening to set the tone for a night which is both meditative and engaging, steeped in tradition but focused on the exploration of new sounds.
Barton is soon joined onstage by Tristan Parr (cello) and Errki Veltheim (violin) for Parr's own Strati, a piece with quite poetic origins created by manipulating satellite photos of Reflection Tour concert locations to be translated into a graphic score. Each iteration incorporates a live recording of the last, such that the final concert contains audio from every performance on the tour. In a similar vein is Veltheim's Silence of a Falling Star, delivered by the full ensemble later in the evening. It is a meditative exploration of softly evolving textures, enhanced by radio static and a softly bubbling electronic undercurrent. It would have been quite an experience to have seen this performed outdoors under the stars as intended, as the enclosed space of the Octagon Theatre somewhat dampened the spiritual effect.
As soon as Steven Pigram took to the stage the energy changed from meditative to entertaining. Pigram was engaging in an entirely different way from Barton. While Barton was inwardly focused on his sound, Pigram was friendly and conversational, guiding us through his songs by cracking jokes and telling stories. From Pigram and the full ensemble (now joined by Ron Reeves on percussion and Steven Magnussen on guitar) we heard the foot-tapping "Nothin' Really Matters," humorous "Crocodile River" and others.
There were more instrumental offerings along the way. A highlight was Stephen Magnussen's virtuosic solo guitar piece New Digs. The guitarist traversed the instrument with ease, delivering a flowing and complex array of melody. Then there was the Perflewdj trio of Barton, Tos Mahoney (flute) and Ron Reeves (percussion) who performed a curious and spacious improvisation.
Perhaps the emotional high of the night came when the ensemble was joined for two songs by Stephen 'Baamba' Albert, a veteran musician, performer and storyteller from Broome. Baamba has a unique stage presence, peppering his performance with stories from his childhood and beyond. His voice is throaty, aged by a life of singing, adding so much character to the songs. We get "Slomat Tingal," the trilingual pearl-divers' song, as well as an unexpected cover of Cole Porter's "Begin the Beguine." Before long Baamba retreats offstage, but not before he has met his rapturous applause with a cheeky smile.
The full ensemble ended the program with the catchily rhythmic Kalkadunga Yurdu by Barton and Mimi, a tribute to Pigram's granny. There was a final all-in, groove-heavy encore of Pigram's "Saltwater Cowboy" and then the ensemble bade farewell. What a rare opportunity it was to witness the coming together of such an eclectic group of musical minds. I feel incredibly lucky to have experienced such a varied and intimate evening of music making, and given the standing ovation the musicians received I'd say I'm not the only one.
Reflection Tour, Final Concert: William Barton, Stephen Pigram, Stephen Magnussen, Errki Veltheim, Ron Reeves, Tristen Parr, Stephen 'Baamba' Albert, Tos Mahoney, Tura New Music, Octagon Theatre, 29 Sept
RealTime issue #130 Dec-Jan 2015 pg. 50
© Alex Turley; for permission to reproduce apply to realtime@realtimearts.net