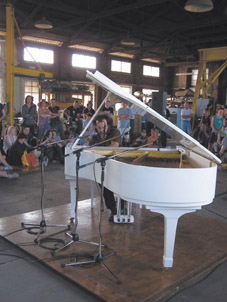 photo Sarah Last
Anthony Pateras at the Junee Railway Roundhouse Workshop
EXPANSIVE IN ITS SCOPE, A FAULTLESS CURATORIAL LOGIC DISTINGUISHED THE 2006 UNSOUND FESTIVAL. BOTH ON AND OFF THE RAILS, THIS AMBITIOUS PROGRAM OF LIVE PERFORMANCE, SOUND ART AND INSTALLATION SURVEYED SOME OF AUSTRALIAN MUSIC'S MOST OUTLANDISH MARGINS.
An improbable centrepiece of the festival was the Loco Motivus, an iron-horse caravan of resident aliens and coastal fringe dwellers, shunting between isolated heritage townships, and even less likely venues. Whether consciously or not, the Loco Motivus harkens directly to a defining moment in contemporary culture: Pierre Schaeffer's 1948 discovery of musique concrete with Etude aux chemins de fer. This work of Schaeffer's—proto-turntablism with recordings of steam trains—described the possibilities of a radically new compositional paradigm: one which was contingent not on instrumental technique and a hierarchy of composer, conductor and performers, but pivoted rather on the playful maladaption of new technologies, and a restored sensitivity to environmental sound. It is the significant precedent for the most creative music of the intervening 58 years.
This historical lineage becomes dramatically explicit at the festival launch in Shannon O'Neill's performance: the rigorous live interrogation and digital reprocessing of the sound of his own trip west along the train line from Sydney. For this listener, the most successful elements occur in O'Neill's inscrutable estrangement of his source material, and a refusal of the motoric rhythm that recording suggests. The "wheels of steel" analogy is advanced even further by Rod Cooper, who marries his considerable accomplishments as a sculptor in wood and metal to a studied avidity for dissonance. His new performance unites "prepared turntables" (with self-made discs and phonograph cartridges) with another of his stunningly fashioned instruments. Cooper's sound exemplifies what two other festival performers, Robin Fox and Anthony Pateras, have defined as "maximalism": an approach to sound which cultivates complex structures along both horizontal (dynamic) and vertical (timbre) axes: a close listening is rewarded with the revelation of new and unfamiliar sound-worlds.
Friendly visitor from the USA, Al Duvall, explores an occluded anachronism of vaudevillian performance through his elementary yet tuneful banjo strumming, punctuated by fiery kazoo outbursts. What compensates for the absence of virtuoso proficiency are Duvall's lyrics: extravagant mixed metaphors and colourful inversions of 'horse sense' proverbs. The local analogue might be Chad Morgan, and Duvall's wry, ironic humour served to remind the audience that, like ourselves, our fellow travellers from across the Pacific lake are also capable of an antic sophistication with vernacular idioms. Duvall's national tour is at the invitation of the Dual Plover label (RT74, p51), and as such it's merely the most recent explication of Lucas Abela's discreet proposition that some varieties of experimental music locate their historical lineage not in ivory-tower brain-trusts, but in vaudeville and the music hall. The argument is a provocative one: it proceeds from the assumption that experimental music might be a form of popular live entertainment, and with a considerable debt to low-culture folk traditions.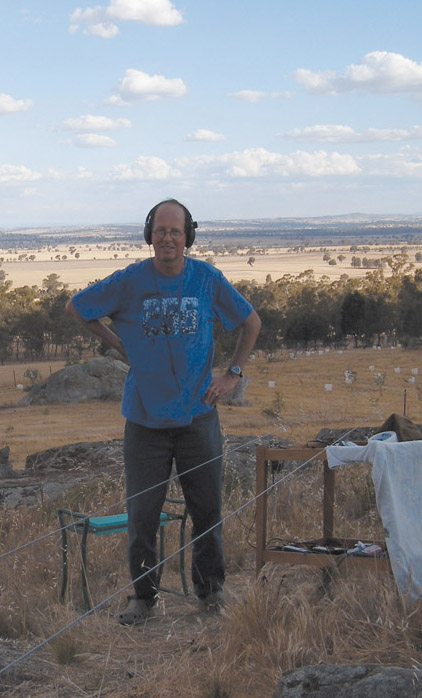 photo Sarah Last
Alan Lamb, Aeolian Harp/Wire instrument on Pindari Farm, unsound06 festival
The contention is beautifully illustrated by another performer, Gary Butler, who brings a bricoleur inventiveness to his raucous guitar improvisation on an otherwise saccharine show tune. Butler's facility with his instrument affords him an hilariously enlarged sonic vocabulary, but also serves to essay a sardonic investigation of hierarchical power structures—a concern which is taken to outlandish extremes the following day, in concert with the Von Krapp Family's carriage of the Loco Motivus.
Of Australia's several festivals of creative music, Unsound is probably the most successful at accommodating installation and site specific work. Accordingly, the second day is a sonically embellished form of package tour. First stop is an inspection of Alan Lamb's aeolian harp at the Pindari property; although this work is heard to much better affect aboard the Loco Motivus when we listen remotely by CB radio to a live wind-and-wire broadcast. The Coolamon Up-To-Date Store, with the Goldbergian overhead apparatus of its antiquated cash railway, is a perfect frame for Ernie Althoff's work, D's Guest Appearance (2006). Eponymous "D" is the "Declivities", a circumspect chorus of gumnuts rattling within adapted record players—providing background to a whimsical interplay of aleatory automated soloists. Assured in its delicate modesty, this work's whimsical crypto-Zen is well served by its elegant simplicity.
Lunchtime later, a duet from Al Duvall and Singing Sadie farewells our embarkation aboard Loco Motivus. Sadie's performance has profited from the discipline of a lengthy North American tour, and a greater confidence and finely nuanced persona are the result. Their collaboration works to the advantage of each; Sadie's vigorous Tanztheater hoofing and shrill caterwaul set in perfect counterpoint to Duvall's bemused folk observations.
The Loco Motivus is a striking achievement, not least for the logistical planning required of project Coordinator, Sarah Last. The train is a group work by some two dozen artists, either working alone or in small ensembles. Some artists have a carriage to themselves, others work within the lesser dimensions of a single berth. The model might have been the Constructivist film trains of 1920s Russia, or the Queensland Writer's Train that once (and, perhaps, still does?) brought the likes of po and Peter Carey to country schoolkids. The Von Krapp Family employs the coach car to make its mockery of neo-conservative behavioural norms, providing an absurdist exaggeration of the logic of Un-Australia. Robbie Avenaim's installation is a mechanised drum orchestra, partially driven by audience interactive foot pedals. (Later that night, Avenaim will demonstrate a rare delicacy of touch in his solo percussion performance; an aspect of his work which has perhaps been submerged within other ensembles).
Dave Noyze also offers his audience some diminished control, via the ostensible button to summon the porter, which now brings only a dolorous foghorn honking. The carriage he shares with Garry Bradbury is a labyrinth of space and sound alike, with each off-corridor vestibule populated by the noises they orchestrate from their mixing posts. Abject Leader's carriage has become the site of their latest performance in expanded cinema, with multiple film projections through colour filters looped along the ceiling, and variously focussed on one of the three sheer fabric screens hung across the carriage. While Sally Golding busies herself with the rudely bouncing projectors, Joel Stern provides a tour-de-force performance on processed trumpet and thumb piano. The effect is ultimately overwhelming, but not unpleasantly so; there is always the possibility of respite between carriages, or a congenial chat with other passengers down in the guard's car. Culmination of sorts occurs at the Junee Railway Workshop locomotive turntable—a revolving section of track encircled by a dramatically imposing roundhouse. Rod Cooper's tubular sound sculptures entertain individual auditors in queued succession before Anthony Pateras provides a dazzling turn on an incongruously white piano in the toolroom. Pateras tests the limits of his keyboard preparations with a breakneck agility, matching his seemingly unlimited sonic vocabulary to a succession of different performance styles.
The situation of margins and centre is always relative. A few weeks prior to its Unsound reprise, Pateras premiered this new work for solo prepared piano in concert with the LA Philharmonic before a rapturous 2,000-strong crowd. At the festival's final concert, later that night in Wagga, Tom Ellard extemporises the hilarious video montages that have delighted Big Day Out audiences for years. The example of both these artists, and Unsound itself, volubly demonstrates that the audience for creative music, in its broadest possible conception, might be less narrow than is sometimes assumed.
Unsound 2006, co-directors Sarah Last, Adam Bell, Wagga Wagga, Nov 10-11, http://space-program.org/unsound06/
RealTime issue #76 Dec-Jan 2006 pg. 48
© Jim Knox; for permission to reproduce apply to realtime@realtimearts.net