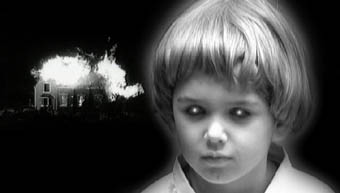 Martine Corompt, Spell on You
Let me get this straight, the talk of New York is Matthew Barney and George W Bush. A curious mix of hyper-masculinity perhaps, with Barney's Cremaster Cycle (1994-2003) currently at the Guggenheim museum and Bush constantly playing on CNN. Anyhow, the picture is clear: men are in.
Except for the odd glimpse of Condoleezza Rice and Nicole Kidman: the talk is about the guys. A 20-something New York photographer, Ryan McGinley, is also in the mix due to his solo show at the Whitney which documents his friends doing the sex, drugs and bad kid trip à la Nan Goldin and Larry Clark. Luckily for McGinley, the controversy about his work is due to the word around Manhattan that his kiddy pics have had adult genitals (super-)imposed on them (you get the picture). Whether it's true or not, McGinley's work is in essence an affront to US moral guardians and Photoshop puritans, and as a consequence, generates much discussion. A welcome diversion from Barney's particular brand of testicular phantasy and Bush's war on terror. Or maybe it all adds up to the same thing.
I was in the US during late January/early February for screenings in New York and Chicago of Another Planet, a program of Australian video. The Video Data Bank invited me to curate and present the screening as part of their Conversations at the Edge series, which is billed as bringing to Chicago "media makers, critics, scholars and theorists in dialogue around the most provocative and daring works being produced in media today." The program was first screened in New York, hence my interest in Manhattan gallery gossip. The 2 venues that screened Another Planet couldn't have been more different. New York's Robert Beck Memorial Cinema reminded me of the old London Filmmaker's Co-op Cinema in Camden, but with better projection facilities and no evident leaks in the roof. The Chicago screening on the other hand, was in a state of the art cinema run by the Art Institute of Chicago.
For the Video Data Bank, staff and students from the School of the Art Institute of Chicago and some local video art fans, the diverse selection of Australian video in Another Planet was of great interest—even on a night with a -30Þ wind chill factor. While a range of Australian work from 1999 to 2002 was included, I was careful not to stitch together a survey of 'seminal' Australian video. Instead, I was interested in presenting a bastardised, glitched, self-reflexive and neo-materialist digital practice which countered the notion of the seminal, and was at odds with the generic and cyberish polish invested in much 'new' media art. After all, my interest is in the emerging gritty backlash to over purposed, under developed, high-end digital art.
Part ghost story, part pop video, Martine Corompt's Spell on You was the perfect vehicle to open the show. Except for Philip Brophy's video, Evaporated Music Part 1 (a-c), which amused audiences with its wry swipe at aging rock jocks, New York and Chicago audience interest lay in the work of Mandy Morgan, sue k, John Billan and Jennifer Sochackyj, who are all concerned with the symbiosis between photography, cinema and electronic art. The nexus between analogue and digital media was also present in Justine Cooper and Joey Stein's video, Reduction, which contained all the hallmarks of 1970s performative split screen black and white video, but was shot on infra-red.
Ironically, the curatorial impulse that aimed to draw connections between old and new media underscored my learning curve as curator in this new world order of DVD. If you are going to show DVD in the United States remember that multi region DVD formatting and decks do not apply there. This seems to resonate with current world politics and could very easily link with Paul Virilio's discussion of vision machines and polar inertia. I advise you to back yourself up with a variety of formats if you're screening video internationally. Reports from the Rotterdam Film Festival described numerous DVD nightmares, and no-shows when discs didn't play. This was not a problem at the New York screening, courtesy of an old-fashioned NTSC VHS tape, or at the Chicago cinema kitted up to screen multi region DVDs.
The Video Data Bank holds the major collection of artists and independent video in the United States. For a video art fiend like myself, accessing the VDB collection in Chicago was a phenomenal treat. I was shown the most radical video I've seen for some time—Walid Ra'ad/The Atlas Group's Hostage, The Bachar Tapes (English Version), (2001). Ra'ad's video narrates the story of Souheil Bachar, the sole Arabic hostage to be held in a Beirut cell with westerners Terry Anderson and Terry Waite in the mid 1980s. An exercise in deceit, conceit and the West's fetishisation of 'the Arab', Hostage is confronting viewing in these politically murky times.
Interestingly, the video installation that most interested me in New York was produced by Egyptian artist Wael Shawky and exhibited at the Greene Street Gallery Artists' Space. Simple in its presentation, but highly evocative, Shawky's projection-based Sidi El Asphalt's Mulid (2002) consisted of slowed down footage of people swaying in a mosque to the Cypress Hill track, (Rap) Superstar. Like Walid Ra'ad's Hostage, the installation's intellectual currency and ambivalence far outweighs the governing rhetoric of good versus evil. Maybe I was overly sensitive to the mainstream political diatribe, but anything could be considered intellectually invigorating when compared to a President who confused "Hitlerism" with fascism in his State of the Union address. However, what really surprised me in the US was not the fascist DVD systems, the mantra of war or the fascination with the iconic boys of the New York art scene. It was the prevalence of Joy Division in bars and artists' video and digital work. So forget Bush, Barney and McGinley after all. They may not last. But Ian Curtis is back. Big time.
Another Planet, Australian video, Robert Beck Memorial Cinema, New York City, Feb 4; Gene Siskel Film Center, the Art Institute of Chicago, Feb 6
RealTime issue #54 April-May 2003 pg. 22
© Keely Macarow; for permission to reproduce apply to realtime@realtimearts.net