Composer and performer (and, declaration, fellow staff member) Lindsay Vickery's latest project is GreyWing, an ensemble founded last year with a core membership of himself on saxophone, clarinet and electronics, Catherine Ashley on harp and Jameson Feakes on guitar. In Tura New Music's Scale Variable series, Vickery's program for a concert titled Rio 1917 drew on artists from his local and international connections and his role as Coordinator of Composition and Music Technology at the Western Australian Academy of Performing Arts. Performers and composers included WAAPA staff members (composer Pedro Alvarez, guest keyboardist Stewart Smith), former students (GreyWing members Ashley and Feakes and guest flautist Kirsten Smith) and WAAPA-trained composers Sam Gillies, Alexander Turley, Ellie Cumming and Eduardo Cossio.
Vickery's starting point for his programming was the visit to Brazil by French composer Darius Milhaud in 1917 where he worked with that country's greatest composer, Heitor Villa-Lobos. The latter's lovely Modernist pastoral, Sexteto Mistico, opens the concert. New works by Gillies, Turley, Cumming and Vickery use details of Villa-Lobos' piece as the inspiration for new works (although the musical similarities are indirect), and further South American influence is presented in compositions by Chilean expatriate Alvarez, Peruvian expatriate Cossio and Brazilian Felipe Lara.
Given the central place of musical Modernism, Surrealism and Impressionism in the programming, this is definitely not a Latin music concert as the phrase normally suggests. The material is extremely diverse, ranging from the slightly Gothic, Bernard Herrmann-esque feel of the Villa-Lobos sextet, through to some surprisingly approachable pop fusion in the mode of The Necks (Turley's Nocturnal), while others are virtuosic explorations of formal instrumental challenges (Lara's fabulous Parábolas na Caverna for flute). There are even pieces which approach acoustic noise-music (the controlled chaos of Cossio's Ghost). Although several pieces draw on or evoke the pastoral, or music which would seem to suggest landscapes — Villa-Lobos' sextet and Turley's contribution, as well as Cumming's pastiche-like Változó Évszakok, which evokes the repetitive canons of Philip Glass' minimalism and even something of a John Barry feeling of light classical fusion. Overall however the effect of the programming is of rather extreme shifts in style as we are moved across a wide field of musical approaches.
Within this array, one highlight was Kirsten Smith's grappling with Lara's Parábolas, which demanded quick leaps from austerely minimal playing into rapid-fire, tongued sections accompanied by vocal interjections — almost a Berio Recital I (For Cathy) meets Ennio Morricone in its somewhat 1970s ambience. Smith is a physically expressive performer, her seesawing body describing parabolas in space while the music does the same. Still, I'm not quite sure she entirely nailed this very difficult piece, which could have used a dash more charisma and totalising precision. Cossio's composition, with its intense rolling up and down of energies in a densely textured structure, was also striking, foregrounding the ensemble playing.
The standout work was Vickery's own Liminario, which closed the program. Much of the composer's previous work has involved feedback loops with MAX MSP computer processing, in which real time sound is processed, each new sonic addition changing the way sound further evolves or is processed, or sometimes how the score itself unfurls before the performer (Vickery has also reworked the variable scores of Karlheinz Stockhausen and others for notebook display and control; see here).
Liminario though is an acoustic piece, with neither amplification nor computer processing. The music is aggressive and stabbing. The wind instruments especially (flute, oboe and clarinet) smash and squeal in hard strikes of four, which recur to bracket sections. Despite these harsh structural elements, the work is very much an ensemble piece, with material widely shared. The specific tonalities of each instrument — including harp, electric guitar and celeste — all have their stand-out moments as the work moves across drone-like intermissions between the wind interjections. Spaces within the music begin to reduce as volume and harshness increase, bringing us to an almost Penderecki-like explosion at the conclusion.
The presence of amplified guitar and string-bending means that reverberating electronic sounds are present and Vickery's love of somewhat chaotic yet mathematical structures is certainly still audible. But from my own knowledge of Vickery's oeuvre, this feels like quite a change. The arch sounds and carefully measured and restrained quality of the quieter sections positions the piece close to New Complexity and other styles which, rather than rejecting the Modernism of Milhaud and Villa-Lobos, have returned to these concepts and extended or transformed them — quite unlike the ostinato-dominated postmodern minimalism of Glass, which Cummings' piece briefly evokes. I look forward to seeing if Vickery and his collaborators will treat this program as a precedent for future performances, and which of its not altogether compatible components will re-appear.
–
Tura New Music Scale Variable Concert 2: Rio 1917 by GreyWing: Lindsay Vickery, Catherine Ashley, Jameson Feakes; guest artists Kirsten Smith, Niamh Dell, Stewart Smith; WAAPA, Main Music Auditorium, Perth, 22 July
Writer and freelance art critic Jonathan W Marshall is Coordinator of Research Higher Degrees at the Western Australian Academy of the Performing Arts.
Top image credit: Jameson Feakes, Rio 1917, WAAPA, photo Bohdan Warchomij courtesy TURA New Music
Good Little Soldier, a work by Australian performance-maker Mark Howett first presented in Berlin and newly staged in Perth by Ochre Contemporary Dance Company and The Farm, deals with post-traumatic stress disorder in soldier veterans. After an opening scene set in an outback kitchen, we are briefly thrown back to Frank's wartime experience in which he and his comrades capture a woman and a boy. Frank releases the boy to assist his colleague in pinning the woman to the floor. A bomb explodes and only Frank survives. The way in which his own family (wife Trish and son Josh) can be read as his enemies returned to haunt him is thus made clear.
Otherwise the work offers few allusions to either wartime experience itself or to how Frank recalls it. It is rather an exploration of the physical and emotional abuse that he inflicts on his family as a result of his trauma. The focus is therefore quite different from works like Angus Cerini's Debrief (1999) or the National Theatre of Scotland's Black Watch (2006), both of which included accounts of battlefield experiences and interviews with veterans about how events were replayed in their memories. One of the most terrifying stories Cerini related was how one man awoke with his hands around his wife's throat. Good Little Soldier is in this sense an extended dramatisation of such later, domestic events. But what is actually occurring in Frank's mind, or indeed the others' minds, is only darkly refracted — rather than explicated — through his abusive behaviour.
The strength of the piece lies in the way it segues between domestic situations which could plausibly be occurring in a 'real' world, into unambiguously hallucinatory scenes. Frank is silhouetted against the window as his ghostly, white-attired dead comrades climb down the walls and suspend his squirming body in the air (crawling down walls has been a choreographic trademark of The Farm since Lawn, 2004; watch trailer here). In another striking sequence, Frank, spotlit from above in the darkness, pushes violently against Trish, before she is replaced by each of the ghosts, and then Josh, in a circling wrestling competition that cannot be resolved — the characters endlessly swapping places and matching each other. Choreographically, the piece is dominated by awkward, violent grappling and pushing: a messy rolling and bumping of bodies which form clumsy, writhing piles or temporarily balanced, off-centre structures, before tumbling down. As with Lawn and other works from The Farm, dancers hang off each other from unusual points, such as the head and neck. Faces seem more sites to push fingers into, or to wrap palms across, rather than sites of expressivity.
Good Little Soldier is episodic with each semi-pedestrian set of gestures, or slapping and physical configurations, caught in repetitive cycles. This has a nasty, imprisoned feel to it, but the production is otherwise somewhat flat emotionally. Frank finally raises his hand to strike Josh, and at one point he dons Trish's dress before slamming himself repeatedly against the wall. These two acts of shocking violence against his loved ones, and, by implication, against himself (to hit Trish is also to hit himself), act as markers within the protagonist's breakdown. But otherwise the transition from opening to conclusion is horizontal and open-ended. Each scenario is established before being repeated with minor variations, ending with an exhausted collapse, or a character's departure. Dramatic development within scenes is rare, and their arrangement largely discontinuous. Therefore the affective content depends heavily on the superb music of Dale Couper and Matthew de la Hunty, together with Laurie Sinagra's sound design — as is consistent with The Farm's overall multimedia aesthetic.
Speakers are secreted beneath the seating banks such that leviathanic bass rumbles grind throughout the venue, engulfing audience and performer alike. This sense of the corrugated iron shed which the family inhabits as being something we too are trapped inside, is accentuated by regular entrances and exits through the auditorium, or a moment where a drunken Frank thumps under the seating, asking Trish to let him into the house. Couper and de la Hunty's immersive score runs from low frequency noise music (signifying the war and moments where Frank slips into trauma), through to pulsing synthesisers recalling 1970s kraut-rock, distorted blues/country-and-western guitar solos, as well as manic junk percussion akin to early Hunters and Collectors (which featured Greg Perano on broken water heaters). The overall effect is like a more than usually theatrical gig from The Birthday Party.
The overall dramaturgy of Good Little Soldier feels at best loose. The expressivity of the work echoes instead the slightly rough aesthetic of the outback-style design, post-punk music and deliberately fumbling choreography. It functions more like a series of related installations. This is arguably the most 'German' aspect of the show (referred to by Mark Howett in a RealTime interview), placing it firmly within Hans Thies Lehman's category of post–dramatic theatre. Good Little Soldier is best seen as a striking collection of thematically related set-pieces, giving the performance an absorbing sense of danger and possibility.
You can watch the Berlin production of Good Little Soldier below:
–
Ochre Contemporary Dance Company & The Farm, Good Little Soldier, concept, direction, lighting Mark Howett, choreography, text, performance Gavin Webber, Grayson Millwood, Ian Wilkes, Raewyn Hill, Otto Kosok, performers, music Dale Couper, Matthew de la Hunty, sound design Laurie Sinagra, dramaturg Phil Thomson, set, costume Bryan Woltjen; Subiaco Arts Centre, Perth, 9-30 July
Top image credit: Good Little Soldier, Ochre Contemporary Dance Company & The Farm, photo Peter Tea
"If you have the ability to create the visual language in which you're speaking from the ground up, who can say no to that?" asks Denah Johnston, curator of Always Something There to Remind Me, a selection of 16mm experimental shorts from Canyon Cinema that recently screened at ACMI in Melbourne and Revelation Film Festival in Perth. Made by women in the US between 1958 and 2015, the technically, stylistically and thematically diverse films point to the breadth of that period's avant-garde cinema. Out of this diversity arises Johnston's interest in the nexus between women and representation, and together the films explore agency, social expectations and the gendered gaze.
Canyon Cinema is a collectively-run distribution company that archives independent films. It started in 1961 with informal screenings projected on a sheet hung in the backyard of the archive's founder, filmmaker Bruce Baillie, in Canyon, California. Jack Sargeant, Program Director of Revelation, feels the new program of Canyon Cinema shorts "show the importance of the archive and of the curatorial voice, but more than this, they reveal the importance of individual filmmakers who pursue their own visions."
Kristy Matheson, Senior Film Programmer at ACMI, echoes this motivation to bring rarely seen material to Australian screens. "In terms of a local context, I think it's essential for female storytellers to be able to access a diverse array of works and this program did just that," she says. "The range of storytelling devices and techniques shows a great range of work that I would hope inspires female storytellers but most importantly opens up the scope for all viewers to the ambitious and free-ranging scope of female voices."
New cinematic languages
Johnston explains that she curated this program to highlight how women filmmakers have played with the accepted storytelling language of cinema. "There is such a vast freedom in the form. Obviously they're not all traditional narratives with three-act structures, and I think that taking a film out of those constraints really works well for a lot of the filmmakers. To make experimental work in the first place you're already making a conscious and aesthetic decision to step out of the narrative."
The earliest film is Sara Kathryn Arledge's What is a Man? (1958), started in 1951 but only completed after her release from psychiatric treatment. It's a collection of bizarre scenes exploring gender roles, starting with Adam and Eve and moving through to modern mannequins. These are humorous, but also affective, with an emphasis on word play, like the nonsense uttered in the "psy-cry-atrist's" office.
Sharon Couzin's Roseblood (1974) illustrates cine-dance, centring on the performance of Carolyn Chave Kaplan. Kaplan's hypnotic movements are interspersed with a surreal, fragmented series of symbols — flower, knife, eyes, hands. Repetition makes these everyday objects strange, and the kaleidoscopic images, dizzying pace and jarring music produce a mysterious and tense film. This is the most lyrical of the shorts, visually enthralling but also decisively and frustratingly abstruse.
Dorothy Wiley's Miss Jesus Fries on Grill (1973) invokes a different kind of hypnotic meditation, starting with a newspaper detailing the violent death of Miss Jesus, who was thrown onto a grill when a car ploughed into a restaurant. The narrator muses over this horrifying accident as she tends to her baby, bathing, feeding and watching it fall asleep. Her actions are intimate and also palpably everyday, so different from the very unusual and public accident, and the film is immensely disquieting.
Women, through women's gazes
Three of the films interrogate the idea of women as objects, subverting the scopophilic gaze, a psychoanalytic theory popularised by feminist filmmaker and academic Laura Mulvey in 1976. In a defiantly radical political framework, JoAnn Elam's Lie Back and Enjoy It (1982) aggressively questions the ways women are represented on screen by men, via a dialogue between a female and a male filmmaker. The dialectic takes priority over image here, which is mostly a flickering close-up of a woman's face from a black and white pornographic film, distorted through looping, reversing, speed and exposure. In Removed (1999), Naomi Uman also edits a porn film, using nail polish and bleach to erase the female body. The fantasy becomes uncomfortably empty and decisively unerotic. Uman's film comments on female performativity, in porn and in society, reflecting how identity is manufactured through societal conventions. This is echoed in Gunvor Nelson's Take Off (1972), which also subverts the male gaze and conventional representations of women. She documents Ellion Ness, a famous burlesque performer, as she stages a striptease, which is conventional until she finishes undressing. When the act should be over, she continues the process in what becomes a surreal disassembling of her body. Ness reduces herself to her parts, as revealed to her expectant audience, but is gleefully in control as she discards the layers.
Chronicles of a Lying Spirit (by Kelly Gabron) (1992), directed by Cauleen Smith, also explores the fabrication of identity, specifically through the lens of her experience as a black woman. An example of Afrofuturism, the film layers time, space and history in following the imagined life of Smith's alter-ego Kelly Gabron. There is a dual-narration from Gabron and a male voice discussing her in the third person, and the entire story is repeated, prompting a consideration of the instability and unreliability of history.
Collaborative context
Many of the works were collaboratively made and led to further collective activities. Kate McCabe founded the art collective Kidnap Yourself in the town of Joshua Tree, where she discovered inspiration and a creative community. The apocalyptically themed You and I Remain (2015), by McCabe and the collective, is part of the ACMI program. The filmmaker has remarked elsewhere that  "you will find more females here behind the camera directing than in the commercial film world and that's one of the many reasons that field [of experimental film] is vibrant and lush with ideas. The filmmakers I love from the 60s and 70s were breaking new ground."
JoAnn Elam was also a founding member of Filmgroup (now Chicago Filmmakers) in 1973, which still holds weekly screenings of experimental work. Also in Chicago, Couzin cofounded the Experimental Film Coalition, of which she was president from 1983 to 1988. Some artists collaborated with friends, notably Nelson and Wiley, who made their award-winning first film Schmeerguntz together in 1965, with Nelson revealing that "Dorothy and I needed each other to dare to do it!"
The works are all shaped by socio-cultural discourse and social and professional opportunities offered by second wave feminism, and Johnston draws a comparison between the political consciousness of women filmmakers in the 1970s and today, saying, "right now, I feel like it's on."
Local parallels
Tracing these films, there emerge parallels in Australian cinema history, where there was a surge of women filmmakers in the 1970s. Significantly, there was structural support for this, including the Women's Film Fund (1975-1990), the Experimental Film Fund (1970-1978) and the Sydney Filmmakers Cooperative (1970-1986). There were also collectives like the Sydney Women's Film Group (1971) and the splinter group Feminist Film Workers (1978) and events like the International Women's Film Festival (1975).
If much of this government funding has ceased, or at least changed significantly, there continues to be critical — and importantly, public — interest in women filmmakers, with film festivals now providing the backbone of structural support. There are dedicated festivals like For Film's Sake and Stranger With My Face Festival, which provides mentorship for women developing genre features, while OtherFilm has held several exhibitions and festivals of avant-garde work in Brisbane and at Gertrude Contemporary in Melbourne. Jack Sargeant notes, "this isn't to say that there shouldn't be more spaces, more funding or whatever, but there are people making and exhibiting works, so, while the situation could always be improved, I don't see it as entirely bleak either."
–
Always Something There to Remind Me, Canyon Cinema retrospective, curator, Denah Johnston, presented by ACMI and Revelation Film Festival, ACMI, Melbourne, 5 July; Perth, 9-18 July
Kate Robertson is a cultural critic with a PhD in Art History & Film Studies, and has written about arts and culture for The Atlantic, Vice, Marie Claire, i-D, Junkee, Overland, 4:3 and Senses of Cinema.
Top image credit: Chronicles of a Lying Spirit
Ochre Contemporary Dance Company is presenting a new production in Perth of Mark Howett's Good Little Soldier, which premiered at Radialsystem V Berlin in 2013 to appreciative reviews. After working in Berlin for 12 years, Howett, a Nyoongar man, returned to Perth to be appointed Ochre's Artistic Director. His international career in lighting design, including the Adelaide Festival-Sydney Theatre Company production of The Secret River and Katya Kabanova for Seattle Opera, has expanded into video design and directing. Howett was also a founding member of renowned performance ensemble The Farm, with Gavin Webber and Grayson Millwood who collaborated on the Berlin and Perth productions of Good Little Soldier.
For this his second production with Ochres (the first was Kaya in 2016), Howett is revisiting a very personal subject, Post Traumatic Stress Disorder (PTSD), which was suffered by his soldier father. Howett's focus on the condition extends to its impact on partners and families and into the broader community. I spoke with him by phone.
What from your knowledge and experience — I understand you've had an instance of PTSD in your family — are the interior and exterior manifestations of the condition?
There's the struggle of the sufferer. They don't really want to give it out, to live it out and it manifests itself in physical symptoms, like sweating and palpitations. And hysteria is a way of dealing with trauma. We got really interested in the symptoms — like the tendency to shake or to see things as incredibly funny as a way to deal with it. Or they'll get really remorseful and go completely internal, where they almost roll up into the foetal position.
Did you witness this yourself as a child?
I did, and at the beginning of making Good Little Soldier it was the way we got into some of the improvisations that became scenes and it was pretty cathartic for me to witness them. There were times when I found it difficult to watch. Then we started finding how some of those situations I went through were common to other families. Once we'd done consultations with organisations — like Partners of Veterans — and showings, families could come and have a say and then we fed that back into the piece. So whereas it started out with my experience, what my father's behaviour was like, it went much more into dealing with the victims from the community's point of view.
What was your approach to the material?
When I made this work in Berlin and it was after 12 years of living there, working as a designer and learning the German approach and their dramaturgy, I tried to get a lot of that into the way we made the work as well — a certain analytical viewpoint. I'd gone straight for the emotional in pieces I've made but the Germans take that away — they see it as embellishment. And they try to get to the heart of it. For example, they'll use text in a devised work but they like to use text that the audience might know, say, a famous piece of writing about the war. When you hear those words you understand them, then you can go a step further with it in your thinking.
How do you translate the experience of PTSD, whether directly experienced by the subject or observed by family, into a stage language? There must be a leap when you're no longer working literally?
That's right. We try to get into it through triggers. We'll show the incident in real time in a normal domestic scene and then use a trigger the soldier associates with the traumatic incident. That jumps us back with him — even if it's for a few seconds — into what he's experiencing and then back out into what is 'normal.'
You're pushing from a naturalistic scene into a heightened reality?
Yes. You get the context of what it might be like to suffer the repeating of the incident, over and over in the head. When sufferers experience it, they think they're back there and it's real — completely real. The trigger can be sound, it can be smell, it can be any of the senses that immediately puts them back there, even if it's only seconds and then in the context of having to try to live a normal life when they return to be with the family. What would that be like in the middle of a normal day to suddenly be back in one of the most horrific incidents that you were involved in in the war? The family are sort of like good soldiers, ready to carry on and support him or her when they come home. They suffer it as well, because of the stress of that heightened awareness that happens within the home. You're trying to be one step ahead of the sufferer so that they don't experience a trigger or that you don't cause it.
Is the trauma psychologically shared by partners and family?
I think it hits families multi-generationally. I think the suicide rate for children of veterans is higher than for veterans themselves.
You're a Nyoongar man, you have a fellow Indigenous performer in the production and Ochre is an Indigenous and cross-cultural company. Indigenous soldiers would have suffered PTSD.
The actor Kelton Pell and I were talking about it and he said to me, "Come on, brother, all of us are suffering PTSD; it hasn't stopped!" And that's right. The repercussions for each generation are cumulative and really affect a whole community, let alone an individual family. That's one of the big things we're trying to say, that people suffering these big things unless we give them all the support we can, [trauma] can spread through the community as well. The repercussions of it, the dysfunctionality and the anguish as well for families. [Nyoongar actor, director and dancer] Ian Wilkes who is playing the ghost of a soldier is really fantastic. A really remarkable performance.
Is this ghost a friend of the central figure?
Yes, and the incident is really a moral dilemma as well. Modern soldiers often have to go into domestic situations and deal with the public. There's an even a greater dilemma for the soldier about killing. I was reading an amazing book that says only 10% of soldiers actually aim to kill. The rest aim to miss. It's not within us to kill other people.
What's the nature of the stage and sound design of Good Little Soldier?
The design by Bryan Woltjen is of a really isolated place that could be in the country or the city, pretty run-down, pretty dysfunctional — a bit like the family. And in the Subiaco Arts Centre theatre, we have a full 360-degree soundscape. The sound design becomes really important because noises are a very quick way of getting inside the mind of the sufferer. There's a 21-gun salute, but it's me doing a 21-gun salute for the innocents in the conflict. I also use video a lot in my work. I just came back from working with the Seattle Opera and filmed the countryside up there and I'm using it to help [convey traumatic] incidents as well.
And what do you hope your production will do for soldiers with PTSD and their families?
Well, obviously, beginning a conversation, building awareness that families can't wear so much of the social cost and we have to help them in preventative ways. To the best of our ability, we must give them as much support as we can, as early as we can, so that the illness doesn't become so prevalent and there's a better chance of ensuring that they're healthier people. It is about health really.
Is there anything you'd like to add about the production?
There is. The relationship with The Farm: Gavin Webber and Grayson Millwood. We've been long-term collaborators and I feel blessed to have worked with them and they've really encouraged me to develop myself as well. Part of the reason I've started directing is that when we were making work together in Europe, often I was the only person out front and I ended up having to do the notes on the performance. It eventually got to the stage where they'd say, "Mark, that's enough. You've started directing, alright!" So, they encouraged me to go from being a lighting designer to be brave enough to conceive and develop my own work. The relationship I've had with them on the shows we've made like LAWN, Roadkill and Food Chain has been fantastic, supportive, awesome, funny, and I'm so lucky they're part of the development of this new work. And in the same way, it's happening in my work as a designer for Raewyn Hill, the Artistic Director of Perth's Co3 dance company. It feels really healthy to interact with people that you've got history with in developing work. You know how they behave and you know their level of commitment. That they give it to you so generously is awesome.
–
Ochre Contemporary Dance Company with The Farm, Good Little Soldier, concept, direction Mark Howett, choreography, performance Grayson Millwood, Gavin Webber, Raewyn Hill, Otto Kosok, Ian Wilkes, dramaturgy Phil Thomson, design Bryan Woltjen, music Dale Couper, Matthew de la Hunty, Laurie Sinagra; Subiaco Arts Centre, Perth, 9-30 July
Top image credit: WA production, Good Little Soldier, photo Stefan Gossati
"We live in a world where there are big films like Alien: Covenant that shine a light into and explain the darkness," Revelation Perth International Film Festival Program Director Jack Sargeant told RealTime in the lead-up to the festival's program launch last week. "I grew up with horror films where you didn't explain the darkness. I find the cultural desire to explain everything really depressing."
Since its inception in 1997 by founder Richard Sowada, Revelation has maintained a commitment to delineating a space for watching and discussing daring works of independent cinema in counterpoint to the mainstream cinema market. Now, with the festival approaching its 2017 instalment, 6-19 July, both the social and cinema worlds have grown ever-more conservative and difficult to comprehend.
For Sargeant, cinema offers something less than instructive and more interpretive — a place of strange images, sounds and narratives even more fantastical than the real world oddities of President Donald Trump's tweets, alternative facts and unwinnable wars. "Explaining a truth is overrated in film," says Sargeant. "I quite like films where nothing is explained. There's a pleasure in not having a reading of everything."
This approach has produced an eclectic collection of films for the 2017 festival that are "from all kinds of worlds," and which don't direct the viewer on how to think. The program encircles what Sargeant calls "weird indie films," art-house dramas, music and art documentaries, queer films, horror films and children's films. As well as the continuation of the festival's academic conference sidebar, there's "an event called Revel8 that is all about Super 8 film and Super 8 filmmakers; so we have a real love of the living culture of film as a physical medium."
"All these different kinds of cinema matter," says Sargeant, despite the fact that most of the films aren't securing general releases beyond the festival circuit. Notwithstanding their divergences in genre and subject matter, the films Sowada and Sargeant have programmed share the quality of both expressing and contextualising today's strange feeling of global confusion, and of being part of the "whole world of filmmakers not getting noticed," despite the popularity and abundance of film festivals.
Women Who Kill
The collision of the horror genre with queer themes is another often-unnoticed realm. Though a highlight of Sydney's Mardi Gras Film Festival earlier this year, Women Who Kill (2016), will not be securing a general cinema release. Sargeant describes this brilliantly architectured genre film, by debut filmmaker and web-series comedian Ingrid Jungermann, as revelling in "lesbian camp and deadpan" humour. Jungermann's Morgan is a true-crime podcaster whose rampant commitment-phobia leads her to believe that her new girlfriend, Simone, is not just an eccentric, fallible human but a sociopathic murderer. The film's central conceit of fear of relationships is transformed into literal horror, the conventions of crime-mystery and slasher films deftly adopted to insert the viewer into Morgan's paranoid inner world as it grows impossible to know if her fears are real or imagined.
Another curatorial focus is a stream of films in the quasi-documentary mode between fact and fiction. "We live in an era of fake news and virtual existence. I think these hybrid documentary/fiction films expose that," says Sargeant." But they also expose our desire for it. It's that psychological thing of wanting our own confusion to be contextualised. Everything is sort of baffling and strange, and I really want to see films about bafflement. Confusion is a good thing."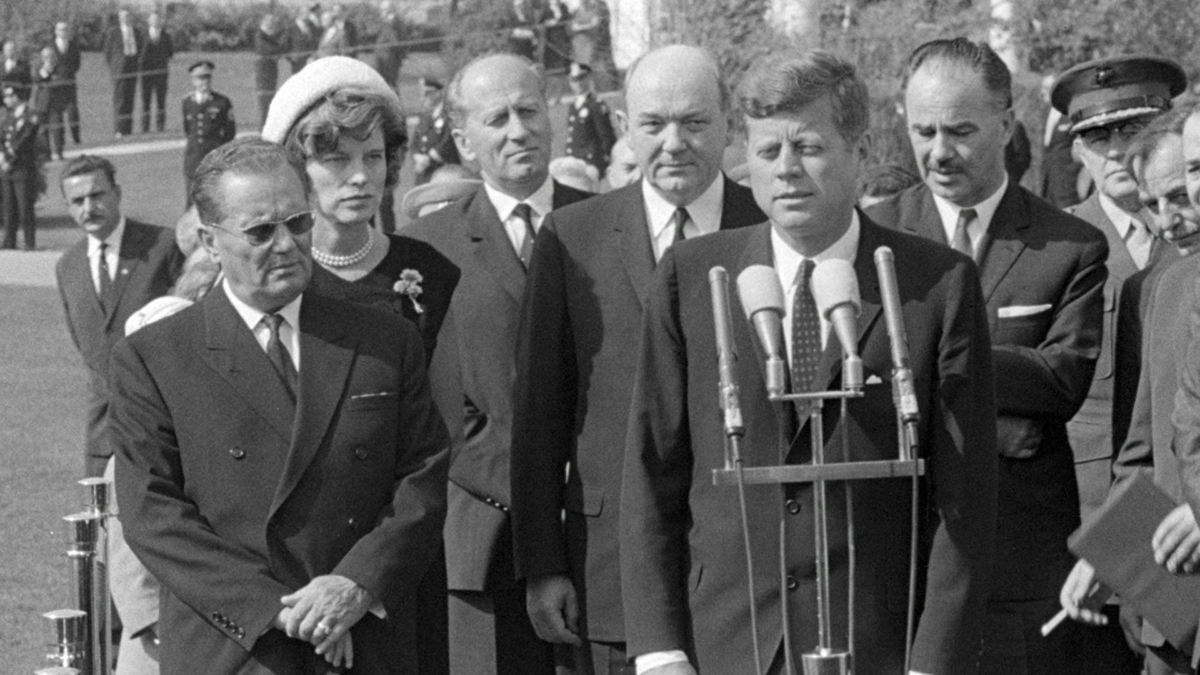 Houston We Have a Problem
The internationally co-produced docufiction, Houston We Have a Problem (Žiga Virc, 2016), runs in this vein. "It's about the relationship between the USA and Yugoslavia in the space race in the 1960s," says Sargeant. "It has philosopher Slavoj Žižek in it saying 'Even if it didn't happen, it's true!' It's hilarious, with all the touchstones of hybrid documentary cinema today."
Top Knot Detective
The Western Australian film Top Knot Detective (Aaron McCann and Dominic Pearce, 2016) deploys the mockumentary format to present an homage to "an imaginary cult TV show, and they interview everyone involved in it. You would not know that the TV show is not a thing. It really plays on the audience's collective experiences and shared cultural memories about half-remembered late night TV. It's very funny."
"There is a real sense that both narrative fiction and documentary film aren't quite enough anymore…[hybrid documentaries] are about how we create, construct, view and examine myth and history. They are just one of the edges of the program, but there are lots of edges."
A home for the slow-burn film
In its 20th year, Revelation functions at an ironic edge of the film industry, too. The increasingly franchise-soaked film market has led to a growing conservatism and monopolisation of both mainstream and arthouse cinema programming, which has partly led to the space for film festivals to grow and nurture small films squeezed out of general release in cinemas. As such, Sargeant sees Revelation as a unique space in Perth for slow-burn films at the edge of film culture to get a big-screen life.
Cinema: the group experience
Despite the attractions of video-on-demand and home entertainment, "people want to watch films on the big screen," says Sargeant. "Contrary to popular belief, they don't just want to watch them on TV. The big screen spectacle is what cinema is all about, the communal experience. My go-to is always Rocky Horror Picture Show. You can't dance to that by yourself at home. In the cinema it makes sense. When you watch a horror film, you need to be around 200 people. When you're watching a romance, you want to be crying with everyone. Cinema's a group experience, and that's key to our pleasure of cinema.
"There's a film festival every day of the week. But they all have their own energy and their own identity. Revelation has its own energy. We're all film nerds, we're all fans. We have academics and non-academics who are experts in their area. We're not snobby. I'm not really interested in good film taste. I'm interested in all the different types of culture — music, art — and that feeds into the programming."
–
Revelation Perth International Film Festival 2017, festival director Richard Sowada, program director Jack Sargeant, Luna Palace, Leederville, Perth, 6-19 July
Top image credit: Women Who Kill
Richard Frankland's play Conversations With The Dead premiered 11 years after the 1987-91 Royal Commission into Aboriginal Deaths in Custody. The Commission published over 330 recommendations, including the promotion of self-determination through Indigenous representation and land rights. Since then the Mabo and Wik decisions have been watered down, ATSIC abolished, while Indigenous men and women continue to die in custody and by their own hands. On the 15th anniversary of the Commission publishing its findings, the Indigenous Affairs Minister insisted that such matters are up to states — despite the 1967 referendum that specifically empowers the federal government to make legislation applicable to Indigenous peoples.
While staging Conversations in 2002 seemed like a proclamation of angry mourning, watching it today after yet another 15 years of inaction and black deaths is liable to cause one to fall into the pitchest of pitch-black cynicism towards the potential of theatre, art and activism to have purchase on those situations needing intervention.
Yirra Yaakin may be refusing a reading of our sense of impotence, yet the production still prompts such questions. The 2002 premiere (reviewed by RealTime) should have been a wakeup call for a hideously uncaring, violent nation to get its shit together. But that did not happen, and it will not now. In the state where Conversations… is being performed we have Australia's highest per capita Indigenous incarceration rate, only slightly below that in the US for black people.
In his opening night speech, author and former Royal Commission Investigator Frankland insists that when you have stories, you have hope. But it's hard to entirely agree. In the play, Frankland's alias, Jack, offers a seemingly endless series of self-excoriating reflections, repeatedly talking with the helpless, often angry ghosts who surround him. Beer bottles are a constant, and Jack relates how each day he counts the places from which he could hang himself. He is only safe when inebriated, in a corner, back to the wall, having located the exit route and identified all the weapons in the establishment (chairs, glass bottles etc). In one scene, he relates how a racist comment left him standing weeping over a bloodied, unconscious drinker.
Much of the action is performed in and around a metal car frame, or on an abandoned car seat. The play becomes a metaphorical road-trip performed by a man locked behind mental, historical and social bars as he careens through a landscape of mourning towards violent self-immolation. Jack does indeed find death, rushing into a storm at a seaside cliff, only to be tossed back into a tree, where he loses consciousness. The play is silent as to whether or not he wakes. Although one feels he should, in light of Australia's never-ending race nightmare, the possibility that he will fall into a deathly coma cannot be ignored.
Two themes confuse this sorrowful reading, the main one being the mobility of the car itself. Australia has a history of road movies in which the protagonists traverse the fault-lines of race (eg Backroads, 1976, Beneath Clouds, 2002). The automobile set design for Conversations… symbolises not only a gaol cell (hung with socks such as those used by one man to hang himself) but also shifting bubbles of calm amid all the deaths invoked.
Jack is played by two actors: Maitland Schnaars and Alan Little. Jack works on a boat, and although the ropes and knots affixed to bars forecast the deathly nooses that blight his existence, in this sea-tossed cage ropes can be comfortably held and mastered. A similar emotional and corporeal ease occurs when Jack (now played by Little) converses with Uncle (Schnaars), who affectionately daubs the bars with a brush. Like the deceased body which both Schnaars and Little later wash clean of blood, the world they inhabit is treated with care.
The bleakness of the production is further countered by the sharing of roles. Schnaars excels at the presentational mode, speaking in third person about himself, while Little is more inward. Schnaars is tall and when his physicality lets go — as when he runs at the cliff — he funnels space, sucking it up and filling the room. Little is firmly grounded; more weighty than expansive. Not only Little and Schnaars speak for Jack. Simone Detourbet, otherwise playing the protagonist's sympathetic yet exasperated wife, also voices him at one point, entering something like a fugue state beside the others.
In short, the performance extends and shares its affects and roles. Jack is not quite Richard Frankland, and nor — obviously — can he be me. I am both a spectator and a gubba. Yet the absent bodies of the dead, ghosted so effectively on stage, do seem spectrally exchanged and embraced in this work, even as they physically fend off the entreaties of the living characters and, by extension, us in the audience. There is no catharsis in Conversations With The Dead. The situation is too dire. And the masculine self-harm dramatised here is genuinely disturbing. The gravelly, DIY aesthetic seems to reflect this jagged, aggressive maleness, which is both Jack's strength and his weakness. It too can be turned around and shared. The production functions then less as protest, and more as a collective remembering.
–
Yirra Yaakin Theatre, Conversations With the Dead, writer Richard Frankland, director James Taylor, performers Maitland Schnaars, Alan Little, Simone Detourbet, Peter Docker, Calen Tassone, Tornina Torres, design Chris Brain, lighting Chris Donnelly, music Zac James; Subiaco Arts Centre, Perth, 18-27 May
Top image credit: Alan Little, Tornina Torres, Conversations with the Dead, photo Jon Green
The influence and the legacy of Roger Smalley (1943-2015) are somewhat legendary in Western Australian new music circles. Having emigrated from his European home to Perth in the early 1970s, Smalley spent over 30 years teaching composition at UWA before retiring in 2007; consequently many of his former students now hold senior positions in Western Australian universities and ensembles. As a young composer myself I feel his influence in many ways, despite having never actually met him, since nearly all of my teachers received his tutelage in some form. A notable ex-student is Cat Hope, Artistic Director of Decibel New Music Ensemble, a superstar of Australian new music and curator of Intermodulations, a recent concert in Smalley's memory featured in TURA's Scale Variable series.
In pre-show interviews and at the concert, Hope made a point of explaining how Smalley felt his early music inappropriate for Australian audiences, whose distance from the European scene and general inexperience with new music had cultivated a fear of the unknown and relative distaste for electronic music. This concert was, by and large, dedicated to those early European works, which Hope is adamant today's Perth audience will enjoy—largely due to Smalley's lasting legacy. She's not wrong.
Decibel's concert comprised four smaller chamber works in the first half featuring members of the ensemble in various iterations, and one large-scale work for ensemble and electronics in the second, for which the full ensemble assembled.
First up was Didjeridu (1974), an electroacoustic work for four-channel tape of samples of Australian Indigenous music from the Mornington Peninsula. The characteristic sound of the didjeridu is at first distinct, but gradually distorted beyond recognition, an unconscious—or was it conscious?—comment on the atrocious treatment by whites of Indigenous culture. Appropriating Aboriginal music for a European electro-acoustic work is at best kitsch and at worst racially insensitive. Today composers understand this (mostly) but in previous decades it was hugely popular, an exciting way to combine different musical styles. Doubtless Decibel leader Cat Hope isn't blind to this, the work functioning more as a window into the past of Australian composition than as contemporary social comment.
Two works for piano and electronics follow: Transformation (1968, revised 1971) and Monody (1971-2). Both use the same electronic technique (ring modulation) to extend the colour palette of the piano and, although composed around the same time, they really sound nothing alike. Transformation is virtuosic and grand, featuring drawn-out sweeps and glissandi and fierce bass notes drawing as much colour as possible from the full range of the piano. It's almost exhausting to watch guest artist Adam Pinto perform with such depth, from the most intense hammering sounds to suddenly subdued, glassy chords. If this piece is excessive, the second is refined, featuring a sole one-note melody throughout. It's still extremely technically demanding on the performer but in a different way, as they must play piano with the right hand and control the sine wave frequency with the left, occasionally also moving to triangles and congas. The use of ring modulation in this piece is more melodic and seems to play a more active structural role than in the first. The tonal palette of the composition is unique, almost quirky, as many of the combined frequencies of piano and sine wave don't conform to equal temperament.
We also hear Impulses (1986), an acoustic work for chamber sextet. This is a rhythmically driven conglomeration of sounds in which percussionist Louise Devenish and cellist Tristen Parr shine as the most assertive performers.
Decibel saves the best for last, assembling onstage to perform the 45-minute-long Zeitebenen. This unique and charismatic work, premiered in Germany in 1973 by Smalley's new music ensemble Intermodulation, has never been performed in Australia until now, the score spending the past 40 years collecting dust somewhere in the University of New South Wales. It's immediately obvious that this work draws on influences from each of the four smaller pieces performed earlier, sharing melody with Monody and recalling the electronic soundscape of Didjeridu. Here Smalley's ideas are given the space they need to be completely aired. The work is politically charged, featuring sounds of warfare alongside those of children, storms, car horns, seagulls and whistles and, at one point, alluding to Tibetan throat singing and featuring colourful conversations between viola, clarinet, vibraphone and piano. This strikingly imaginative piece ends with a definitive thud from Devenish's bass drum.
Intermodulations was extremely well-received by Perth's new music audience. The resounding takeaway message was this: let's not allow Roger Smalley's music to be forgotten, as has happened to the compositions of so many Australian composers of his generation.
–
Tura New Music, Scale Variable: Intermodulations, Decibel New Music Ensemble; State Theatre, Centre Studio Underground, Perth, 7 June
Perth-based composer Alex Turley's City of Ghosts was performed by the Melbourne Symphony Orchestra in the 2016 Metropolis New Music Festival. He was a RealTime-mentored music reviewer at Perth's 2015 Totally Huge New Music Festival.