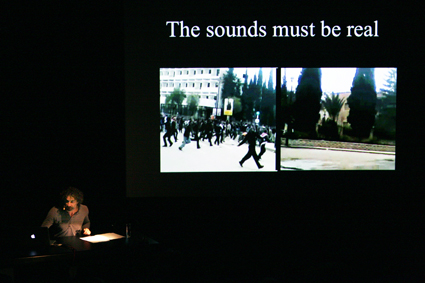 photo Judith Kaltenböck
Rabih Mroué, The Pixelated Revolution
One of the highlights of the Vienna Festwochen this year was Rabih Mroué's The Pixelated Revolution, a highly engaging lecture/performance that focuses on how—and with what effects—mobile phones have been employed to document the Syrian revolution. The production (which was also displayed in a condensed form as an installation at Vienna's Academy of the Arts) is a one-man show produced and performed by Mroué himself: a Lebanese artist, playwright and performer whose recent video/performance work explores themes pertaining to politics, violence and war.
The theme of the Festwochen this year was "Unrest of Form: Imagining the Political Subject." The Pixelated Revolution reflects on the role that citizens and activists have played in capturing and distributing footage that unsettles the 'reality' of the conflict generated by governnment-sanctioned media sources in Syria. The lecture itself, however, is meandering and inquisitive rather than politically dogmatic in its structure. As the subtitle of the production, "A Non-Academic Lecture," suggests, Mroué's interest lies in stimulating thinking rather than pedagogically instructing the audience in how to read or understand the conflict at hand.
Seated at a table in front of a large screen, Mroué begins the lecture with the following statement: "The Syrian protestors are recording their own deaths." This observation, we learn, is based on the large body of mobile phone footage that he downloaded from Facebook, samples of which (including footage of protests, soldiers, tanks and running feet) are projected behind him onscreen. When viewed together, Mroué argues that this digital archive constitutes a proclamation akin to the Dogme95 manifesto initiated by Danish filmmaker Lars von Trier which challenged filmmakers (through the imposition of a series of restrictions and constraints) to generate a realist aesthetic driven by protest.
Mimicking the "Vow of Chastity" coined by the Dogme95 group, Mroué lists a series of rules to be followed by those seeking to capture the reality of the Syrian conflict and to protect themselves and others from retribution: Shoot from behind and don't show faces, but film faces when someone is being assaulted; don't use tripods, don't drop your phone and, above all, don't credit the director.
The following section, titled "double shooting," revolves around a disturbing piece of footage that was shot on the mobile phone of someone located on a balcony in a residential neighbourhood. Informed that guns are being fired by government forces even though there isn't conflict taking place in the area, we view the movements of a sniper who appears, then disappears from our gaze. The phone scans the surrounding buildings in search of this blurry, ominous figure who suddenly comes into view and points his gun in the direction of the phone. The words "Eye contact" appear in red on screen, the image shifts as the phone/camera drops to the floor, and we hear a voice saying: "I'm wounded, I'm wounded, I'm wounded.'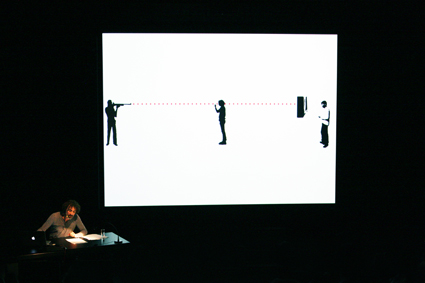 photo Judith Kaltenböck
Rabih Mroué, The Pixelated Revolution
"Optography," Mroué informs us in a shift of direction, refers to a 19th century practice that focused on retrieving the last image viewed by someone before they died. According to the German physiologist Wilhelm Kühne, the final image could be extracted by developing the retina in a chemical solution. Mroué, however, employs a different process in an attempt to establish what may have been the last image of the mobile phone operator. He breaks down the footage and examines it frame by frame in an attempt to reveal the identity of the anonymous killer. The result is a close-up of a blurry, pixellated face circled in red but without any identifiable features: an image reminiscent of an abstract portrait of what Mroué describes as "the anonymous faces who murder for the Baath regime."
Why, Mroué asks, doesn't the mobile phone operator (and many others like him) sense the danger to his life and move or run? "Does the mobile phone camera desensitise him to the possibility of his own death?" And what kind of impact does this raw, shaky footage have on viewers who watch it online or as a part of the performance? Do these clips presented by Mroué work to undo the distant, anaesthetised spectatorial relationship cultivated by the polished nature of television news reports on the Syrian conflict? It is clear that, for Mroué, the significance of the footage (of protests, people and grassy landscapes captured by fallen phones) lies in the degree to which it challenges the stable, controlled image of reality generated by government-sanctioned media reports in Syria that render the "solidity of the state unquestionable."
Rabih Mroué, The Pixellated Revolution: A Non-Academic Lecture, Mumok Kino, Museumsquartier, Vienna. 11, 12 May, Vienna Festwochen, 10 May-16 June. The work features as part of the Adelaide Film Festival at CACSA, 13 Sept-20 Oct
RealTime issue #117 Oct-Nov 2013 pg. 16
© Tara Forrest; for permission to reproduce apply to realtime@realtimearts.net