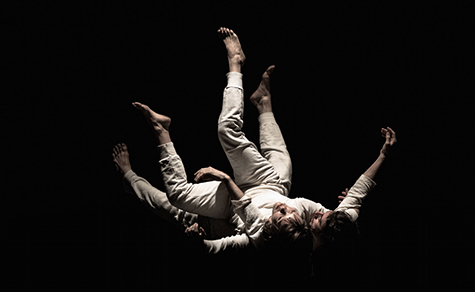 image courtesy Dancenorth
Kyle Page, Amber Haines, Dancenorth, Syncing Feeling
For several minutes, two dancers simply look at each other and breathe. Their loose white jersey pants and tops ripple with the effects of prior exertion. Then one starts to draw in breath and the 'vacuum' created draws the other forward until they are temporarily stuck, lips to arm; then released with a rush of air like a valve under pressure. The pair continues connecting like this across bodies until they are frozen, lip to lip. They embrace. We are caught with them in a moment of silent passion.
The program notes for Dancenorth's Syncing Feeling at Mofo 2016 in Hobart describe the intent behind this work as an exploration of the kinds of neurological connections possible between people, stating that science now confirms the truth of centuries-old knowledge—there is little that separates us beyond skin. Often such notes feel as though they are many translations away from the work presented, but in this case the thought invested in the concept is tangible in the work.
Against an evolving soundscape of industrial, found and recorded sound, performers Kyle Page and Amber Haines open the work with a series of choreographed vignettes that fade in and out of view within a darkened, smoky stage. Using fabric or simply their bodies, they interconnect or interlock with movements that appear to mimic neurological activity—ripples, twitches, flickers, kinks—travelling through their torsos. At times the separation between their bodies is ambiguous or indiscernible. An illusion is created as one climbs the other's shoulders under the fabric, as though a cloaked human form were stretching unnaturally towards the ceiling. In another, Page lifts Haines so that she appears to swim, just above the floor, her body rippling like fluid. The effect of touch seems to stimulate or smooth the other. While much of the work focuses just on the duo, dressed simply in white within a black space, there is also a magical interlude using moving light behind perforated fabric, once again simulating patterns of firing neurons. At each point the soundscape, which runs from drone to static to gamelan, feels closely connected with the movement as though music and dance have been developed in parallel.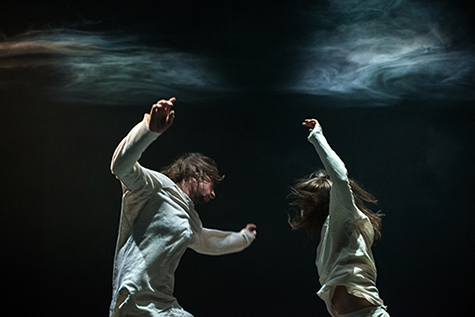 image courtesy Dancenorth
Kyle Page, Amber Haines, Dancenorth, Syncing Feeling
While all components of this work are stripped back, the staging, sound, light and movement establish an atmosphere that is visually rich and intimate. It is unsurprising to find that Page and Haines are a couple and have shared a number of residencies for developing their work. The unique movement language, the refinement of the visual composition and the flow of the work suggest considerable time working together. Their riffing on ways to interact with each other choreographically supports the premise that indeed little separates us but skin, with the line between the dancers often difficult to identify. There is even a sense that the boundary between the dancers and the rest of the world is in question, as they establish fast repetitive movements that appear to turn limbs to a liquid blur.
See video of vivid excerpts of Syncing Feeling on the Dancenorth website.
–
Mofo 2016, Dancenorth, Syncing Feeling, concept, design, direction, performance Kyle Page, Amber Haines, sound composition Alisdair Macindoe, costume design Fiona Todd-Logos, lighting design Bosco Shaw; Salamanca Arts Centre, Hobart, 13-15 Jan
RealTime issue #131 Feb-March 2016 pg. web