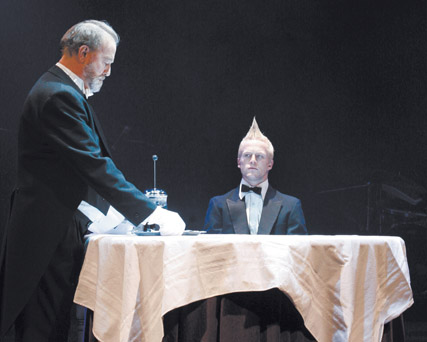 photo Louise Whelan
Bille Brown, Tom Flanagan, Feasting on Flesh
feasting on flesh
What holds Feasting on Flesh, a sex-food burlesque at The Studio, together is a demented waiter (Tom Flannagan) whose spitoon runneth over. He pours the contents of this bottomless horn of plenty into the glasses of his audience (with a warning grimace as one begins to drink) as well as providing a string of astonishingly rapid sight gags, whisk juggling, somseraulting and gleeful flashing. In a show that oscillates sometimes trimly but more often loosely around the subject of food and sex, this agreeable lunatic keeps the audience in the loop as some strange activities are staged—a naked man strung up like meat; tomatoes trodden into a naked back by stilettoed stripper Gypsy Wood; heads on platters; a pleasingly ample Candy Bowers declaring herself chocolate cake in pulsing talk-song; some spectacular, sensuous aerial work (Mark Winmill) and deliberately bad magic acts. Presiding over events and other people's nakedness is the elegant Bille Brown looking like the classic dinner-suited protagonist of 19th century pornography (usually a Brit in French eyes), reciting literary tidbits and finally orchestrating an orgiastic display of flesh fit for a feast.
Feasting stays for the most part firmly within a burlesque framework replete with bum and tit jokes and erotic fun (the naked stripper gladwrapped: "That'll keep her fresh a bit longer", quips Brown; or the equation of icecream with sperm after some hard cone licking by the girls) and with added, if predictable, poetic takes on the curious pleasures of oysters and figs. The food-sex connections are sometimes literal, sometimes lateral, sometimes absent—the waiter whisks eggs and milk and does a spectacular backward somersault from the balcony to the floor, amazingly keeping his creation intact: Voila! Eggflip. Later, Brown inserts a wedge of chocolate cake neatly into the waiter's upturned arse. The audience gasps, though that's about as risque as it gets. It's a fun night, stretching more than the burlesque envelope just that little bit. The other integrating element is a singing drummer (Gotye) who provides an almost constant musical and effects soundtrack plus a bevvy of maudlin songs in sad pop-tenor about lost love. Although possessed of a fine voice, which the audience applauded rapturously, it was hard to see what such misery had to do with the food-sex thing—perhaps something about the insatiability of human need; after all none of the pleasures onstage were the real thing. Well… real cocks and arses and uncensored rudery. But love? That aside, director Scott Maidment keeps the action and the double entendres moving right along with visceral verve.
one more than one
The Emma J Hawkins-Keith Lim movement duet in Branch Nebula's Plaza Real was a striking, wordless meeting of very different bodies (RT64, p44). In One More Than One the whole show is theirs and, again, they are at their best in choreography that is not complex but idisoyncratically, adroitly and vividly realised (movement consultant Rowan Marchingo; director Nikki Heywood). Their mutual manipulation transcends the cliches that a duet of tallness and short stature could engender. Hawkins and Lim are also strong stage presences with attractive voices, but writing is not their forte. The subtleties their physical engagement suggests are not to be found in the text—long strings of questions about the most obvious of short/tall and cultural prejudices. The consequence is a didactic theatre-in-education feel compounded by a sluggish first scene setting up the imminent relationship and an ongoing, tiresome deployment of plinths (admittedly later put to good use in playing with the relativities of height). The Hawkins-Lim partnership is a potent one in the Sydney performance scene, and while they have many able hands assisting them on One More Than One, perhaps they should add one more, a writer to that list.
it just stopped
It's bloody heartening to see something so unbalanced. I exited all giddy and punch drunk with objections to the Sewell vision with its endless string of hit and miss one-liners and bloody catharsis. I'm on his side. Who needs redemptive moments and empathetic characters? Life isn't At The Movies . Those poor bloody Sewell-Yanks (Kym Gyngell as Franklin, Catherine McClements as Beth) in their all too real ivory tower, let 'em have it, them and their New Yorker and New York Review of Books and their total ignorance of the world outside their apartment. But, really, are New Yorkers the problem? Well, they got bombed. Hang on, weren't The New Yorker and New York Review of Books two of the the very, very few American publications not frightened into submission by the War on Terror and its attendant dimnution of civil rights? Sewell's male protagonist, whose madness turns out—in a final act dramaturgical road crash—to be the only consciousness of the play (bugger the wife), is writing a Wagner apologia for the Review (to wit: Wagner's greatness transcended his anti-semitism which was of the times). In all my years of reading the Review I've rarely ever seen that kind of argument.
So what?, you're thinking. After all, scatterfire satire has become the hit and miss of The Glasshouse, where taking a position is anathema—strike out at one and all. Sewell's Americans are unfunny and uninteresting, just loud-mouthed. If you ask me, the play should have begun with the arrival of the Australian neighbours (John Wood as Bill, Rebecca Massey as Pearl) announcing the beginning of the end of the world and making their devilish offer of escape and life, but also of slavery. Then the spiritual and cultural poverty of the Americans could have been revealed rather than lengthily exposited.
Sewell's great creation in It Just Stopped is Bill as realised by John Wood: the very latest model of the Australian male, weirder and more cunningly and cruelly contrary and brutally pragmatic than anyone in Casey Bennetto's Keating!. But, because Sewell is so obsessed with the evil of his Americans, the play ends up in the lap of impotent Franklin (think about Sewell's choice of name). His paranoia turns psychotic, he kills Bill and goes down himself to the strains of Wagner and the devastation of New York in a Gotterdamerung both private and public. But before being shot, Bill turns out not to be the monster Franklin has conjured, but a tolerably benign chappy offering him the editorship of an Australian equivalent of the Review. So, Bill and Pearl turn out to be the figments of an overwrought and limited American vision of Australians. But as William Blake said of Milton, the poet's wonderful portrayal of Satan in Paradise Lost made him of the devil's party. Sewell's Australian devil, Bill (until de-fanged), has the best lines while Rebecca Massey as Pearl offers a finely crafted version of Mrs Australia—pearls and cardy, alcoholic, tunnel-visioned, unpredictable and physically dangerous. Our Australian demons cannot be sheeted home to the Americans. Australian complicity in US dirty work is only as interesting as what we know about ourselves and not the degree to which we imagine ourselves seduced. The play is a fascinating experience, if only for what it almost says—but it just stopped.
keating!
It didn't take long for Paul Sheehan, one of the Sydney Morning Herald's right-wing stringers to come out whinging about Casey Bennetto's musical, Keating!. In Sheehan's world, balance is a one-sided affair so the prospect of an out and out celebration of the career of a distinctive Australian like Keating is just not on. It's always amusing to see the right arguing for complexity from positions that are simplistic and tired—the show's Howard-hating! But for Sheehan, of course, it's all right to slag Keating. Keating! is unapologetically pro-Keating and operates within a very tight frame: it knows its limits and exploits them. Composer-lyricist Casey Bennetto takes the language of an era, pops it adroitly into pop pastiche and sketches a life. He lets the songs do the talking—there's no dialogue—and they say it all, not just delivering the Keating vocabulary (replete with its own hiccups and evasions and obscurities, like the j-curve) but the language of a brutally monetarist era (which Bennetto as Hewson raps out only to be out-rapped by Keating invective) and the subsequent Howard-bites. Mike McLeish is fine as a showbiz Keating, all pose and verve, while Terry Serio is more calculatedly satirical as Hawke and then Howard (especially funny and revealing when he is sequentially kitted out in Howard's four persona outfits). Bennetto does Downer's petulance and keyboardist Ennio Pozzebon does a good Gareth Evans if short on the volatility. The band is superb, well integrated into the action and allowed their moments of virtuosity. There are gaps. The seriously talented band could surely have incorporated a bit of Keating's beloved Mahler among the pastiche in the manner, say, of Uri Caine's jazz interpretations. And, some more detail of the Keating demise, other than the Gareth-Cheryl romance, could have been built into the final phase of the performance. Sheehan of course conjures soft left audiences seduced by Keating! The Musical, but they're not stupid. They recognise the great things—Mabo—and wonder about others—the skewed Creative Nation. They acknowledge the man's fallability, but would rather, as the musical's comic finale fantasy plays it out, have had Keating win the 1996 election for us to still savour this man's rough wit, flashes of idealism and sheer unpredictability in place of Howard's 'reforms' and measured untruths.
fast cars & tractor engines
I missed Urban Theatre Projects' Fast Cars and Tractor Engines the first time round (RT70, p41) but caught it this time in Bankstown at the end of its Western Sydney tour. A form of verbatim theatre with the performers working from their subjects' recorded voices, played to them through headphones, the effect is marvellously verite and the selection of material culturally revealing, and often great fun, in the most un-stereotypical of ways. Anthony Brandon Wong, a late cast replacement, performs with all the ease, expertise and passion of fellow players Mohammed Ahmad and Katia Molino, while director Roslyn Oades frames the action with a simple domesticity textured with witty gestural choreography. It would be great to see this interesting idea extended in some new directions. Urban Theatre Projects turned 25 in November: we'll celebrate that in our next edition.
Feasting on Flesh, director Scott Maidment, design Chris Booth, lighting Jo Currey, producer Sarah Stewart, Strut & Fret Production House; The Studio, Sydney Opera House, Nov 9-18
Atypical Theatre Company, One More Than One, performer-devisors Emma J Hawkins, Keith Lim, director Nikki Heywood, movement consultant Rowan Marchingo, dramaturg Christopher Ryan, design Kate Shanahan, lighting Clytie Smith, video Shehane Bekarin, video consultant Sam James; sound Jonathon Creenaune; presented by Western Sydney Dance Action & Riverside Theatres; Riverside Theatres, Parammatta, Oct 25-28
Stephen Sewell, It Just Stopped, director Neil Armfield, design Stephen Curtis, lighting Paul Jackson, composer John Rodgers, sound design Russell Goldsmith; Company B & Malthouse; Belvoir St Theatre, from Oct 4
Keating! The Musical, writer, musical director Casey Bennetto, director Neil Armfield, design Brian Thompson, costumes Jennifer Irwin, lighting Damien Cooper, choreography John O'Connell; Belvoir St Theatre, opened Nov 15
RealTime issue #76 Dec-Jan 2006 pg. 47
© Keith Gallasch; for permission to reproduce apply to realtime@realtimearts.net