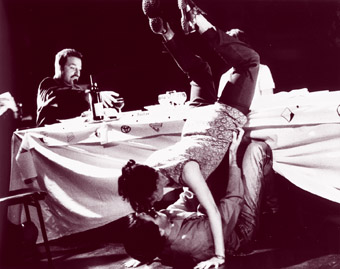 photo Heidrun Löhr
Stephen Klinder, Daniele Antaki, Rohan Thatcher, The second Last Supper
version 1.0, The second Last Supper
A bunch of multinational corporation hondos gather, adopt the names of saints (name tags available on the table) and transform global capitalism into religion in a Last Supper of seductions, pratfalls, vigorously declaimed hypocrises, careless contradictions and violence. Like the bourgeoisie of Bunuel's The Exterminating Angel (where wealthy, partying citizens find themselves locked in a mansion by a hidden force and turn on each other), these saints are nasty, cynical, and easily diverted ("is the armed struggle possible when the cricket's on?").
It's a provocative show. Some loved it, some hated it. I was in the former camp on opening night. It was a real pleasure to witness a new work with more new faces than old, a discursive scenario, a show that actually ran longer than an hour, and one that was eccentric, even surreal. And it was full of talk, wild, wilful, provocative, cheap talk, ranging from hilarious stand-up from a chameleon host (Stephen Klinder in brilliant form) to spontaneous exchanges and mock manifestos delivered over the monstrous corporate dinner table that traversed the performance space. Performance loves risk and endurance. In The second Last Supper, real wine is quaffed by the cast from beginning to end. Perhaps this added to both the ease and, sometimes, the intensity of the performance. Whatever, the improvisational tone, always a hard call, was sustained, vocal projection carefully contained, yielding a strong sense of ensemble reinforced by a physical ease in the space and with each other. Sam James' sublime video projection of Da Vinci's The Last Supper was a constant, slowly overlaid with shopping malls and other imagery and, later, flickerings portending storm and collapse.
For all its many strengths, The second Last Supper still feels like an evolving work, perhaps it always will be, it has to be that loose to be what its brave and talented cast make it. However there's room to tighten, to focus, to reduce the volume of much too familiar pomo quippery, of performance cliches (if modern theatre is 90% cliches acquired over 400 years, performance too has accumulated its fair share over the last 30), and of times when it seems it just doesn't know when to stop…or when to sustain an image, a thought, a monologue just a little longer. This is a show to keep in repertoire, a refreshing new vision in performance.
Devised & performed by Stephen Klinder, Jana Taylor, Chris Ryan, Daniele Antaki, Rohan Thatcher, David Williams; Performance Space, Sydney, April 5-15
Leiser, Heilmann, a room with no air
It's an anxious pleasure to encounter this demanding work again in which the Jewish and German children of WWII parents live out a 'would you hide me if it happened again' scenario. The set (Leonie Evans, Clarissa Arndt), a beautiful but oppressive, brilliant red wall, is like the relationship, full of doors, cupboards, nostalgia and horrors. The everyday, in the form of shoes, potatoes and an exchange of recipes (for the same dish), becomes terrifying in a dance of aggression and intimacy. Heilmann and Moore are physical and vocally dextrous, funny and frightening. Nikki Heywood's direction is a perfect act of visual composition. A room with no air is a more coherent work than its 1998 premiere, and much improved, although at some loss, especially when the magically lateral turns doggedly literal. Those few moments aside, this is an enduringly powerful work.
Performance Space, Sydney, March 22-25
Kropka Theatre, Convict Women— Lifetime Exile
A "seance in 14 acts" (that yields the utterances of angels), Convict Women begins eerily and inventively enough before settling into a more conventional, illustrative documentary theatre when the women arrive in Australia. Director Anatoly Frusin makes admirable use of the performers' bodies and some especially evocative lighting (Stephen Hawker) to generate changing place and mood as the women are cut off from their cultural roots and learn that their terms are in fact life sentences. Jolanta Juskiewicz, Angela Bauer and Janine Burchett play the women with simple intensity and an unexpected and rarified gentility. The text is over-elaborate, short on the cultural specificity it promises, but rich in detail and incident. Transforming historical documents into theatre is always a challenge: this production suggests the need for another level of editing and synthesis.
Fig Tree Theatre, UNSW, May 15-27
RealTime issue #43 June-July 2001 pg. 30
© Keith Gallasch; for permission to reproduce apply to realtime@realtimearts.net