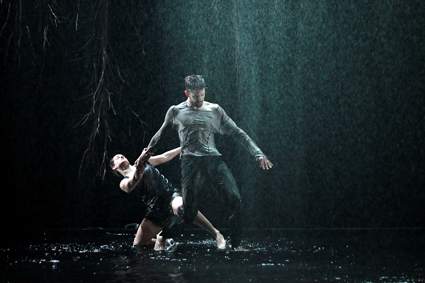 photo Fen Lan Chuang
Lake, Lisa Wilson, Timothy Ohl
LAKE IS THE SECOND MAJOR WORK FROM LISA WILSON, THE BRISBANE-BASED CHOREOGRAPHER AND HEPHZIBAR TINTNER FOUNDATION CHOREOGRAPHIC FELLOW. WILSON WANTED TO "DELVE INTO OUR FASCINATION WITH AND FEAR OF WATER…AND WHAT LIES BENEATH WHEN WE 'BREAK THE SURFACE TENSION' OF A RELATIONSHIP."
Lake opens with the sounds of water, then breath. A young woman rises, her hands grasping, flexing, tense. Is she drowning? Willows trail onto the square, ankle-deep pool that is framed by bare stage on all sides. The cold night breaks into day. The ghostly willows morph into a hyperreal projection of a white gum swamp. A couple arrives, camping chairs in hand. The lurking woman watches.
There is a playfulness and personal authenticity to the work created by Wilson's dual role as choreographer/performer. Her performance as the coupled woman anchors the naturalism of the choreography where the vernacular gesture, a touch on the knee, a cuff on the arm, become starting points for movement sequences of genuine virtuosity.
Night falls and the mood darkens. The couple is lured into the lower depths by the watching woman. Her body reflects their relationship to the water: she is manipulated, thrown, rejected, embraced, a force of enticement and menace. The complicity between the performers is palpable, with barely a pause before each collision of bodies. The naturalism of the back projection is fractured by interloping sequences of graphic animation, filmed bodies under water and the watching woman's first solo in shadow.
The performance crescendos steadily, with the three dancers crashing against each other with a shark feeding frenzy. The young woman is expelled from the pool gasping. There is a moment of breath, an interlocking gaze between the couple and then darkness.
Watching the moment of expulsion had all of the pleasure of a traditional narrative. The relationship under pressure survived, the unspoken fear was expunged and a journey to the depths was completed. Lake moved seamlessly between abstraction and naturalism because of the clarity of its structure and the sense that the rationale had been fully investigated and supported by the design. The lighting was so delicate it melted into the restrained and elegant set, which was dominated by the ominous black rubber-encased pool.
There were only a few moments of rupture: one too many trick props at the top of the show, a bubble-blowing sequence towards the end. These demonstrated how easily accessible dance theatre can descend into pantomime, suffering from a lack of politic or explosive power. But Lake was beautifully controlled and paced. There was a surprising inevitability about the shifts in emotional tone, the transformations within the design and the movement from vernacular choreography to a furious and ritualistic play where the spumes of refracted water became almost as beautiful as the powerful bodies carving their way through the liquid's opaque surface.
Dance seasons are heartbreakingly short but Lake has the potential to be a true crossover dance theatre work. I hope it has another life.
Lake, director, choreographer, performer Lisa Wilson, performers Timothy Ohl, Hsin-Ju Chui, dramaturg Jennifer Flowers, designer Bruce McKinvin, lighting Jason Glenwright, sound designer, composer Matt Cornell, video producer Chris Golsby Performance Space, Judith Wright Centre of Contemporary Arts, Brisbane, July 11-14
RealTime issue #111 Oct-Nov 2012 pg. 34
© Kathryn Kelly; for permission to reproduce apply to realtime@realtimearts.net