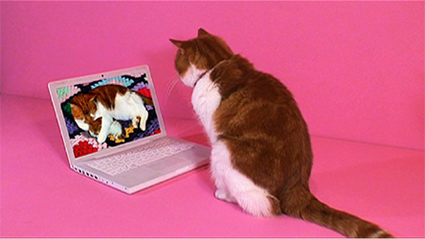 Jessica McElhinney, CatTube, 2011
At the turn of the millennium video festivals and screening programs were reaching plague proportions, but now that screens themselves have become infestations and we live on a drip-feed diet of YouTube, the festivities have been floundering for want of a cohesive context. This is a challenge Channels, the newest video festival on the block, is tackling head on.
Channels has been initiated by an all-lady curatorial team of Jessie Scott, Rachel Feery and Eugenia Lim. The women met while participating in the Next Wave Kickstart program and over the years have, independently and collaboratively, curated a range of video and time-based media events. I asked Lim what compelled them to launch a new video festival. She suggested that perhaps there is currently "a loss of criticality about the medium. It seems like the history of video gets lost and re-invented with each generation. I think we felt that now was a good time to try and connect to that past but also to look at the directions video is going in. It seems to be in constant mutation. [The impetus] was a combination of our own experiences of programming and curating up to this point, trying to look critically at the practice, and also [a desire] to promote video to a wider audience, making it accessible but with a certain rigour to it. [We want] artists working in this way to feel like they're part of a larger community and audiences to get a look at some of the finest work that we feel is being made at the moment."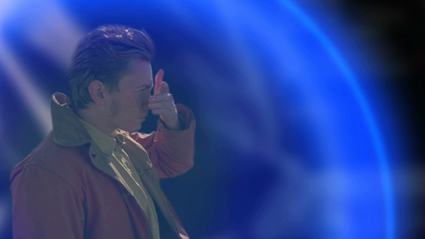 Soda_Jerk, The Phoenix Portal, 2005
Channels is attempting to present video as a medium in a range of manifestations. At the core of the event are the single-channel screenings drawn from an international open call that attracted 900 entries. These have been narrowed down to 33 works split across two thematic screening sessions; Sensory Drive + Media Mash-ups and Constructed Worlds + Bodies Collide (see ticket giveaway at the end of this article).
In an attempt to reach a wider audience, the main screenings will be in the ACMI Cinemas. There's also a program specifically curated for Federation Square's big screen, Channel Surf, which has been carefully programmed to suit the less concentrated viewing context. Lim says, "Channel Surf is a nod to that transient experience of passing through. The works that we are showing there are almost visual billboard works that you can come in and out of […] There are some really great artists being shown—Jessica McElhinney has made a really great work called CatTube. It's a wonderful, concise look at internet and video culture…For us it was a great opportunity to try and screen something in such a high foot-traffic, general public kind of space. It's a way of broadening the reach and the awareness of what else we're doing."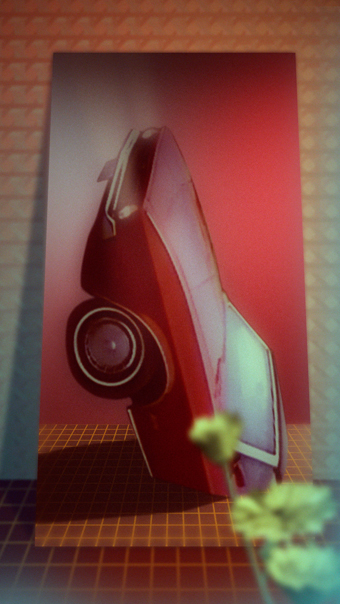 Ms&Mr, Videodromes for the Alone series: Amputee of the Neurotic Future 1988:2012
The other cornerstone of the festival is Transformer, an exhibition at ScreenSpace comprising two commissioned video installations. Ms&Mr will continue their Videodromes for the Alone series with Amputee of the Neurotic Future 1988:2012 which incorporates footage from the artists' own videographic past into a JG Ballard-Cronenbergian contemporary reality. This will be exhibited as a three-channel work with an automotive sculptural component. Both complementing and contrasting with this will be Benjamin Ducroz's Cumulo, filmed in the Pilbara, combining stop motion animation of cloud formations and a kinetic sculpture which appears on screen and as an object in the space.
Exploring the relationship between video and performance art is Mirror Screens, co-curated with Laura Castagnini. This comprises three specially commissioned performances by Emile Zile, Hannah Raisin and Salote Tawale where each artist has made a new performance/video piece (ie performance on, for or with video) inspired by a work from the historical avant-garde canon. For example Zile, appearing via Skype, will conduct a wake, using a roll call of names generated from Russian spam and scam sites that references Ant Farm's 1975 performance Media Burn.
But don't turn the dial yet—there's more. Co-presented with the Victorian College of the Arts, US performance and video artist Barbara Rosenthal is a special guest delivering her lecture "Old Masters of New Media," an overview of her prolific career from 1963 to 2013. There's also a forum, Video Art In The Internet Era featuring Vernon Ah Kee, Ian Haig and Norie Neumark with video postcards from Skip Blumberg, Joel Stern and Soda_Jerk. Channels has also teamed up with the ikono On Air Festival, an international event which sees artfilms broadcast across the world on satellite channels and via internet streaming (see last week's In the Loop).
No video festival is complete without some outdoor projections, in this case a program called Nocturnes screening on Chin Chin's Wall of Art on the corner of Higson and Flinders Lanes. And of course there's a party to finish off the event in style. Channels has teamed up with Speakeasy Cinema (run by Ghita Loebenstein) to present Videodromes, including VJ performances, smoke installations and a beanbag cinema. So if you're in Melbourne, get off the couch and go surfing.
Channels Video Festival, curators Jessie Scott, Rachel Feery, Eugenia Lim, program associate Ghita Loebenstein, Memory Screens co-curator Laura Castagnini, ACMI and various venues, Melbourne, 18-21 Sept; Transformer exhibition, ScreenSpace, 12-21 Sept; http://www.channelsfestival.net.au/
GIVEAWAY: Channels festival is offering one double pass to the Video Visions sessions 1 & 2; email onlinegiveaways@realtimearts.net with Channels in the subject line (by Sept COB Sept 12).
Barbara Rosenthal will also be appearing in Brisbane at Metro Arts (Oct 4), Audiopollen (Oct 6), Room60 Talks (Oct 9) and IMA (Oct 10).
RealTime issue #116 Aug-Sept 2013 pg. web
© Gail Priest; for permission to reproduce apply to realtime@realtimearts.net