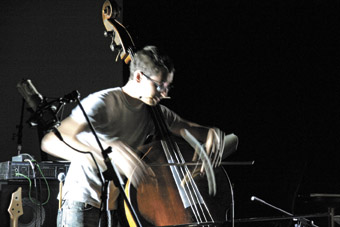 photo Tom Banigan
Clayton Thomas, the NOW now Festival
THE ANNUAL NOW NOW FESTIVAL WAS FIRST STAGED IN 2002 FOLLOWING THE ESTABLISHMENT OF A FORNIGHTLY CONCERT SERIES AT SPACE 3 GALLERY, REDFERN IN 2001 (IF YOU LIKE IMPROVISED MUSIC THEN WE LIKE YOU). THIS YEAR, A NEW VENUE, THE FACTORY IN ENMORE, HOSTED THE NOW NOW OVER FOUR NIGHTS. THE EVENT IS AN AMBITIOUS SHOWCASE FOR IMPROVISED MUSIC AND MUSICAL SPONTANEITY IS ASSURED BY THE FACT THAT MORE THAN 75 PER CENT OF THE ENSEMBLES PERFORMING RESULT FROM CURATORIAL INTERVENTIONS BY CO-DIRECTOR CLAYTON THOMAS. IT IS NOT UNUSUAL FOR PLAYERS TO BE INTRODUCED AT THE SOUND CHECK!
The If you like improvised music, we like you concerts through the year are focused exclusively on music but the NOW now embraces film, installation and other related events. One of these in 2007 was by Melbourne artist, Anthony Magan, a guided, Cageian sound walk at midnight through Enmore and Newtown.
The Factory is a rather vast space clearly set up for rock concerts. Much of the music in the Now now filled the room with PA sound such as the anarchic Son Of The Seventh Sister on the Wednesday night program. Other performances occurred at audience level in front of the raised stage and on Thursday night Tony Buck's acoustic percussion could be differentiated from Thembi Soddell's extraordinary array of sound treatments as they performed a duet in-the-round near the mixing desk.
I managed to get a seat at the front every night of the festival despite the large crowds so I was well placed to hear the nuance of Manon-Liu Winter's festival opening solo on Wednesday with its refrains, laments and blistering interactions between prepared piano and electronics. On Friday I could hear most of the quieter interior piano manipulations during the bold duet by Winter and Jon Rose but, as with Cor Fuhler in his quintet the previous night and Anthony Pateras in a trio the following night, I often felt there was more to be heard from inside the piano during passages of group polyphony. In their duet Rose and Winter's attention to detail constantly transformed the dynamic range as Rose's characteristically passionate bowing was at times beautifully modulated to accommodate precise duet coordinates.
The Friday night music began with a trio of piano, bass and drums (Adrian Klumpes, Milica Stefanovic and Simon Barker respectively). I wasn't aware of any mix problems for Klumpes as Barker crashed in with Noh-esque crescendo, maintaining the initial tension relentlessy with rolling bass drum vibrations which insisted the trio join in the anachronistic climaxes. As soon as agreements were made percussion disappeared into sparse play and the music disintegrated into fragments which took on a life of their own only to be crafted back into new moods and directions.
Ben Byrne (laptop) and Dean Roberts (guitar/effects) followed with swampy settings as creature-like utterances emerged from the clicks and drones of the machine, the piece falling into near-silence and back out again heading toward a bedlam which never quite arrived. I liked New Zealander Roberts' work a lot but on Saturday I thought his quasi-rock ensemble Autistic Daughters was a little out of place in the NOW now. Even though this group features Vienna-based improvisers Werner Dafeldecker (bass and electronics) and Martin Brandlmayr (drums) the laments showcased here with their song structures were a rather bland juxtaposition for the complexities of the other sets on Saturday.
Jon Rose and Hollis Taylor followed, delightfully quirky, working a table of whistles, kazoos, various pitched objects and their own voices to create an array of bird impersonations with lyrebird accuracy. Then Natasha Anderson and Amanda Stewart exchanged swirls across a broad spectrum of sound framed and contextualised superbly by Louise Curham's flashes of handpainted film projected at several levels around the players. More film (by Louis Hock) and live score followed with Robin Hayward (tuba), Cass McGlynn (tenor horn) and Simon Ferenci (trumpet) providing what must have been the most delicate sounds of the festival. Later, Carolyn Connors' cries and ukulele and Jeff Henderson's sax, banjo and voice were mediated by Robin Fox's live processing resulting in a slightly disturbing trio that mixed the manic with the comedic before the floor was cleared for the finale.
Sound balances were not a problem for the closely-gathered audience at the unmiked 49 piece Splinter Orchestra whose direct line laptop players were flawlessly integrated by Richie Belkner into the acoustic set. The orchestra performed two pieces from notional scores, one of which involved alphabet display sheets held up randomly by six or so players at the front. Players remained silent until a letter from their name appeared. Proceedings were finalised with contextual screams by Jeff Henderson and only Robin Fox got a solo!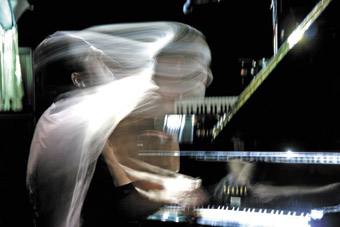 photo Tom Banigan
Anthony Pateras, the NOW now Festival
Saturday night kicked off with a relentless rhythmic outing from a trio hell-bent on driving syncopation. Anthony Pateras (piano), Tony Buck (drums) and Clayton Thomas (double bass) played prepared versions of their instruments and laid out some dark and persistent signatures. I never tire of the way these players extrapolate from their beginnings. On this occasion they initiated three separate hard-driving individual rhythms and within minutes the score had coalesced into some remarkable contrapuntal settings.
Jim Denley (voice, laptop and often dismantled saxophone) and Peter Blamey (mixing desk) found juxtaposition and symmetry in their explorations of the meeting points between pitch and white noise. They were followed later by a sensitive and moving trio from John Blades, Chris Abrahams and Robbie Avenaim within which the Loop Orchestra co-founder (Blades) told the inspiring story of his life-journey with multiple sclerosis.
An exhilarating performance from Embers (Adam Simmons and Kris Wanders on saxophones, Dave Brown, bass and Sean Baxter on drums) followed. They blasted out a kind of sustained crescendo—a visceral assault on the senses. The mesmeric results reduced the accompanying Aldo Tambelinni film to a rather redundant distraction from the music for me and I found myself watching the musicians more than the film.
A more successful image and sound collaboration occurred earlier in the evening when Joel Stern and Sally Golding (aka Abject Leader) converted the cinema room into an audio-visual wonderland with field recordings, electronic, percussive and pitched sound supporting images projected from multiple 16mm projectors onto a variety of surfaces. Illusions were created by images on uneven surfaces such as a gauze making hologram-like effects in the centre of the room, and from opening bird sounds through drones, beeps and whistles and finally to an accordion finale. Stern, Golding and Danni Zuvela are the Brisbane-based Otherfilm crew who fascinated and amazed us each night with an exciting range of experimental film screenings, from optical sound pieces (the sonic results of optical material shot across the sound stripe of 16mm film) to Mary Ellen Bute's take on Finnegan's Wake.
The festival finale was presented by Hammeriver, a Clare Cooper project which over the last four years has engaged a large group of players in explorations inspired by the music of Alice Coltrane whose death on the Friday preceding the festival imbued this set with added poignancy and meaning. With Cooper conducting proceedings from the concert harp the ensemble played an improvisation which began with a silent overture until the ensemble's sound rolled in like a storm from the horizon. Everyone in the band seemed to follow the timbre of Cooper's harp as a watery rumble settled in around the space with Jeff Henderson, Monica Brooks and Chris Abrahams releasing occasional splatters of nuance and spiky accents from within an eerie drone. This week of music was a great achievement from Clare Cooper, Clayton Thomas and their dedicated team, I went home every night exhausted but very satisfied.
the NOW now Festival of spontaneous music and experimental film; The Factory, Enmore, Sydney, Jan 17-20, www.thenownow.net
RealTime issue #78 April-May 2007 pg. 42
© Tony Osborne; for permission to reproduce apply to realtime@realtimearts.net