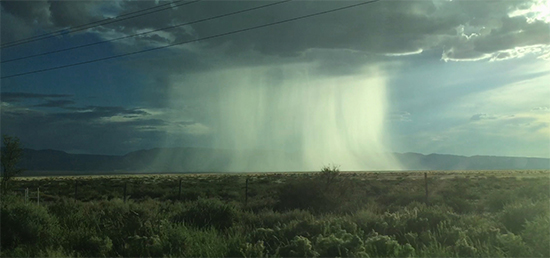 Thunderhead, Tina Havelock Stevens
"I was on a road trip. We'd gone the wrong way, and we righted our passage and got onto Highway 54 in Texas," says Tina Havelock Stevens, telling the story behind the creation of her latest work, Thunderhead, soon to show at Performance Space's Liveworks Festival of Experimental Art at Sydney's Carriageworks. The work comprises large-scale video projections of a supercell storm moving across a wide plain, backdropped by low rolling mountains.
The storm—characterised by a mesocyclone: a deep, rotating updraft—is viewed from the safety of a moving car and accompanied by a spacious guitar and drum soundscape. The work concerns one of the most fundamental relationships: that between humans and natural spaces of awe and wonder.
"I'd been with some friends looking at land art [in the US]. I saw James Turrell's Road and Crater and Charles Ross' Star Axis, which are all about space and sky. They're all about scale, so I was probably in that state of scale. It was pretty emotional. We went to Marfa as well and saw works by Donald Judd. The way Thunderhead is cut—the way the [spatial] planes are flying in and out of the frame—has those aspects of scale and repetition."
There are a number of loops within the video work, cut to the soundtrack, which Havelock Stevens created with her friend and collaborator Liberty Kerr. All up, the video will play to a 17-minute sound recording, on a 13 x 7 metre screen. A number of live performances of the soundtrack with Kerr are scheduled, in addition to the daily exhibiting of Thunderhead.
Rural Texas is one of the best places to really see the night sky, but Thunderhead is also visited by the presence of the Australian countryside. "I grew up on a farm and spent a lot of time wandering around on my own at twilight, one of the spookiest times of the day," says Havelock Stevens. "Something about the death of the day used to make me a bit anxious as a child."
Having seen and heard the components of Thunderhead in the artist's kitchen, I can say that the effect of the work is the feeling of being picked up and dropped off somewhere remote and strange. At the work's presentation for Dark Mofo at Hobart's Museum of Old and New Art earlier this year, "one woman said it made her feel really safe." Some stayed two hours, others stayed 45 minutes. "People responded to my reflection in the [car door] mirror. It's my presence in the work, I'm in it, because I'm a self-shooter," says Havelock Stevens, referring to her solo method of shooting video, as well as her other profession of documentary-making for SBS, ABC and commercial television. All of her work and process—from experimental documentaries to television work and immersive art experiences—are backgrounded by her studies in film and philosophy.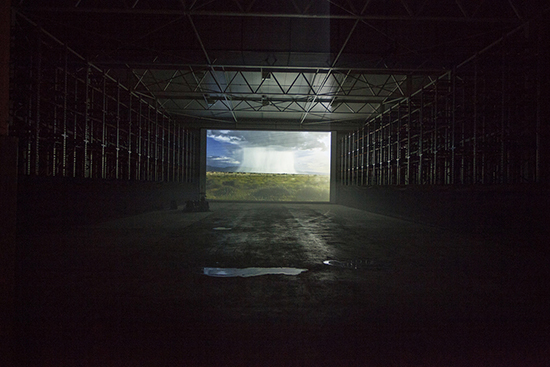 Thunderhead at Dark MOFO 2016
"The self-shooting is how I make all my docos. I love that intimacy. It's about being inside of something, of making a spontaneous composition where you don't know what the outcome will be. I landed on [the storm]. I stumbled on it. It's not set-up at all." This approach diverges from the land art Havelock Stevens encountered on her Texas trip. "I'm not digging into the landscape at all; I'm not fucking with it." But she describes her work's convergence with land art as slow art, something to spend a lot of time with, as a viewer.
The slow-unfolding experiential aspects of her work are as important to Havelock Stevens' practice as the work's final presentation and the audience's encounters. "I never expect anything" from the artistic process, she says. "It's about responding to your bodily and intellectual nous. The work is capturing a natural wonder. A particular time of day in a particular place that I just chanced upon."
Rather than linking her work overtly to classic art-history themes like the sublime or contemporary issues of ecological preservation, what is on Havelock Stevens' mind now is how to keep working between experimental documentary and a form of contemporary art that produces emotional responses: to keep opening up an affective space where an audience member can think and feel on their own terms.
"The longer you look at it, where your mind might go is to the destruction of nature. But my work is open to whatever people want to project onto it. It's just creating a space that's different from what you've just stepped out of. There's an emotional space and an environmental space; the anthropocene is here—there's no doubt you might wonder what type of storm you're seeing.
"The storm is beautiful, it's calm. It's meditative isn't it? I didn't film this thinking of chaos and disturbance. I didn't look at it and think 'the end of the world is nigh,' even though my work often, if you scratch it, has a very dark aspect. I just always shroud things in beauty."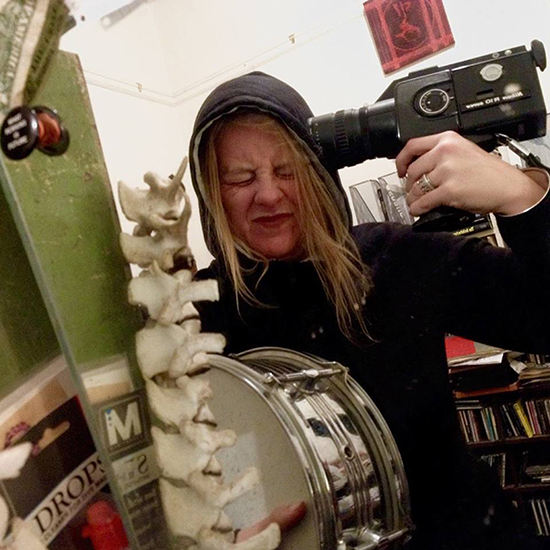 Tina Havelock Stevens
Performance Space, Liveworks Festival of Experimental Arts, Thunderhead, artist Tina Havelock Stevens, with musician Liberty Kerr, Carriageworks, Sydney, 2-5 Nov: see exhibition and performance times here.
RealTime issue #135 Oct-Nov 2016
© Lauren Carroll Harris; for permission to reproduce apply to realtime@realtimearts.net