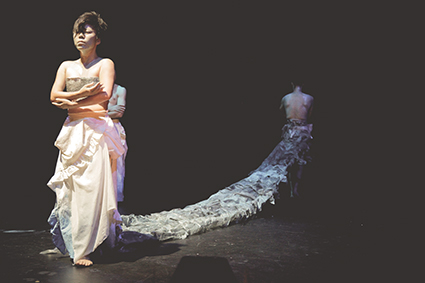 photo Gery Davies
Deluge
MARTIN AMIS SAYS THAT EXPERIENCE IS THE CURRENCY OF OUR AGE AND THIS APPETITE FOR BIOGRAPHY AND LIVED EXPERIENCES WAS BORNE OUT ONSTAGE IN THE PROGRAMMING OF THE 2014 BRISBANE FESTIVAL. BUILT AROUND PHILLIP GLASS' LATEST 'PORTRAIT' OPERA THE PERFECT AMERICAN, ABOUT WALT DISNEY, THE PROGRAM INCLUDED INTIMATE WORKS LIKE TODD MACDONALD'S HEART-WRENCHING ACCOUNT OF HIS DAUGHTER'S ILLNESS IN THE BUTTON EFFECT AT QTC AND THE ELLIPTICAL AND STATELY PHYSICAL THEATRE WORK ABOUT THE BRISBANE FLOODS, DELUGE, BY MOTHERBOARD PRODUCTIONS.
The Perfect American
This was outgoing Artistic Director Noel Staunton's last hurrah and The Perfect American was a tour-de-force collaboration between local companies Opera Queensland, Queensland Symphony Orchestra, QPAC and Expressions Dance Theatre to bring the work commissioned by the English National Opera (ENO) with the impossibly stellar creative team of Glass composing, Phelim McDermott from Improbable Theatre directing and Dan Potra designing, for an exclusive Australian season in Brisbane.
The work retains most of the debut cast, with the thunderous bass baritone of Christopher Purves as Disney anchoring the opera, his voice soaring and vibrating in each of the 12 self-contained episodes that chart the final days of Disney and confabulate fact with fiction, action with hallucination.
The loose structure is held together largely by Don Potra's design. A giant gantry looms over the stage with two vast revolving arms that spin constantly like a death star, releasing delicate paper screens filled with moving animations, monochromous and ominous, which flutter to the ground like burnt moths. Even the rectilinear aesthetic of Glass's most celebrated visual collaborator, Robert Wilson, still holds to the 19th century aesthetic of stage backdrop. Potra brings the heavy industrialism of contemporary performance spectacle into opera with undeniable bravery. Indeed, while the work has met with mixed reviews in London and Madrid, Potra's design has been praised. For a Brisbane audience, unaccustomed to regular debuts of this scale and calibre it was breathtaking to watch the singers and dancers duck and weave as the gantry spun and shed like a living image machine.
Below the gantry was a simple circular revolve, which signified train tracks, a hospital room, a film set and Disney's office and home. This circularity was not just functional, but echoed Potra's whirling gantry and was mirrored by Glass' score, which, although built around his trademark minimalism was a pulsating, driving and addictive experience. Imagine the sound of an old fashioned train on a circular track, the click of castanets and the surge of horns with the sweetness of a classical chorus that somehow sounds like Lou Reed in 1979. The score is marked by sudden shifts, abrupt changes of instruments and long, heavy drone-like sequences. Indeed, the score was criticised overseas for not having more romantic and operatic sequences, like the opening and closing scenes set in Disney's hometown of Marceline. However, this seemed to me to embody the politic of the work: the mid-Western, right wing America of Disney being simultaneously feted and exorcised by the liberal New York avante-garde; pop culture and high culture colliding in a sometimes uncomfortable mix.
The libretto had a similar mashing of almost bruisingly trite language and what Potra described as "restrained poetry." "You were only a moderately successful CEO" sings Disney's imagined nemesis, the disgruntled employee Dantine, an immigrant worker fired for attempting to start a union. "Everything belongs to me," sings Disney plaintively as his life is slipping from his grasp. Sadly, despite these genuinely bold and arresting elements, The Perfect American did not lift into that total theatre experience that Glass is renowned for making with Wilson: you could feel the audience resisting journeying into the rabbit hole of meditative reception. Somehow it all existed too much in a literal world, filled with sad and agonised characters, the industrial ghosts of Disney's pencil drawings. Neither fish nor flesh, the opera refused the lures of sentimentality and melodrama but also the pleasures of abstraction.
Deluge
What was both flesh and fish was Motherboard Production's Deluge, born out of the agony of the floods in Brisbane in 2011 and the follow-up to the Brisbane Festival smash Underground. Motherboard is a vibrant local company, one of a handful that carry the Brisbane traditions of physical theatre, ensemble training and engagement with Asian theatre forms into the next generation. Deluge sits in that canon very clearly, with large-cast spectacle, slow durational form and a mix of Korean and Australian performers. The show opens with an elaborately casual tea ceremony, with performers in civvies handing the audience the warming beverage on a napkin printed with a Judith Wright poem translated into Korean. Who could ask for more?
While many looked bored, I relished the off-handed pageantry of graceful performers inviting their audience slowly into the dripping cave stage world of Deluge. The often cavernous Visy was shortened by an acoustic wall behind most of the seating bank, which gave Dane Alexander's mesmerising score added power, particularly when it lifted into throbbing techno at key moments in the show. The work built slowly, as delicate glass containers were lifted into and then out of the space, clinking like seagull cries. Classic Suzuki motifs ensued, like slow walls of bodies moving forward. their tiny gestures charged with intensity. The stately bodies grew slowly more and more fevered, as the imagined water came closer; suddenly, an explosion, with bodies running across stage, hitting each other, falling and running again and the impending doom of the ticking clock. The whole stage was rent with green laser light and bodies rippled and drowned. The delicate set was swept away in the deluge till all that remained was the harsh and beautiful cement wall at the back of the theatre.
Time passed with a mournful traditional Korean song, then the show climaxed with the majestic arrival of Niedeck, the director/choreographer and central performer, slowly gliding into the theatre bare-chested with a train of rubbish behind him. A garbage water god, a symbol of wreckage and renewal all at once. There were long sequences that felt extraneous, or lacked tightness or unison—these physical performance forms are unforgiving, they demand such precision and simplicity—but the intensity of Deluge was undeniable, particularly in the final sections.
The Button Event
The Button Event is an intimate one-man piece about devisor and performer Todd MacDonald's daughter Lola and her struggles with a rare and debilitating form of childhood epilepsy, Tuberous Sclerosis. However, it shares with Deluge a similar delicacy of form and requirement to navigate the work through the frame of personal experience.
The Button Event begins with an almost empty stage, a tennis ball machine and MacDonald reading us a letter he had written, just in case God existed, to thank Mary MacKillop for the novenas that had been offered up to her to try and help his daughter during the pivotal surgery that would eventually save her life. Indeed, this is the organising principle of the show, the before and afters of Lola's illness—MacDonald's life and work and marriage before Lola's illness and then the chaos and struggle to survive after.
MacDonald is a consummate performer, he has that quality of likeability; you always wish him well and because the story is unashamedly personal, in many respects watching it is like hearing a story at a party from a friend. The various tasks undertaken onstage, many of them connected to the tennis balls, only underscore this sense of ordinary exchange, of being told a story over a garden fence. As Lola's situation deteriorates and Todd's anxiety rises the design becomes more and more complex: ladders and boxes and strings have to be arranged, the disclosures sail closer and closer to intimate confessions of weakness or despair. A children's book is read about a grumpy turtle losing its temper and being abandoned. A sweeping train of tennis balls transforms into a whirling cape, the hunchback Richard in agony. There is such deftness in the choices made here by MacDonald and his director and co-deviser Bagryana Popov and designers Kevin O'Brien and Sam Paxton: the ubiquitous tennis ball, so ordinary, but also capable of such luminous beauty when arranged in constellation or when released from the ceiling to fall like redemptive rain.
I think my only sense of unease about the work came from this very success. The world presented was so relatable, so much ours that I did not question any of it—the authenticity of the personal account left no room to challenge or to even interpret. I suspect this is the danger of lived experience as theatre, that you impose on it the polite protocols of a dinner party exchange. Yet both The Perfect American and Deluge demonstrate some of the difficulties in the opposite approach, where confabulation or aestheticisation does not quite do justice to the experience of problematic genius or the ruinous transcendence of natural disaster.
–
2014 Brisbane Festival: The Perfect American, composer Phillip Glass, librettist Rudolph Wurlitzer, Concert Hall, QPAC, 15-20 Sept; Deluge, director Jeremy Neideck, sound Dane Alexander, designer Sarah Winter, producer Dave Sleswick/Motherboard Productions, devisor-performers Hoyoung Tak, Younghee Park, Youngho Kwon, Katrina Cornwell, Sammie Williams, Jeremy Neideck, Amy Wollstein, Visy Theatre, Brisbane Powerhouse,18-20 Sept; QTC, The Button Event, devisor Todd MacDonald with director Bagryana Popov, design Kevin O'Brien, Sam Paxton, lighting Ben Hughes, composer Guy Webster, QTC, Brisbane, 18-27 Sept
RealTime issue #124 Dec-Jan 2014 pg. 6
© Kathryn Kelly; for permission to reproduce apply to realtime@realtimearts.net