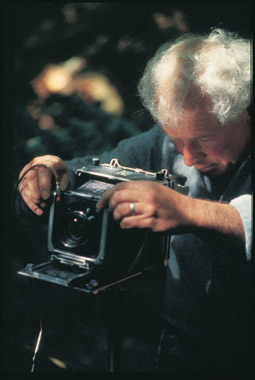 photo Peter Jackson
Peter Dombrovskis, Wildness
A very sparse crop in this year's AFI documentary film awards with no obvious contenders and nothing like The Diplomat or A Wedding in Ramallah to catch the eye. This year we're staying very close to home, having a look at our history and immediate environment, urban and natural. There are 2 films about photography and 2 that explore our archives; they are worthy, well-intentioned, carefully researched, intermittently interesting and enlightening, technically skilful, the product of good hard yakka and an obvious dedication to the topics in question.
Painting with Light in a Dark World (writer/director Sascha Ettinger-Epstein, producer Renata Schuman) is one of the films about photography, in this case the photographer Peter Darren Moyle who has dedicated his life to recording the inhabitants of Kings Cross in Sydney. The film aims to show it like it is in terms of gritty real-life, on the edge, on-the-street action and succeeds in re-creating a specific locale and community. Moyle's pictures of wasted bodies lost in a statuesque torpor are eloquent enough, more so than Moyle himself who swivels between overbearing bravado and fragile insecurity, a fuck-you brashness masking a painful vulnerability.
The narrative ruse of following Moyle as he moves towards his first exhibition seems somewhat contrived, determined to track a rags to riches storyline, the unknown artist 'discovered' which, in the end, just seems to be part of the 'romance' of the street. The photographs themselves, for all their supposed importance to the 'story' of the documentary, are devoid of any context in terms of the tradition of street photography and our understanding of them hardly progresses beyond the voyeuristic impulse. They deserve better.
Silent Storm (writer/director Peter Butt, producers Peter Butt, Ross McAuley) tries hard to get us bursting with indignation with its own shock-horror unmasking of deceitful deeds. The great unsuspecting Australian public is once again subject to terrible goings-on and treachery in the name of—well, whatever you like—progress, the Empire, national security. While there is clearly a worthwhile story to be told here about Australia's participation in the British testing of the atom bomb, and useful parallels can be drawn between politicians and national paranoia then and now, this film aims for more and achieves less.
Somewhere along the line it has been decided that all this science stuff needs pepping up a bit and so there are re-enactments galore, spliced together with archival footage and, in places 'faux footage', that is re-enactments touched up to appear authentic which, as a distancing technique works quite well but to what effect? Such estrangement simply makes us strangers to the story.
The hyperbole is pressing, insistent—the most powerful, the most contentious, most politically charged, most brilliant, bitterest etc—but the material doesn't really need spooky piano music and the clichéd commentary along the lines of 'the security net is closing in' to make its point. Some of the archival footage is amusing, such as shots used to set the scene for 1950s Adelaide, Perth, Brisbane etc that instead make the locales appear almost identical—slow moving cars and pedestrians, brown buildings and golden light.
After all the trickery and visual manipulation, what is the message? That the public were kept in the dark, that when faced with an unpalatable truth, politicians will intimidate and dissemble. In that sense, the film is a reflection of its time ie today, but the conclusion that those in power will lie in order to protect themselves is unlikely to surprise too many people.
The Original Mermaid (writer/director Michael Cordell, producer Ian Collie) is yet more archival film, this time from London, Paris, Sydney, interwoven with a lot of watery images of people swimming, diving and splashing about. It's the wettest film, a poetic paeon to swimming. Still, Annette Kellerman, who was the original mermaid, is a fine advertisement for all things watery. The film does a thorough job placing her in context, explaining what made her unique for her time, how she challenged social expectations about what women were capable of achieving. Kellerman comes across as the Madonna of her age, admired by men and women, someone who was not afraid to use her physicality and aquatic prowess to shock, titillate and entertain.
Wildness (writer/director Scott Millwood, producer Michael McMahon) is the most focused of these documentaries. It has the biggest canvas—the Tasmanian wilderness—but one that is viewed from the perspective of 2 nature photographers, Olegas Truchanas and Peter Dombrovskis, so time after time we are invited to stand in their shoes, share their views, literally see what they saw. The film shifts easily between the men and the places where they roamed, back and forth through time and across country. There is symmetry and balance between the men's lives, their work of photographing the natural state of Tasmania, which spanned 2 generations as well as different but related conservation battles. Indeed, having seen both men represented together in this film it would be hard now to look at them in isolation—they each reference the other, forward and backwards. It's interesting, too, comparing their different photographic styles: the stillness and particularity of Dombrovskis, the more gregarious Truchanas who populates his grand vistas with idyllic family scenes. The fact that the men were also close—like father and son, the film says—reinforces the parallels, creates a context that is both personal and political.
There are more re-enactments in Wildness, this time a re-creation of the slideshows given by Olegas Truchanas to raise people's awareness of the natural beauty on their doorstep that was in danger of being lost. Wildness itself is an extension of these shows, still concerned with delivering a conservation message via the medium of film. It makes us care about places that most of us will probably never see in person, a result which, in itself, is a fairly basic but important effect of documentary film, both still and moving.
Which just goes to show that for all the dazzling cinematography on display in these films, you still can't beat a good slide show when it comes to making an impact.
The Film Australia AFI Award For Best Documentary was won by Wildness. The Award for Best Direction in a Documentary and For Best Editing In A Non-Feature Film went to Painting With Light in a Dark World.
RealTime issue #58 Dec-Jan 2003 pg. 21
© Simon Enticknap; for permission to reproduce apply to realtime@realtimearts.net