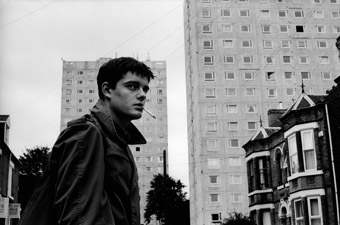 courtesy Dendy Films
Control
IN 1980, ON THE EVE OF JOY DIVISION'S FIRST AMERICAN TOUR, SHORTLY BEFORE HIS 24TH BIRTHDAY, IAN CURTIS HANGED HIMSELF. ON A SMALL COMMEMORATIVE STONE—THAT ISN'T EASY TO FIND—IN MACCLESFIELD CEMETERY AND CREMATORIUM, IS WRITTEN "LOVE WILL TEAR US APART." ALMOST THREE DECADES LATER, THE SINGER ATTRACTS INCREASING NUMBERS OF DEVOTEES, MANY OF THEM ARTISTS, INSPIRED BY THE SMALL BUT COMMANDING BODY OF WORK JOY DIVISION MADE AND THE INTENSE EMOTION CURTIS IMPARTED—A DESPONDENCY PERHAPS NEWLY RELEVANT IN OUR OWN TIME.
Dutch photographer Anton Corbijn—revered for his celebrity portraiture and award-winning film-clips, including Joy Division's Atmosphere (1988)—was inspired to transform his practice and make his first feature film when offered the subject of Curtis, based on Touching from a Distance, a biographical account of the musician's life written by his widow, Deborah. The crossover from still to moving image has taken Corbijn 30 years, but it seems appropriate that he waited to do it with Control. At a recent appearance at Melbourne's Nova Cinema he told how he moved from The Netherlands to England in 1979 following the sounds of Joy Division, making a touching joke that he hasn't washed his hands since he shook Curtis'. Photographing Joy Division in 1979 and 1980 was a personal and professional milestone in his life.
The transition from photography to filmmaking (or vice-versa) can be a logical progression, each medium an appendix of the other. Many artists work successfully across both media, for example Robert Frank, Wim Wenders and Larry Clark. Other contemporary artists narrow the divide even further; works by The Kingpins, Tracey Moffatt and Matthew Barney slide seamlessly between moving and still photography, not surprisingly given the high saleability of production stills as editioned works.
Working from his own and Deborah Curtis' memories, Corbijn manages to capture the singer's magnetism. From a mere hour of extant Joy Division footage, newcomer Sam Riley convincingly embodies Curtis, capturing the essence of his distinctive dance style. From portraying the band's cocky, bold front man to the self-conscious epileptic, heavily dosed on medication (and alcohol), Riley's performance is excellent. He reveals Curtis' struggle to hold the disparate pieces of his life together, juggling a demanding tour schedule, a day job as a civil servant, a baby, a wife he married in his teens, and his feelings for the sophisticated-Belgian, Annik Honoré, with whom he fell in love.
Tormented and torn between moral obligation and the path to musical acclaim, on stage Riley's Curtis completely surrenders to the music; off stage he fluctuates, naïve, sensitive and sincere, then cruel and selfish. Curtis incarnates the myth of the tortured artist, his tragic suicide fuelling the legend, yet Corbijn doesn't exploit this—Curtis' lack of control of his life is portrayed as less than romantic, as is the culture of the oppressive, post-industrial towns of Manchester and Macclesfield in the late 1970s. Corbijn's decision to film in black and white heightens the sense of a relentlessly depressing England where the music scene in the pubs and clubs provided the only respite from cold, grey streets lined with cheerless council flats and offices. Corbijn explained that the medium perfectly captured the bleak atmosphere of the era, and exemplified Joy Division's aesthetic—photographs of the band are virtually all monochrome (including Corbijn's) as are their album covers (designed by Peter Saville).
Curtis and Joy Division have inspired more artists than Corbijn. Over a quarter of a century after Curtis' tragic death, the band's music has been covered by countless others. In fashion, Belgian-designer and curator Raf Simons designed men's clothing and jewellery ranges based on Joy Division lyrics and album art. 'Joy Division trainers' have been designed for both Nike and New Balance (although neither as yet have gone into production). And, in visual art, there are many examples of the band's influence.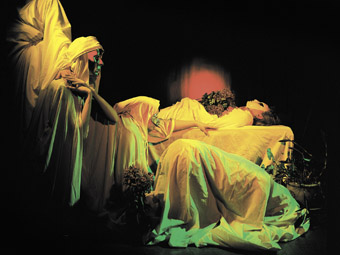 courtesy of the artist
Darren Sylvester, No Fun, No More (2006)
In Australia, Melbourne-based artist Ronnie van Hout's video I Remember Nothing (2004) appropriates the Joy Division song of the same name for its audio track. For the length of the song, a bewildered van Hout, in odd attire complete with mask, staggers blindly and senselessly through a grassy urban setting. Darren Sylvester's No Fun, No More (2006), a restaged, colour version of Joy Division's Closer album cover, was recently exhibited in Perfect for every occasion: photography today at Heide Museum of Modern Art. The accompanying catalogue reveals that Sylvester "wanted to return to a theme of that album, in which Ian Curtis was seemingly having no fun at all, to remind the viewer that sometimes nothing changes, by dragging the image closer to the modern age in lurid colour."
In Melbourne, in 2003, the Centre for Contemporary Photography showed David Crawford's Dance to the Radio—the chorus of Joy Division's Transmission—three readymade music videos for Joy Division songs constructed from stock photos selected by keywords typed in by audience members. The same year, in Sydney, gallery WREN exhibited Dorothy Bona's portrait of Curtis.
Internationally, Swiss artist Philippe Decrauzat's Komakino (2006)—a Joy Division song title—is a wall decal (in black and white) inspired by the band. David Alker (UK) has made recreations of Joy Division album covers as part of his remade record collection series The Record Collections, while Glenn Brown (UK) has made paintings titled The Ever Popular Dead (painting for Ian Curtis) After Adolf Schaller and Ornamental Despair (Painting for Ian Curtis) After Chris Foss. The Museum of Contemporary Art in Chicago is currently showing Sympathy For The Devil: Art and Rock and Roll Since 1967, including Futurama (2004) by Scott King and Kevin Cummins—digital prints featuring portraits of Ian Curtis.
Slater Bradley (US) regularly pays homage to Joy Division, crediting Curtis in his catalogue acknowledgements and making work that includes paintings reproducing the band's graphics; photographs of Bradley's doppelganger, Benjamin Brock, posed as Curtis (with remarkable likeness in Bradley's Doppelganger Trilogy, 2001-04); a video 'recreating' footage of Curtis (Brock) performing; and a project titled In a Lonely Place—one of Joy Division's last songs, later recorded by New Order—in which Brock simply attends events (including exhibition openings) styled and dressed as Curtis.
The music and visual art crossover isn't unusual, given that many visual artists are musicians and vice-versa, however the pervasiveness of Joy Division's impact is significant. Reverberating across generations, the band's music appears to have increasing relevance for contemporary audiences who recognise feelings of guilt and shame, of the despair that can come with falling in and out of love—as Sylvester rightly points out, "sometimes nothing changes." Curtis' lyrics are as compelling now as they were in the late 1970s.
Curtis' legacy is just under 50 songs that are full of life: they are dark and oppressive, yet liberating and inspirational. They hold weight—his deep and haunting voice propelling the palpable despair at the heart of it. Cleverly, Corbijn uses Curtis' lyrics for the singer's thoughts throughout Control, which is the story of a private life—a revealing account of the man rather than the myth. Like the sounds of Joy Division, the film is genuinely moving, at times humorous, and heartbreaking, leaving us with a sense of longing for what might have been.
Control, director Anton Corbijn, screenwriter Matt Greenhalgh with Deborah Curtis, cinematography Martin Ruhe, John Watson, editor Andrew Hulme, music supervisor Ian Neil, score Joy Division, New Order, sound designer Peter Baldock. DVD release in Australia through Madman.
RealTime issue #82 Dec-Jan 2007 pg. 18
© Karra Rees; for permission to reproduce apply to realtime@realtimearts.net