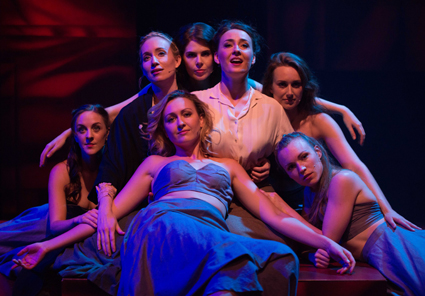 photo James Terry Photography
Vic Theatre Company, Loving Repeating: A Musical of Gertrude Stein
A Broadway-style musical addressing the life and work of Gertrude Stein sounds about as likely as a Pixar film about Peter Greenaway. The high modernism of Stein's writings was closer to Cubist painting and her project nothing short of a reinvention of the possibilities of language. To approach that legacy with the Great American Songbook in hand would seem sheer folly, but a recent Melbourne production of Frank Galati's Loving Repeating proved a giddy upending of expectations.
The work was written by Galati and composer Stephen Flaherty in 2006 and premiered at the Museum of Contemporary Art in Chicago. Melbourne's Vic Theatre Company staged it as its inaugural production, and it's one that should put the company on any critic's map. Rigorously produced and boldly performed, it deftly constructs a house of cards that would collapse if any of its elements were handled inexpertly.
It begins in biographical mode, following Stein's early years studying psychology and philosophy at university before meeting Alice B Toklas, the fellow writer who would become her lifelong lover. Strict biography soon shifts into something more artful, however, as time refuses to play straight. Deirdre Rubenstein incarnates the elderly Stein, orating from a lectern, while several performers present both Stein and Toklas at various earlier ages. As these embodiments accumulate they do not divide their common figure into discrete eras or phases of life, instead singing to one another across time, and often sharing the playing space simultaneously. It's a subtle device that gathers weight as Stein's fascination with repetition and echoed phrases increasingly becomes understood not as mere technique but as an attempt to articulate an entire philosophy of being.
The choreography of the large cast (14 in all) also reflects the distinct patterning of Stein's words. Movements reverberate across bodies with tiny variations, like a breeze rippling over a field of grass. At times the ensemble appears more like a kinetic sculpture, one moved by an internal motive force, again like Stein's writing.
Most intriguing is the music, however. Given the formal iconoclasm of Stein's work, one might expect that the mode of music theatre would here be deployed ironically, or that a postmodern deconstruction of the musical would take place. Not quite. This is a full-throated, melody and harmony-rich affair that incorporates vaudeville numbers, lovers' duets, tango breaks. Almost all words are drawn from Stein's own writing, here imbued with a spirit that seems to animate them in a way not always obvious on the page. A line whose repetition can seem to drain words of their connection to materiality—"a rose is a rose is a rose is a rose"—instead emerges as a deeply impassioned engagement with the object world.
Loving Repeating leaves no doubt as to the potent musicality inherent in Stein's writing. If there is any affront to the writer it may be that, unlike the reader's response to her words, the audience's is determined, even over-determined, by the character of the music. Yet it would be a rare reader who could conjure such memorable airs as have been composed here, and after the last note sounds it would be a rare audience member not compelled to revisit Stein's writing and find anew their own music therein.
Vic Theatre Company, Loving Repeating: A Musical of Gertrude Stein, music Stephen Flaherty, text Gertrude Stein, adapted by Frank Galati, director Jason Langley, musical director Ben Kiley, Chapel Off Chapel, Melbourne, 21 Jan-8 Feb
RealTime issue #125 Feb-March 2015 pg. 34
© John Bailey; for permission to reproduce apply to realtime@realtimearts.net